With the pandemic complicating movement and forcing many employees to work from home more often, coworking space operators in Vietnam are using the time to improve their interiors and services, while trying to continue expansion.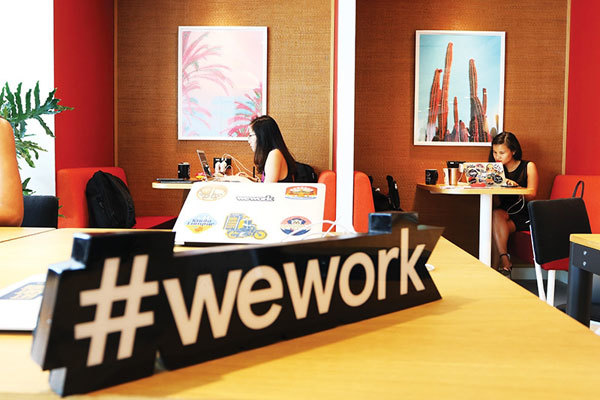 Coworking space providers like WeWork have to deal with significant losses during the pandemic. VIR Photo: Le Toan
The pandemic impacted the real estate market in a significant way and coworking spaces are seeing the after-effects of the crisis in their occupancy rates and demand.
Many operators' expansion plans have been put on hold as they instead concentrate on customer retention, support for affected business, and improvements in their service offerings, according to a report released last month on coworking and flexible workspaces in Vietnam 2020-2021 carried out by Acclime Vietnam and supported by Cushman & Wakefield.
Currently, WeWork is the dominant global provider in the market and its footprint can be found in Southeast Asian countries like Vietnam, Singapore, Malaysia, and Thailand.
Last year, WeWork's expansion plan in Vietnam failed when it opened a new space at Lim Tower and closed its station in the Sonatus building, both in Ho Chi Minh City's centre.
A range of other small-scale domestic coworking spaces were closed for several months in 2020. Among those were MindX, Dream Station, Le Plateau, Rehobooth, and GBook. Many others have had to reduce their operational hours and cancel all public events.
Due to the pandemic, several flexible office operators are deferring their new location openings and are waiting for stabilisation around the region.
Due to the limited availability in major hubs, flexible workspace owners have to find solutions that will enable them to continue their expansion and development, and at the same time create an efficient market strategy to compete for the available locations.
Adam Henick, co-founder of Current Real Estate Advisors, said that after the pandemic is over, surely investors who have poured capital into coworking space chains will have to reevaluate their business models.
What coworking space chains need to do, according to Henick, is to reduce the flexible working seats and increase the number of dedicated desks, and further extend the rental period in the contract with the tenants in order to improve the proportion of fixed income flow.
In order to do that, coworking chains need to adjust their business models and should focus on attracting larger and more stable businesses.
On good track 
The whole market is facing difficulties, but well-established providers are still attempting to take advantage of the market slowdown, seeking to acquire smaller coworking spaces that are under pressure.
Although acknowledging that the global health crisis is seriously affecting the real estate market and the economy, Toong, one of the first and largest coworking space chains in Vietnam, Laos, and Cambodia, has refused to move backwards.
During the challenging period of the first half of 2021, Toong still put new projects into operation. In March, the first Toong station in a strategic cooperation project with Wink Hotels was also officially launched at 75 Nguyen Binh Khiem, District 1.
Currently, Toong is rushing to complete and prepare for opening a new location Republic Plaza building in Cong Hoa street, also in Ho Chi Minh City.
In addition to carrying out the final negotiations to be able to build new locations in Hanoi and Dalat, Toong continues to cooperate with Wink Hotels to implement three projects of integrated workspaces in new-generation hotels in Danang and Can Tho.
"The pandemic on one side has slowed down our business but in another side, it gives us more favourable conditions in dealing with landlords for leasing space or co-investing in new stations," said Duong Do, co-founder of Toong.
Meanwhile Hoang Linh, co-founder and CEO of cirCO, said that what makes the coworking space different from the traditional office is the flexibility, cost saving, and community connectivity.
"COVID-19 is both a challenge and an opportunity for this model to demonstrate its superiority over the traditional office," shared Linh. "For businesses during this time, the reduction in office size makes financial sense. With a lot of benefits of flexible offices, many businesses are planning to move into flexible offices in the near future."
Flexible offices help businesses in reducing initial investment costs, Linh added. "It also gives them a key factor in increasing the quality of the working environment for their employees, attracting and retaining good employees for their business."
Some other operators have focused on growth as their key strategy based on large amounts of customer demand.
Dreamplex for example continues to reinforce its position in the market with a new location in Thao Dien of Thu Duc City. It is expected to open another three further locations in late 2021 across districts 1 and 4, as well as Thu Duc.
Kafnu and Compass meanwhile have increased competition in Vietnam with massive investment in grade A locations in Ho Chi Minh City and Hanoi and with expansion plans ready to take off as soon as the pandemic signs of recovery are in sight.
Room for growth 
According to Cushman & Wakefield, the flexible Vietnamese office space industry in 2020 occupied approximately 160,000sq.m of space in A and B grade buildings across the two office hub cities, less than four per cent of total A and B grade inventory. In 2020 and 2021, the number of coworking and serviced offices in Vietnam is set to break through that amount.
Besides local providers such as Dreamplex and Toong whom already managed to aggregate their brand with local communities, foreign brands such as Regus, The Executive Centre, WeWork, UPGen, and Circo account for an increasing proportion in the market with several locations in central areas of Ho Chi Minh City and Hanoi and future plans on the table.
In addition, global providers such as The Hive and Compass offices are hoping to expand their locations in Vietnam during the next few years.
According to research from Cushman & Wakefield in 2019, WeWork was the largest supplier of flexible offices in Ho Chi Minh City with a total area of less than 19,200sq.m. This year, with WeWork having closed an 6,800 sq.m location, it its estimated that the consistent expansion strategy will put Dreamplex in position to take over at the top, as it will increase its total footprint to almost 18,000 sq.m with three new locations.
According to the Acclime Vietnam report, Vietnamese coworking spaces are one of the most dynamic and innovative markets, with a significant growth potential and profitability. Flexible workspaces are considered a cornerstone trend in the real estate industry and the demand will have a consistent growth trajectory, in line with the systemic changes in the way companies and their employees embrace digitalisation, innovative work models and a more lean, versatile approach to labour, the report explained.
Coworking Resources also released that Vietnam is in the top 50 countries worldwide by coworking space growth per capita. However, the number of coworking spaces in the market is still considerably lower compared with Singapore, Hong Kong, and Malaysia. Ho Chi Minh City ranked 41 out of the top 50 cities worldwide in 2019/2020, where every 47.5 days a new coworking space was established.
In a report released by IDC in August 2020, it was noted that uptake by local to global enterprises continues to increase locally, and 80 per cent of Vietnamese enterprises plan to adopt coworking spaces in the next 1-3 years, higher than the regional average.

David Jackson - CEO, Colliers Vietnam

The first risk is losing a certain number of tenants. Since coworking space tenants are mostly small- and medium-sized enterprises and startups, the stability is not too high. With the impact of the pandemic, it is not excluded that some companies in this group will have to downsize their operations, reduce personnel, or even stop working.
Next, during the time of social distancing, many businesses require employees to work from home. This also directly affects the revenue of coworking spaces if their tenants rent the office on a monthly basis.
To retain tenants, many coworking space investors will have to reduce the rent, which can be quite steep, ranging from 20-40 per cent.
The continuously increasing supply in recent years has also made the level of competition in this segment become more fierce, forcing businesses managing coworking spaces to constantly find operational or marketing solutions to get a competitive advantage.
Because the types and locations of coworking spaces are more diverse, the terms of the contract must also be much more flexible, creating more pressure on the operators.
Vlad Savin - Head of business development, Acclime Vietnam

The current resurgence of COVID-19 in Vietnam may pose challenges to the coworking and flexible workspace segment, requiring operators to reassess their strategies and adopt a lean, flexible approach in the upcoming period until the end of 2021.
If the situation continues, the operators which adopt a standard coworking model will be the first to suffer, as their tenants represented by individuals, freelancers, digital nomads, and small businesses will prefer to work from home, or won't be able to come to the office.
Concurrently, the authorities have become more stringent with giving visa extensions to foreign individuals, thus causing many who were using coworking spaces for their remote work schedule to leave the country.
Small coworking spaces which rely on individuals who work remotely will certainly struggle to keep them engaged and lowering their offerings may not be a valid solution anymore, considering the fact that in 2020 the fees already dropped with 7-8 per cent on average.
Flexible workspace operators which incorporate a mixed model of coworking and traditional space, focusing on larger companies and longer lease terms, can ride through this latest wave. Their expansion plans however could be delayed, and their projections may not match the current reality of potential customers, which in part are represented by foreign investors, smaller enterprises, and multinationals, which may choose to delay their expansion plans as well.
Source: VIR

Covid-19 is one reason more businesses are choosing co-working spaces. Analysts predict big changes in working office models after the epidemic ends.

Going to hotels to study and work is a growing tendency among Vietnamese youth.