The delay in revising the country's land laws has made negative impacts on the real estate market with many halted projects due to unclear and overlapping guidelines, 
subsequently causing new supply limitations and increasing the risk of a market bubble.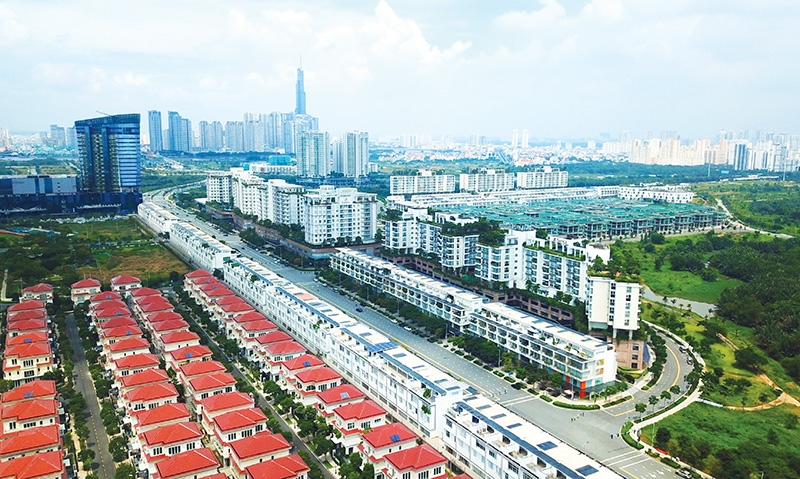 A new Law on Land is needed, but it could take a good three years for a new itineration. Photo: Le Toan
According to previous proposals, the Law on Land 2013 was to be revised at some point after the 13th National Party Congress. A new law was to be considered within the year, with the National Assembly able to discuss the revised draft by the end of 2022. If all goes to plan, the revised law would then need at least three years before being approved.
Simultaneously, and with the party congress now in the rear view mirror and a new government in the process of taking the reins, a summary report of the implementation of the 2013 land law is being led by the Ministry of Natural Resources and Environment (MoNRE), involving every ministry and local authority. The summary report will be sent to the government and submitted to the National Assembly in the second quarter of 2023 the latest.
According to Dang Hung Vo, former deputy minister of Natural Resources and Environment, the current Law on Land contains conflicts with many other laws such as those on housing, real estate business, forestry, zoning, and public asset management.
"The overlap among those laws is the main reason for limiting the new supply for the real estate market as demand continuously increases. This leads to rocketing price increases and speculation which makes the market unstable," Vo said.
Meanwhile, the weakness of the current Law on Land has also created struggles for administrative policies and implementation of land issues, especially in compensation.
Talking with VIR, Lim Hua Tiong, CEO of Frasers Property Vietnam expressed that a revised land law is necessary to enhance the flow of foreign investment to Vietnam – and that means a law with shorter processes, clearer and less complicated regulations, and elimination of conflicts with other laws that would all help investors make faster decisions and open up major chances for their success in Vietnam.
"It must offer equal opportunities for Vietnamese and foreign investors by enabling and granting overseas investors the right to directly obtain land use rights for the purposes of land bank development for new project establishment," said Lim.
He added that any revised land law should clarify the measurement of public land, which can be directly allocated/leased to the investor without public auction. "This may shorten the time of the land allocation process and project implementation, respectively," he added.
One official from the MoNRE noted that the revision of the land law must clarify details and remove unfairness for related parties in inheriting profits brought about by investment in land. Especially, the financial framework for land use which includes land leasing rents must be more relevant to the realities of the market.
"Moreover, the current Law on Land fails to mention many new types of real estate products such as condotels, officetels, or shophouses so a revised one is in need to deal with those products," said the official.
According to Dang Minh Duc, director of Dong Nai Department of Natural Resources and Environment, a new law must take into account the current land status of localities.
"The revised Law on Land should clearly regulate the process of appraisal and land use right auction, and the calculation of the value for land compensation. These issues are seriously impacting the implementation of many projects in Dong Nai province," Duc said.
The MoNRE has revealed that key issues to be considered in the revised land law include the expansion of quotas for agricultural land use of individuals and households; and management of rice land and especially land collection methods for the development of socio-economy of localities.
Also in the frame for a revamp included are taxation policies on agricultural land provided to households and enterprises that are left unused, as well as how to harmonise the rights between foreign enterprises and the government, while avoiding the impacts to the country's security but ensuring a solid investment environment for overseas investors.
Lim Hua Tiong - CEO, Frasers Property Vietnam
Under the current land law, a foreign-owned entity does not have the right to directly obtain land use rights from other land users. This prevents a foreign-owned entity from developing a land bank for new projects.
Within a project area, there are several parcels managed by the state such as land with rivers, streams, canals, springs, and special-use water surface. There has not been any obvious regulation to specify the measurement of public land, which can be directly allocated/leased to the investor without public auction. This prolongs the project land allocation process and adversely affects the investor, as they cannot carry out the next investment steps without such land allocation.
For project implementation, developers must go through many complicated steps which can take up two years to fully process. In a real situation, many projects take 3-5 years for legal approval. This prevents developers from market advantages because of delayed launch timelines.
Also, the inconsistent application of land use fee calculation is a big trouble for real estate developing, not only for foreign investors but also Vietnamese ones which continues to create many disputes.
Peter Dinning - Chairman, Colliers International
Vietnam has made tremendous advances within the real estate sector including the rights of ownership and the rights to occupy, but we have seen many examples when land has been taken away at below the market value.
This leaves the owner in a worse position than they were in before the land is taken away. Further advances in creating a fair system to value property are required to create a more international-standard real estate market.
Real estate in Vietnam is still in its infancy and while it is a driver for the economy, real risks are still associated with owning and occupying land.
International investors would like to see a system which protects land and property ownership and in the event that for whatever reason it is taken away, a true open market value is paid by compensation.
In the UK we have a dedicated department called the Valuation Office whose duty is to protect the rights of the individual when a property is taken away.
There is a proper right to appeal and valuation tribunals are available for anyone who disputes the compensation that a developer and or an authority wishes to pay to take over your land.
Alain Cany - Chairman, European Chamber of Commerce in Vietnam
European enterprises are keen to invest and expand further their business operations and new projects.
To capitalise on this trend, the government could enhance the legal framework and cut administrative procedures on land to unlock the full potential of European investment.
For instance, reducing the time to complete the investment registration process would be welcome, as would making the procedures for acquiring land clearer and more transparent. Enabling foreign investors to borrow from international lenders would also be a positive step, rather than limiting mortgages just to banks.
We have seen some positive developments in the last few months alone. For instance, Decree No.148/2020/ND-CP – in particular its provisions on land lease for small state-owned land parcels – should help to clear one of the bottlenecks for investors whose developments have been on hold for some time. This, in turn, should restore the land fund for project development and create more opportunities for local and foreign enterprises.
We encourage the government to build on this success. For instance, a definition of "foreign-invested enterprises" aligned with the new Law on Investment would be a good step, as current inconsistencies create difficulties.
VIR

In 2020, a number of public land scandals were brought to court and numerous government officials were found guilty.