The derivatives market is likely to grow stronger in 2020, offering high profitability to investors, analysts have said.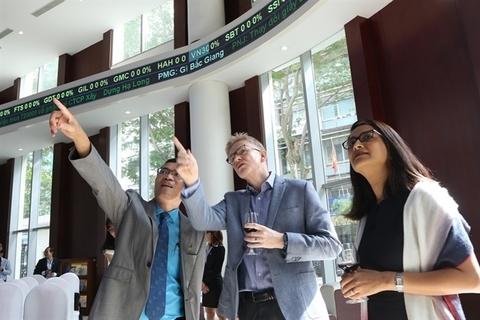 Foreign investors at the Ho Chi Minh Stock Exchange. The derivatives market, which runs upon the large-cap VN30-Index and government bond, is expected to grow stronger in 2020.
According to statistics from the State Securities Commission (SSC) and the market operator Ha Noi Stock Exchange (HNX), the number of active accounts rose 58 per cent during the year to touch nearly 90,900 at the end of 2019.
Nineteen securities companies have obtained settlement member certificates to become trading members on the derivatives market.
Demand for derivative trading increased sharply in January 2020, signalling the market would rise further in the remaining months.
In January, a total of more than two million futures contracts were traded, worth VND178.7 trillion (US$7.72 billion). The figures were higher than those recorded in the previous five straight months.
In 2019, July and March were the two months in which trading on the derivatives market hit the peaks of at least 2.3 million contracts traded. Trading volume in other months was below two million contracts.
Interest in derivatives trading has been driven by concern and fear about the slowdown of the global economy, geo-political and economic tensions between big economies, and the outbreak of new diseases.
In 2020, the global economy in general and the Vietnamese economy in particular would encounter new challenges as forecast by securities firms.
Tran Duc Anh, director of macroeconomics at KB Securities Co, said that the derivatives market would keep growing and attract more investors in 2020, the new Lunar Year of the Rat.
With derivative products, investors are able to earn profits from investing in futures based on capital leverage when the common stock market declines, he said.
That makes the derivatives market special and more attractive to investors, Anh said.
Le Ngoc Nam, deputy director of market analysis at Tan Viet Securities Co (TVSI), said the derivatives market has helped boost the Vietnamese equity market.
As the two common stock exchanges have shown signs of slowing down in the last two years, derivatives products would be suitable buy-in targets for investors to avoid the volatility of the common stock market, Nam said.
Some new derivative products may be introduced in 2020, focusing on some specific sectors and indices, thus, increasing investors' interest, he said.
New products may include the VNX200 futures, single stock futures (SSF) and single stock option (SSO). — VNS

The Vietnamese derivatives market has picked up over the last three weeks, with total trading volume nearly reaching the total figure recorded in September.

In 2019, foreign investors bought in shares worth VND3.7 trillion (US$159.67 million), but offloaded over US$4.4 trillion (US$189.88 million).