The three-year divorce dispute keeps dragging down local coffee giant Trung Nguyen, which reported only half of its 2017 profit in 2018.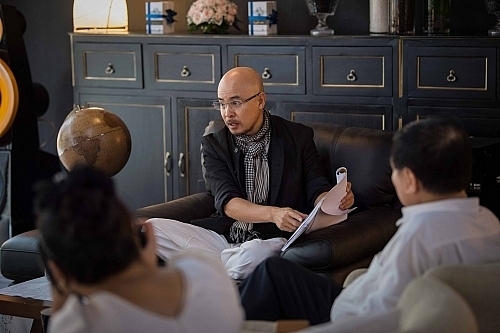 Trung Nguyen chairman Dang Le Nguyen Vu.
According to Trung Nguyen's latest financial report, the company in 2018 reached VND4.842 trillion ($210.52 million) in profit, up nearly 9 per cent on-year.
Despite keeping up with growth in business, it is clear that the divorce between Trung Nguyen "boss" Dang Le Nguyen Vu and his wife Le Hoang Diep Thao has been a blow to the company, sending profit falling for consecutive years now, from VND1.3 trillion ($56.52 million) in 2014 to VND347 billion ($15 million) in 2018 – its lowest-ever profit.
At the court session in late March, Thao complained that Trung Nguyen had been constantly running huge expenses for non-business purposes, leading to the fall in profit.
Vu also stated that the divorce has deeply impacted the company's performance.
"All overseas business activities have been affected and it will take 2-3 years after the divorce to recover Trung Nguyen," said Vu.
Another reason behind the fall in profit is the company's performance in its core business lines. Accordingly, charter capitalincreased by VND560 billion ($24.35 million), but the revenue only grew by VND400 billion ($17.4 million), narrowing the gross margin to VND1.35 trillion ($58.7 million), down VND160 billion ($6.96 million) against 2017.
As Trung Nguyen has been floundering due to the dispute, its competitor Vinacafé Bien Hoa has found a new engine of growth – energy drinks.
Within several years, the companies revenue from energy drinks has caught up with the coffee business, narrowing the distance in the two companies' profits.
In addition, Trung Nguyen now has to compete with Thao's coffee brand King Coffee, next to Nestlé and Vinacafé. VIR
Hoang Van

According to the court ruling, Mr. Dang Le Nguyen Vu will manage Trung Nguyen Group after divorce after re-considering his contribution to the group with the aim to alleviate effect on the group's activities.

The HCMC People's Procuracy has lodged an appeal against the lower court verdict in the divorce case between Dang Le Nguyen Vu, founding chairman and general director of coffee giant Trung Nguyen Group, and his ex-wife, Le Hoang Diep Thao.  

Dang Le Nguyen Vu, 48, founding chairman and general director of Vietnamese coffee giant Trung Nguyen Group, and his ex-wife Le Hoang Diep Thao, 46, have appealed their high-profile divorce case.