Enhancing the linkage between domestic and foreign-direct-investment (FDI) electronic enterprises can be an important solution to promote the development of this industry which is now dominated by the FDI sector.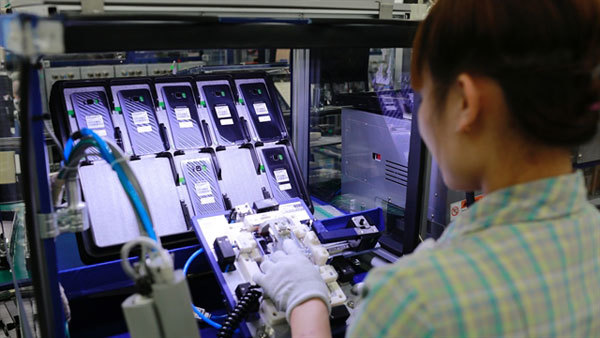 It is necessary for Vietnamese firms to work with FDI enterprises to establish value chains in the electronics industry. — Photo tapchicongthuong.vn
Vietnam was now home to factories of a number of global technology giants such as Samsung, LG, Canon and Intel with investment sums worth billions of dollars.
The country recently emerged as a top destination for FDI in the global production shift.
Oppo was planning to build a plant in the northern province of Bac Ninh while Lenovo was also studying the opportunity for a plant in Bac Ninh or Bac Giang.
Although Apple has not announced plans to assemble iPhones in Vietnam, many of their partners were increasing the production of components in the country.
Foxconn invested in a project producing iPads and MacBooks worth US$270 million in Bac Giang three months ago and planned to expand production in the country with a goal of reaching revenue of $40 billion in the next three to five years.
According to Tran Thanh Hai, Deputy Director of the Import-Export Department under the Ministry of Industry and Trade, there was a significant change in the electronics industry in recent years that Vietnam had original design manufacturers (ODMs).
Still, the electronics industry of Vietnam was still dominated by the FDI sector.
Although Vietnam was one among 12 of the largest electronics exporters in the world and top three in ASEAN, 95 per cent of the country's electronics export came from FDI enterprises.
Do Thuy Huong from the Vietnam Electronic Industries Association said it was necessary for Vietnamese firms to cooperate with FDI enterprise to establish value chains in the electronics industry.
Three factors must be in place to be able to become suppliers of global technology giants – quality, on-time delivery and reasonable price, she said.
According to Vietnam Industry Agency, the capacity of domestic electronics enterprises remained limited, while the product quality and design had not met market demand.
There were emerging names recently, such as Bphone, Vsmart and Viettel, but foreign names were still dominant.
The local procurement rate was also low, only at around five to 10 per cent. Electronic products in the Vietnamese market were mainly imported or assembled from imported components.
Some companies managed to participate in the industry's supply chains but most could only supply products of low value and technology content.
The Vietnam Industry Agency said that domestic electronic enterprises must improve their capacity to be able to participate in the supply chains of the FDI enterprises as well as being able to take advantage of opportunities arising from new-generation free trade agreements.
Support should be provided to selected enterprises that take the role in promoting the development of the electronics industry, the agency said.
Besides solutions to expand markets, enterprises should focus on identifying their core products and strengths to create breakthroughs.
VNS

Although Vietnam has been improving its business and investment environment significantly throughout the last four decades, the cooperation between domestic and foreign-invested companies could be much improved.

Vietnam has enjoyed high export growth but experts are concerned that the main contributor is foreign direct investment (FDI).