While tourism has been hit hard by Covid-19, e-commerce has become the driving force for the digital economy in Vietnam this year.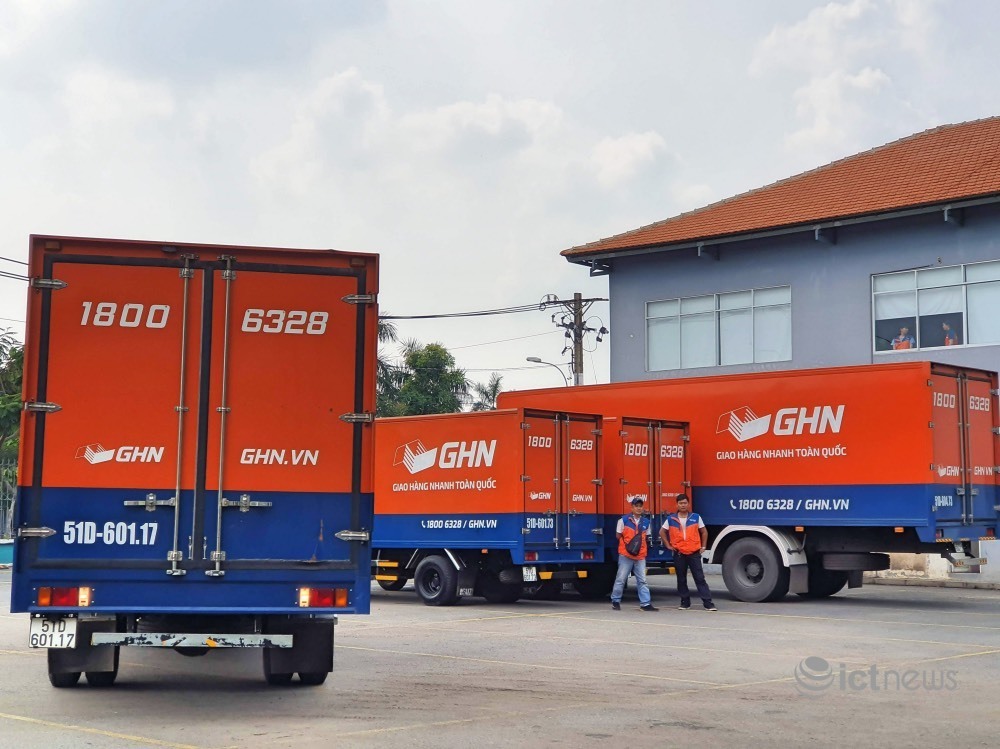 Trucks of an e-commerce forwarder. (Photo: Hai Dang)
VNG has announced that it will pour 22.5 million USD into Telio, a local B2B e-commerce company, a big investment by a local investor in a Vietnamese startup. In 2016, VNG also invested in Tiki.
A few days ago, Tiki revealed that it will receive 248 million USD from a group of investors led by AIA.
These moves show the strong potential of Vietnam's e-commerce in the digital economy.
Jikwang Chung, General Director of Mirae Asset Capital, one of Tiki's investors, said that Vietnam's consumption has made outstanding growth with technological breakthroughs, particularly e-commerce.
The most recent online shopping day in Vietnam, which fell on November 11, set many records for domestic e-commerce platforms.
According to Tiki, the shopping day set a growth record and was its most successful program ever. The online platform's sales on Singles Day 2021 (November 11) increased nine times and the number of customers rose twice compared to weekdays.
For another platform, Lazada, the revenue and number of orders on this day increased nearly 2 times. The number of brands and sellers rose by 1.5 times compared to last year's Single Day.
Steven Tuan Nguyen, Senior Director of Criteo Southeast Asia, said the Covid-19 pandemic caused people to buy more goods online, promoting e-commerce in Vietnam and Southeast Asia.
This is in line with the e-economy report on Southeast Asia recently released by Google, Temasek and Bain & Company. The report found that the number of new Internet users in Vietnam was increasing, and at the same time, e-commerce is the driving force of the digital economy.
Specifically, in 2021, thanks to the 53% growth of e-commerce compared to the same period last year, Vietnam's digital economy is expected to grow by 31% to 21 billion USD and is likely to reach 57 billion USD by 2025.
If growing steadily, Vietnam's digital economy is expected to reach 220 billion USD in gross merchandise value (GMV) by 2030, ranking second in the region after Indonesia.
Not only in Vietnam, e-commerce is expected to promote Southeast Asia's Internet economy forward in the next decade. By the end of 2021, the total value of e-commerce goods could exceed 120 billion USD (nearly doubling that of 2020), and may reach 234 billion USD by 2025.
According to the report, since the start of the pandemic last year to the first half of 2021, Vietnam had an additional 8 million digital consumers with more than half of them coming from outside major cities.
Up to 99% of Vietnamese digital consumers intended to continue using online services, showing a high degree of attachment to digital products and services.
Each of three online traders in Vietnam believed that they would not be able to survive the pandemic without digital platforms. In Vietnam, digital financial services are becoming an important driving factor with 95% of digital businesses now accepting digital payments and 67% accepting digital loans.
Furthermore, seven in 10 digital businesses are expected to increase their use of digital marketing tools in the next five years.
"The report shows us the great potential of the country as Vietnam accelerates digital transformation," said Tram Nguyen, Google Director in charge of Laos, Cambodia and Vietnam markets.
Hai Dang
 Online shopping in Vietnam is expected to increase sharply near the end of the year. 

The Vietnamese e-commerce platform Tiki has received investment capital of US$258 million. It plans to invest in insurance business and conduct an IPO in the US.