Vietnam's attraction of overseas electronics and technology conglomerates cannot be overlooked. 
However, as the government is focusing on long-term acceleration of research and development and incentives for this sector, a shift from merely manufacturing to creating may soon take place among foreign-invested enterprises.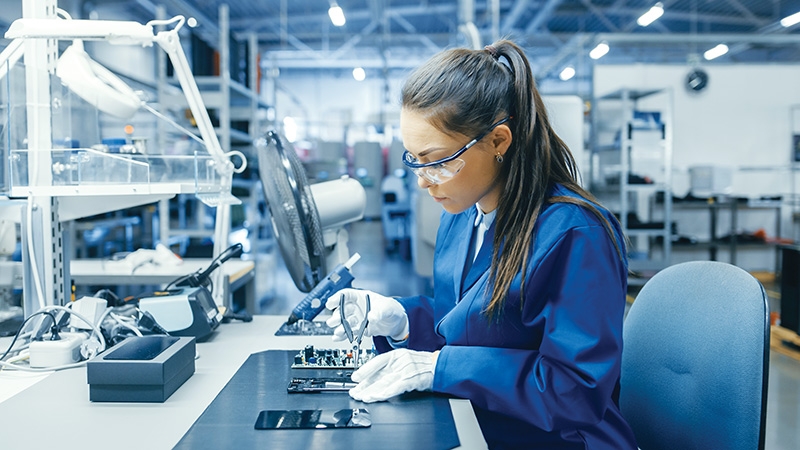 Instead of purely offering foreign investors a manufacturing base, Vietnam places more and more emphasis on R&D. 
South Korean conglomerate LG in early February declared to add about $750 million to its LG Display Vietnam facility in the northern port city of Haiphong, raising its total investment capital to $3.25 billion. The move took place as COVID-19 returned.
Suk Myung Su, general director of LG Display Vietnam said that this subsidiary is one of LG's key projects across the globe. "In the coming time, we expect the local authorities to keep facilitating a safe investment climate, thus assuring stability for our long-term plans."
Su's statement partially reflects how important the Vietnamese market to the entire corporation is, especially as its LG Electronics branch has suffered tremendous losses in overseas markets. As of the end of December, LG Electronics recorded accumulated losses of $4.5 billion over 24 consecutive quarters.
As a result, the parent company has been attempting to restructure its entire operations, including shifting the majority of its business segments to Vietnam. According to Korea Times, LG targets the country as its average labour cost is much lower than in South Korea, helping the company to save a sizable expense. Moreover, the growing living standards in Vietnam are also appeasing.
Tran Anh Tuan, founder of research and development (R&D) company MESLAB, told VIR that the local electronics and home appliances market is very promising, as it is driven by the growing expenditures for these items.
"Therefore, LG chose to accelerate many projects in Vietnam, thus using it as its main supply base for products and new tech. Furthermore, its arch rival – South Korean Samsung – has poured immense capital into Vietnam, so LG cannot stand around with its arms crossed," added Tuan.
Following a string of big foreign-invested ventures in Vietnam, LG is working with local authorities to receive plentiful incentives similar to what overseas giants are enjoying here.
Shared ideas
Similar to LG, its competitors like Samsung, Microsoft, Qualcomm, Intel, and lately Foxconn – Apple's largest assemblers have massively stimulated investments in Vietnam.
Late last year, Foxconn announced to pour an extra $700 million into the country and thereby provide around 10,000 new jobs in 2021. At the same time, the Taiwanese assembler kicked off two projects in the northern province of Bac Giang. On January 18, Bac Giang People's Committee also licensed its new project to manufacture tablets and laptops, worth $270 million.
As of the end of 2020, Foxconn's total investment in Vietnam reached about $1.5 billion. Last week, Foxconn Singapore Pte. Ltd. also decided to pour an additional $23 million into the Fukang Technology Factory in the northern province of Bac Ninh, bringing the total capital of this project to $293 million. The project was previously granted its investment certificate in mid-January.
Foxconn is also recruiting additional 1,000 electronic assembly workers for its factories in Vietnam, who will work at the industrial zones of Dinh Tram, Quang Chau, Van Trung in Bac Giang and Bac Ninh provinces.
Last March, Samsung started its $220 million R&D project in Hanoi. The establishment will be the largest in Southeast Asia and responsible for all of its R&D activities. After 12 years of presence in Vietnam, Samsung has increased its total investment in the nation by as much as 26 times to $17.3 billion, which places it as the biggest overseas investor in the country.
Intel in January also added $475 million to the first phase of Intel Products Vietnam for its chip assembly and manufacturing facility. Along with the $1-billion chipset assembling facility in Saigon Hi-tech Park in Ho Chi Minh City that was built 15 years ago, the US company has invested around $1.5 billion here.
Contrary to the previous incentives applied to all foreign-invested enterprises (FIEs), the government has recently reviewed adjusting incentives for investments in high-tech projects. Last year, the government issued several incentives as mentioned in Decree No.94/2020/ND-CP regulating the preferential mechanisms and policies for the National Innovation Centre (NIC).
Talking to VIR, Vu Quoc Huy, deputy director of the NIC, said that the criteria will include key requirements like sectors and niche markets, products, technology, business models, and human resources. "These are basic standards to select appropriate businesses that focus on the core values of businesses instead of their profitability, so startups and small- and medium-sized enterprises with promising ideas have great chances to join the NIC," said Huy.
Manufacturing and assembling establishments – which previously had enjoyed a prolonged focus in Vietnam – may no longer be approached with favourable conditions.
A VIR source revealed that Intel has been in talks with the Ministry of Planning and Investment to receive "enormous incentives for its latest project." When Intel entered Vietnam in 2007, the company was offered great incentives for its chip assembling and manufacturing facility. Pham Chanh Truc, head of the high-tech park in Ho Chi Minh City at the time, said Intel would not pay corporate income tax (CIT) for the first four years of operation and enjoy a 50 per cent tax break for the nine years following that. After that, Intel was set to pay only 10 per cent CIT, compared with the then-normal 28 per cent rate.
R&D in focus
According to the amended Law on Enterprises, R&D activities are classified as industries entitled to incentives. Article 20 stipulates that such projects with a scale of more than VND3 trillion ($130.4 million), and disbursements of at least VND1 trillion ($43.47 million) within three years, can apply for a particular incentive mechanism that is higher than the current provisions of the law and decided by the prime minister.
For now, operators are investigating the incentives as stipulated in Decree 94. Those include fewer administrative procedures and a 50-year exemption from land leasing costs in high-tech areas. Establishments at the NIC will also be exempt from land clearance expenses and infrastructure usage fees at the areas they lease. Moreover, startups will be able to enjoy a preferential CIT rate of 10 per cent over the first 30 years, instead of the previous 20 per cent.
The NIC will provide programmes focusing on supporting innovative companies, including promoting technology transfer between overseas and local businesses as well as assisting them with research and commercialisation of their products under a sandbox mechanism.
Among foreign-invested projects, Samsung continues to enjoy the most favourable conditions for its R&D centre. LG, however, does not stand still as it is already researching locations near Danang to set up similar establishments.
Vietnam annually spends a mere 0.4 per cent of its GDP on R&D activities, which is seen as a possible magnet for luring FIEs to the country.
Tuan from MESLAB said that with global IT players' R&D establishments, Vietnam could gain such benefits as creating suitable jobs for high-skilled employees.
"Shifting to R&D activities is an inevitable trend as local labour cost and their working skills keep improving, demanding higher-quality investment flows," Tuan said.
VIR

The Ministry of Finance (MOF), after analyzing the 2019 finance reports of foreign invested enterprises (FIEs), has found a contrast in the business performance of the enterprises.