The Vietnamese government has enacted long-term development orientations and a strategy for the power sector, including energy efficiency measures to ensure national energy security. 
Deputy Minister of Industry and Trade Hoang Quoc Vuong provides insights into the opportunities and challenges opening up in the power sector by driving the sustainability agenda as well as promoting a smart energy approach in the years ahead.
Vietnam is forecast to see a 6.7 per cent jump in energy demand each year during 2019-2028. What policies and measures must the country apply to ensure national energy security?
To confront the challenges, the Vietnamese government has set forth long-term development orientations and a sustainable development strategy gearing towards modernisation, ensuring the stable supply of primary energy sources, energy efficiency, and the development of clean and renewable energy sources. Linking these directions for the power market's development will ensure national energy security and reduce environmental pollution in one fell swoop.
Based on the scenarios outlined in the energy master planning, in the future, coal-consuming industries will maintain their growth momentum against the limited local coal production capacity, leading to a widening gap between coal supply and demand. Coal will then need to be imported to feed coal-consuming industries. Therefore, it is important to introduce policies on long-term coal imports to ensure the stable production of major consumers, particularly the power sector.
In light of the planning, local coal is unlikely to satisfy the soaring demand of power plants. Vietnam had to import about nine million tonnes of coal in 2018 to feed power production, and the figure is expected to surpass 70 million tonnes by 2030. In addition, after the 2023-2024 period, gas resources in Vietnam's southeastern and southwestern region will gradually be depleted, leading to a shortfall in the supply to gas-consuming industries. This spells the need to import liquefied natural gas (LNG). Vietnam needs to take into account these factors to ensure national energy security.
At the same time, two currently prevalent trends in the global energy industry are energy efficiency and the application of wholesome technologies to the environment, gearing towards building a low-carbon economy and using production and consumption models with green footprints. Vietnam has been and will continue applying these measures in the time ahead to ensure national energy security for sustainable development.
How is the green energy development initiative progressing and what has the country achieved in this regard in recent years?
Green energy development is a major policy orientation in Vietnam, so in the previous years, the government has presented diverse mechanisms to push up progress, particularly by promoting solar and wind power, beside biomass and tidal power.
At the moment, renewable energy accounts for about 40 per cent of Vietnam's total energy output, if hydropower plants are included.
However, if the output from big hydropower plants is excluded – only calculating the output of hydropower plants with a capacity below 30MW – the share of renewables in the total energy mix is insignificant.
By virtue of attractive incentives offered to renewable energy projects in recent years, such as the ones made available for wind and solar power development, a slew of domestic and foreign investors have poured money into numerous wind and solar power projects.
Currently, of Vietnam's nearly 50,000MW total power production capacity, about 4,000MW comes from small hydropower plants. Additionally, around 1,000MW from solar power plants, and more than 1,000MW from wind farms are slated to start commercial operation by the end of 2019.
These outcomes are remarkable, considering clean and renewable energy development is a relatively new initiative in Vietnam.
The energy sector plays a crucial role in national socio-economic development and people's lives. What development orientations have been set for the power sector for the coming decade?
The project revising Vietnam's Power Development Plan 7 (PDP 7) in the 2011-2020 period with vision to 2030 was approved by the prime minister via Decision No.428/QD-TTg in 2016. The PDP 7 has set forth targets on mobilising domestic and external sources to ensure sufficient power supply to serve socio-economic development and energy security targets with constantly improving quality and reasonable cost. Additionally, the plan meant to ensure the diversified and efficient use of primary energy sources to feed power production while at the same time pushing up the development and usage of renewables, gradually raising the share of renewable energy in generation. This would have positioned renewables in a larger and growing role in energy security, mitigating climate change impacts, protecting the environment, and the turn towards sustainable socio-economic development.
As the growth in power demand is forecast to fetch high at about 11 per cent by 2020 and 7.5-8.5 per cent during 2021-2030, the power sources to meet such demand would be tremendous. Under the approved planning, by 2030, the total production capacity of Vietnam's power plants will come to around 129,500MW, of which 27,800MW will come from hydropower, about 28,000MW from renewable energy (including small hydropower plants, wind and solar power, biomass, and tidal power), 19,000MW from gas power plants (including LNG), about 2,000MW will be imported, and 55,000MW will come from coal-fired power plants.
Parallel to the development of power sources, the country will focus on developing the power transmission network and power distribution in the national grid to ensure safe, reliable, and economical power transmission from national power centres to load centres in localities, before reaching end-users. Gradually improving power quality and service efficiency is also necessary.
Furthermore, Vietnam will develop its power market and introduce suitable pricing schemes to woo investment into the sector with the objective of diversifying power investment and trading methods.
Smart energy is a fresh trend worldwide. How is this trend taking shape in Vietnam?
Advancements in modern life have posed multiple opportunities for people to approach smart devices and technologies through the emergence of the Internet of Things (IoT), including smart applications in the field of energy, particularly the power sector. Smart energy is a general concept that involves the application of smart technologies in the fields of energy conversion, storage, transmission, and management. Currently, Vietnam is deploying smart grid and smart metering programmes in power system operation and management.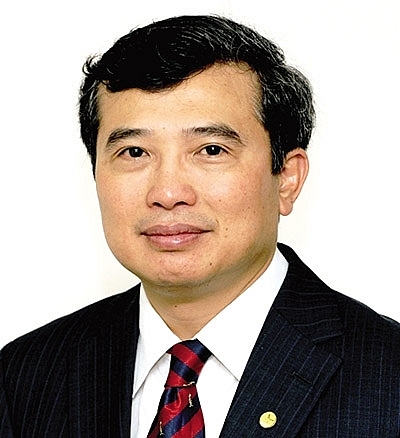 Deputy Minister of Industry and Trade Hoang Quoc Vuong
Like any smart grid programme in any other country, the two most important targets of the programme in Vietnam are improving the efficiency of energy usage and developing renewable energy sources. To achieve these goals, apart from investing in construction projects, Vietnam should continue efforts to (i) build and perfect the legal framework for smart grid development; (ii) work on capacity building for organisations and individuals who take part in implementation, (iii) and strengthen the research and development of smart grid applications.
In 2012, the Ministry of Industry and Trade (MoIT) has crafted and submitted the smart grid development project to the prime minister for approval via Decision No.1670/QD-TTg. The project set forth the goals of building a legal framework and standards to establish remote control centres to ensure smooth operation, and unified technical requirements and clarifying the responsibilities of stakeholder parties in metering activities.
State-run Electricity of Vietnam (EVN) and power corporations have been deploying a raft of concrete programmes such as the application of e-meters and the development of a system on the remote gathering of metering data, establishing remote control centres to serve the power grid, as well as the development of pilot programmes on load adjustments, among others.
After pilot implementation, some programmes have come on stream, such as National Power Transmission Corporation, and other relevant power corporations have reviewed pilot programmes to draw lessons and put into operation unmanned control centres and power stations, matching the orientations of the overall project on smart grid development. The initial results are encouraging, attesting to the feasibility and trust of the programmes.
How do you perceive the prospects of smart energy development in the country?
The Vietnamese government has crafted the power sector's long-term development orientations and strategy on sustainable development towards modernisation, ensuring energy efficiency, and the development of clean and renewable energy sources combined with the implementation of smart grid programme and the building of a competitive power market.
Not an outsider to the global trend on IT application and smart energy, in the coming years Vietnam will step up efforts to apply smart grid technologies to connect and ensure the stable operation of renewable energy sources, develop and utilise cutting-edge tools that allow integrating renewable power sources (wind and solar power) into the system for effective exploitation.
In the upcoming time, besides the ongoing programmes, Vietnam will deploy some new ones such as the application of energy storage technology, in-house smart devices that can adjust energy consumption based on the power supply situation, or integrating scattered, new and renewable power sources into the low and medium-voltage power network, or the pilot application of smart home and micro-grid models. These efforts will push Vietnam's agenda to develop smart home and smart city models. VIR

Clear polices would greatly help provide a vision with specific targets of renewable energy for both authorities and investors in the road map ahead.

The central province of Ninh Thuan has seen a boom in renewable energy projects, especially solar power, but power transmission lines in the province have failed to handle the capacity, experts have said.