Presenting policies to effectively support agricultural businesses is one of central tasks set in the 13th Party Congress Resolution. 
Nguyen Xuan Cuong, Minister of Agriculture and Rural Development, talked about recent improvements of Vietnam's agriculture, as well as the measures to enhance competitiveness of local agricultural businesses and the whole sector alike.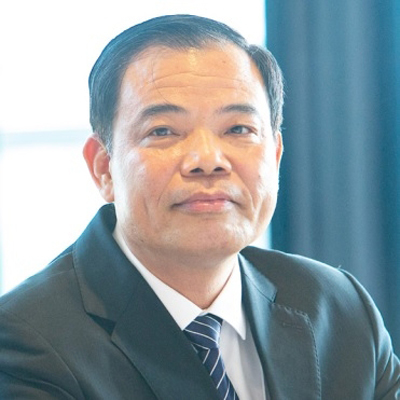 Nguyen Xuan Cuong, Minister of Agriculture and Rural Development.
Businesses have been proactively injecting capital into agriculture and rural development in the past five years. How has this sector lured in investors? 
After nearly 30 years of economic reforms, Vietnam is now home to more than 750,000 businesses, part of whom has gathered an extensive experience in management, finance, and aspiration to effectively tackle key issues in the agricultural sector.
Nevertheless, Vietnam has still tremendous potential to spur agricultural development. Each year, the country rakes in more than $40 billion from the export of agricultural products, of which processed items only account for 11 per cent, signifying the vast room that remains to scale up export value through raising the share of processed products.
Current policies and orientations are very open. Our 63 provinces and municipalities have also been constantly taking measures to coax investors. In the past five years, promoting investment into agriculture has been set a priority in investment attraction by localities. For instance, the leaders in Gia Lai Province in the Central Highlands region had come to where the aircraft landed to greet businesses. This indicates the high commitment of localities.
These factors have created a synergy, attracting more businesses to invest in agriculture and rural development. Between 2015 and 2020, companies joining this field had almost quadrupled, rising from 3,640 units to more than 13,280, located in all areas of the country. Many of these have been establishing firm positions and helping to ramp up the country's agricultural production value. By virtue of deeper processing, the raw export ratio has fallen to 70 per cent at present from 90 per cent previously. 
Foreign investment into agriculture remains modest, accounting for just about 1 per cent in the total committed foreign direct investment (FDI) capital, with the number of projects in deep agricultural processing rather low. How can the sector attract more investors into this field?
Up until now, most foreign investors have not been keen on doing business in this field. By the end of 2019, just $3.5 billion of FDI were poured into agriculture, making up 0.97 per cent of Vietnam's total FDI value compared to the global average of 3 per cent. Most foreign invested projects are small in size and concentrated in seafood and vegetable and fruit processing in some localities.
However, things have been slowly changing in the past two years with a remarkable increase in the number of firms joining thanks to policy incentives and the vast growth potential in agriculture.
Last year alone, 17 projects with a capital value surpassing VND20 trillion ($869.5 million), had kicked-off their construction and inaugurations, helping to change the landscape of private investment into agriculture. Only a handful of firms have engaged in deep processing, so it remains important to encourage more of them to invest in this field, providing efficient support to Vietnam's 8.6 million farmers.
The enforcement of the Law on Public-Private Partnership Investment could motivate further investments in agriculture. A decent and firm legal framework surrounding public-private partnership projects could also push up investments as the agricultural sector still has great potential for development.
It is also necessary for localities to work on maintaining stable input material growing areas, as well as close ties between farmers and businesses that can develop more alliances in the chain of production, processing, and consumption of agricultural produce in their areas, particularly where there is a large potential to become growth engines for the whole region. Meanwhile, harmony between the interests of all stakeholders should be fostered. 
The growth of local groups has contributed to brightening Vietnam's agriculture and rural development picture. Which issues should be tackled to further enhance the role of local businesses and sharpen the sector's competitiveness?
Local businesses play an increasingly important role in diverse agricultural fields. Compared with the global scale, however, Vietnamese agriculture possesses many weaknesses with a minuscule production scale.
Increasing links between farmers in cooperatives, suppliers, and distribution businesses are crucial, particularly in the face of deepening international integration. The enforcement of free trade agreements can also bring diverse benefits in the long run, yet also entails many challenges as we must compete head-on with nations with a more developed agriculture or with investment streams from global giants. These challenges must be taken into account, so that we can take measures to gradually perfect the regulatory system and raise implementation efficiency.
VIR

Some billionaires have made big investment in agriculture with an ambitious plan to build a strong brand for Vietnam's farm produce, but they do not expect to make a profit in the short term.

The trade ministry has urged provincial authorities across the country to boost the circulation of essential goods and the consumption of agricultural products in the context of the impact of Covid-19.