Enterprises in HCM City, Binh Duong and Dong Nai complain that they have not been able to recruit workers since Tet.
Thanh Nhan Company in Thu Duc district, HCM City, a shoemaker, still has not found enough workers even though it began looki g for workers before Tet.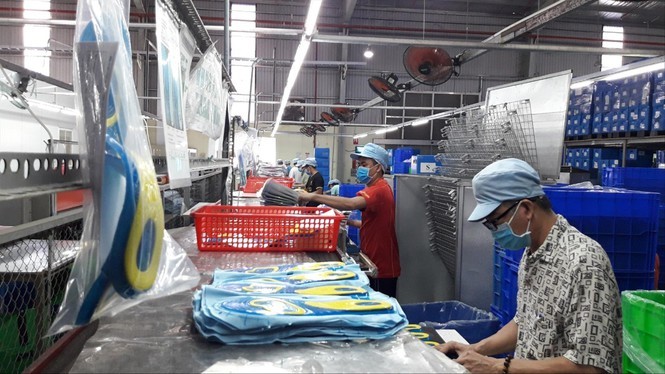 According to Tran Van Hung, a representative of Thanh Nhan, candidates are not required to have experience. The minimum wage the company offers is VND5.2 million a month and A 5 percent increase is expected every year, while the real income may be as high as VND8-10 million.

"Despite attractive offers, we have only found half of the 500 workers needed," Hung said.

Enterprises in HCM City, Binh Duong and Dong Nai complain that they have not been able to recruit workers since Tet.
Tien Phong reported that enterprises in industrial zones (IZs) and export processing zones (EPZ) in HCM City all are thirsty for workers.
Nguyen Thi Ha, HR director of Tosok in Tan Thuan EPZ, said the company has been looking for 1,000 electronic component assembly workers, with pay of VND6.4-8.5 million, for the last three months.

As it's difficult to find local workers, the company plans to seek workers from Mekong Delta provinces and the central region.

According to Tran Le Thanh Truc, director of the HCM City Center for Human Resources Forecast and Labor Market Information, HCM City needs 323,000 workers in 2020. Of these, the demand for trained workers accounts for 85 percent (workers finishing elementary vocational school account for 25.68 percent, intermediate school 21.53 percent, junior college 17.99 percent, and bachelor's degree 19.8 percent).

In Binh Duong province, SS Vietnam, Daeseung SGN, Hung Kiu Vietnam Garment and Poong In Vina 5 also say they cannot find workers though they offered the high wage of nearly VND10 million a month. Textile and woodwork industries now need thousands of workers.

Binh Duong needs 60,000 workers in 2020, with unskilled workers accounting for 75 percent.

According to Le Minh Cuong, director of Binh Duong Department of Labor, War Invalid and Social Affairs, 92 percent of workers returned to work after Tet, but enterprises still lack workers. The province's job center has joined forces with Dak Lak and Kon Tum provinces in the central region to recruit 1,000 unskilled workers. It also cooperated with provinces in the western part of the southern region to attract 5,000 workers.

In Dong Nai province, Le Nhat Truong from Pousung Vietnam said the company is seeking 10,000 workers to expand production. About 50 workers are recruited each day.

Cao Duy Thai from the Dong Nai Department of Labor, War Invalid and Social Affairs said local enterprises have registered to recruit 75,000 workers, but the real figure could be higher.

According to Thai, the demand for workers in the province has been increasing in recent years, mostly because enterprises are expanding production.
Le Ha 

Negotiating and signing collective labor agreements (CLAs) by professional category is among the trends to perform the duties of representing and protecting the legitimate rights and interests of trade union members and workers.  

More than 5,000 Chinese people have been quarantined when returning to Vietnam to work according to the Ministry of Labour, Invalids and Social Affairs.