Ca cuong, or giant waterbug, looks like a cockroach. However, unlike cockroaches, ca cuong, with a rare and precious essence, is very expensive and sells for VND3.5 million per kilogram.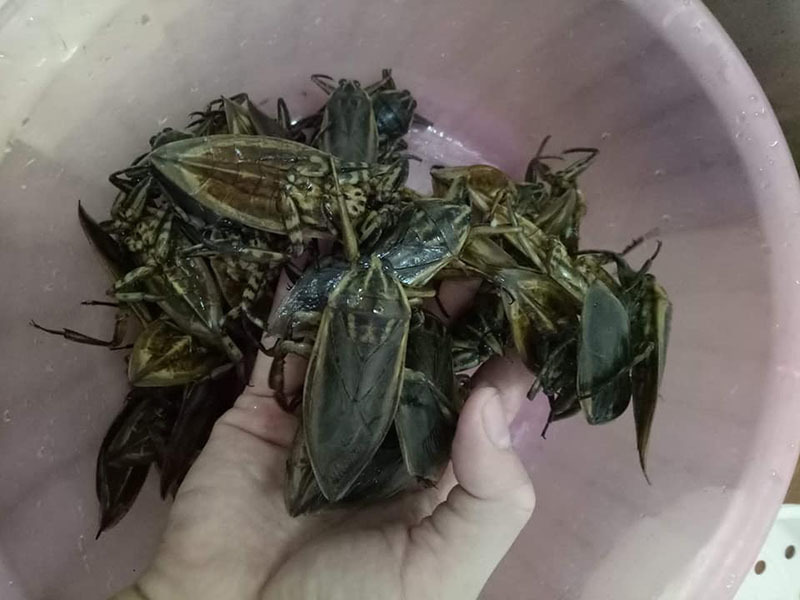 In the past, wealthy people sought to buy insects such as crickets and stinkbugs. Now, they hunt for ca cuong. Despite the high prices, well-off families are still willing to buy ca cuong essence to make dishes tastier.
Nguyen Dinh Long in Thach That district in Hanoi sells ca cuong on his Facebook page at VND35,000 per ca cuong.
Long said ca cuong has become is cheaper than it was in previous years because of Covid-19. It was no less than VND5 million per kilogram and VND50,000 per ca cuong.
Long said the ca cuong he sells is from Laos or southern provinces. His major clients in Hanoi are families and snack shops. However, there is a shortage in the north, because northern farmers have abused plant protection chemicals in farming.
Explaining the high prices of ca cuong, Long said the insect species has fragrant essential oils. People clean ca cuong and bake it over a slow fire. After that, they cut it into small pieces and soak them in fish sauce.
Some other people extract essential oil from ca cuong and preserve it in closed vases. Just one or two drops of essence is enough for one meal.
As ca cuong is expensive, people only buy several ca cuong each time. Meanwhile, wealthy people and restaurants order several kilograms.
According to Long, one kilogram consists of 80-100 ca cuong. He sells from tens to 200 ca cuong each day.
"On Tet and public holidays, ca cuong is in high demand. People buy ca cuong to soak in fish sauce, or make sauce for traditional dishes. Wealthy people drink beer with grilled ca cuong," Long said.
As demand is high and supply low, Long cannot satisfy the demand. In general, clients have to place orders one week in advance.
Long also distributes products made of ca cuong, including fish sauce (with 10 male ca cuong) at VND500,00 per bottle, ca cuong essential oil at VND300,000 per vase, and ca cuong liquor at VND1.2 million per 2 liter bottle.
Tran Van Kien, a construction engineer, said he had ordered 0.5 kilograms of male ca cuong to soak in wine and fish sauce.
"Male ca cuong has the essential oil that smells like cinnamon," he explained. "I want ca cuong fish sauce for my meals, or I won't be able to eat." 
Tam An

Corn cake is quite popular among the H'mong people in Tuyen Quang Province.

The second and third months of the lunar year are the time for gourmet cooks to order banh trung kien, or ant's egg cakes, a Cao Bang specialty.