Buyers of condotel units are at stake since they have made their investment decisions based on what brokers have said and on their trust in project developers without obtaining sufficient information.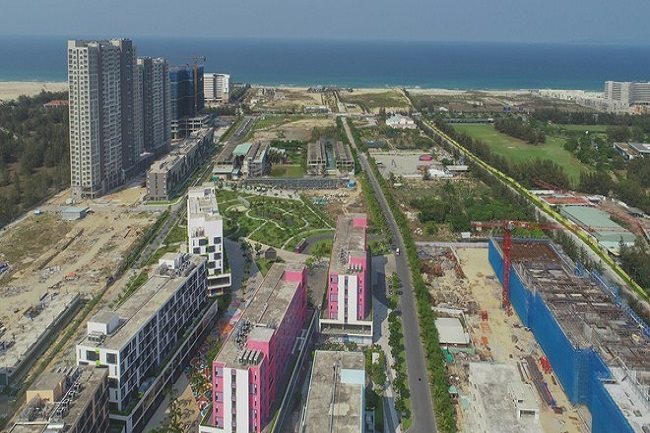 An aerial view of Cocobay Danang condotel complex in the central coastal city of Danang. The developer of Cocobay Danang condotel complex has not been able to pay buyers their promised profit of up to 12% a year
Held by the Vietnam National Real Estate Association (VNREA), in collaboration with the financial and economic television channel VITV, the 2019 Vietnam Real Estate Forum gathered leaders from the Ministry of Construction, and experts, reported the Vietnam News Agency.
According to the experts, many firms have developed tourism apartments, known as condotels, while most of their buyers have little knowledge about this segment and have not carefully read the terms of their contracts.
The Ministry of Construction has identified three major issues surrounding this segment, including its land use regime, lack of regulations on condotel ownership rights, and its operational management, according to Nguyen Manh Khoi, deputy head of the Housing and Real Estate Market Management Agency.
He said the Ministry of Construction is devising criteria for defining condotel and officetel, and more importantly, condotel and officetel management regulations. Meanwhile, the Ministry of Natural Resources and Environment is tasked with enforcing regulations on the land use regime in this segment. 
Currently, there are no regulations governing the condotel segment even though condotel projects have been mushrooming in many parts of the country, especially in seaside resort towns such as Danang, Nha Trang and Phu Quoc. Therefore, condotel buyers would be at great risk of losing their money if developers do not honor their commitments. Moreover, the authorities do not issue condotel ownership certificates.
Cocobay Danang to stop paying owners 12% annuity
Empire Group, the developer of Cocobay Danang condotel complex, has informed its 1,700 buyers that it would stop paying the 12% annuity beginning next year. When selling the project in 2016, it had promised to pay an annual sum equivalent to at least 12% of the cost of units over a period of eight years, reported the news website VnExpress. It was considered unusually high at the time.
The firm is offering some alternatives to condotel buyers. They could either pay 15% of their investment to turn their condotel into an apartment and live there, or lease it out and sign a new contract with Empire to accept a return of 80% of profits from rentals.
Its chairman, Nguyen Duc Thanh, said the financial crisis for Cocobay Danang started in August 2017 and has since worsened, due to the lack of regulations on condotel development and ownership.
Among the problems, banks did not provide credit due to regulatory hindrances, contractors started to pull out of the project and foreign partners also ceased their involvement with the group.
Cocobay is a 51-hectare hospitality and entertainment complex in Ngu Hanh Son District, Danang City. Construction began in 2016 at a cost of some US$5 billion.
Empire had planned to build 10,000 three- to five-star units, but has so far built only 3,000.
It has been reporting losses since 2017, accumulating VND134 billion (US$5.7 million) as of last year. It also has reported debt obligations of VND10.17 trillion (US$438.4 million). SGT
Several months ago, the condotel market was described as 'falling into decay', but now it is heating up again.

Positive signs have been seen in Vietnam's condotel arena after more than two years of downturn as consumption in the third quarter of this year was reported at 86 per cent compared to less than 40 per cent in the same period of 2018.