Vietnam has enjoyed high export growth but experts are concerned that the main contributor is foreign direct investment (FDI).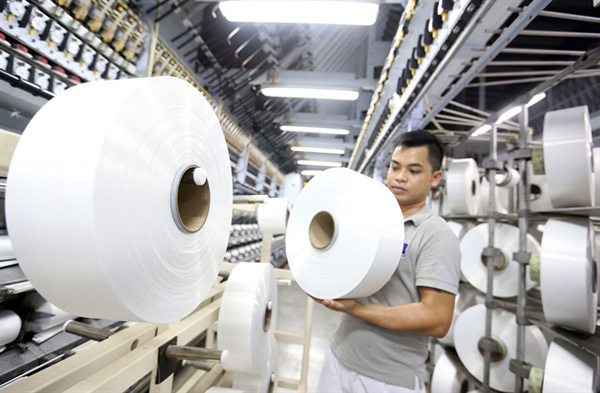 The local export turnover is estimated at $77.34 billion, an increase of 22 per cent. — VNA/VNS File photo
In the first quarter of the year, the country saw an estimated import and export value of US$152.65 billion, up 24.1 per cent over the same period last year. Of which, export turnover was estimated at $77.34 billion, an increase of 22 per cent from Q1 of 2020.
Of the total export turnover, the domestic sector only contributed $18.3 billion, an increase of 4.9 per cent and accounting for 23.7 per cent, while the rest was from the FDI sector with $59.04 billion, up 28.5 per cent and accounting for 76.3 per cent.
Deputy Minister of Planning and Investment (MPI) Tran Quoc Phuong told local media: "The export share of the FDI sector is growing, reaching more than 76.3 per cent, while in the past, it was just between 60 and 70 per cent."
"This shows that Vietnam's export growth is increasingly dependent on FDI and this is noteworthy," he said, adding that in recent years, the proportion of FDI contribution in total export turnover has been increasing.
According to the ministry, in 2020 the FDI sector contributed $202.89 billion of the total export turnover of the country, accounting for 71.7 per cent.
Local statistics show that for key export products, the FDI sector is dominant. For example, in mobile phones and spare parts, the FDI sector accounts for 99.1 per cent of exports, while in electronic products, computers and components, it accounts for 98 per cent and 93.1 per cent, respectively.
While in footwear and textiles, the majority of exports also belong to FDI with 81.9 per cent and 62.5 per cent, respectively.
In the export surplus of more than $2 billion of the first quarter, the bigger contributor was from FDI enterprises. In the first quarter, FDI firms, including crude oil, saw a trade surplus of $8.78 billion.
The heavy dependence on FDI has been discussed for a long time, but with the export portion of more than 76 per cent, it was a bigger concern, said experts.
Vu Thanh Tu Anh, from Fulbright University Vietnam, said: "The growing dependence of the economy on the FDI sector is very difficult to accept. If Vietnam wants to create internal resources, we cannot depend on FDI as at present."
According to the 2020 Enterprise White Book, by the end of 2019, Vietnam had 758,610 operating enterprises, of which 16,878 were FDI enterprises. Despite accounting for a much smaller group, they have a huge contribution to the country's export turnover.
To deal with the issue, economists have said the country must build an autonomous economy on the basis of mastering technology and integrating and diversifying markets.
Minister of Planning and Investment Nguyen Chi Dung previously said: "Vietnam must form a new national production capacity, have autonomy, participate effectively, improve its position in the global value chain and be effectively resilient to major and unusual external impacts."
The minister called for better connections between the FDI and the domestic sectors, suggesting a programme to encourage experts and managers who are working in foreign businesses to establish Vietnamese enterprises.
He told local media: "These are people who have the knowledge, know the technology, the production process, the operating process and the business administration, have relationships and experience so when separating to establish a business, those enterprises will see the fastest success."
Other experts agreed that attracting talents from FDI to local enterprises was a way for Vietnamese enterprises to gradually grow and become partners with FDI enterprises and join their global value chains and more contribute to Vietnam's export growth, avoiding being too heavily dependent on foreign investment as at present.  
VNS

Vietnam will lure more foreign investment in the high-tech industry by offering more incentives and amending requirements for high-tech businesses.

Several of Vietnam's key export sectors have become magnets for merger and acquisition (M&As) activities, posing a risk of leading enterprises in those sectors being purchased by foreign investors.