After many years raising rabbits, Do Quoc Toan, a farmer in Dan Phuong district in Hanoi, has reaped fruit. His rabbit farm brings revenue of over VND1 billion a year.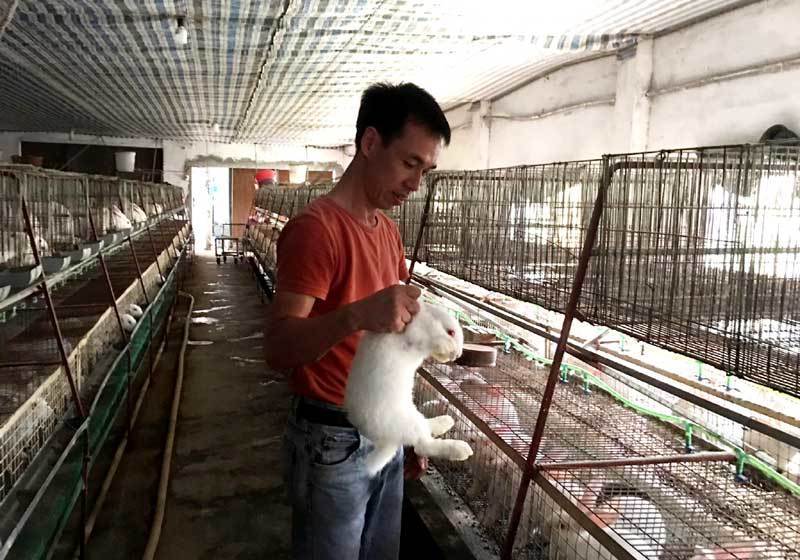 Toan works at his rabbit farm all day and only uses family workers and does not have to hire workers.
Toan has a bachelor's degree in accountancy from the Hanoi Trade University. Soon after graduation, he got a job at a state agency, which was a dream of many young people.
However, Toan found the working environment restrained, which did not fit him. He wanted to work in a dynamic environment. In 2000, Toan decided to give up the job and started doing petty trade to accumulate money for bigger projects.
In 2016, he returned to his home village, and spent the money he saved on agricultural production.
Raising rabbits was not done by anyone in the area, but Toan decided to raise rabbits after he received advice from friends, and read information about the demand from the Japanese market.
In 2017, he began raising 1,000 female breeding rabbits and adult rabbits on an area of 200 square meters.
Lacking knowledge, Toan had to learn from farmers in other regions. But he incurred big losses as hundreds of rabbits died because of mistakes in farming.
"The cages were designed very simply, made manually. Two or three of us worked from early in the morning until late afternoon. Only since late 2018, when I bought some machines, has the workload eased," he said.
Toan had a very tough time selling rabbit meat. He was refused in the domestic market, but he could not contact Japanese importers. Most of the meat was sold to restaurants and merchants at VND65,000 per kilogram. But the prices and market demand fluctuated all the time, thus causing constant anxiety.
Fortunately, in 2019, he was able to contact a Japanese company which was collecting rabbit meat. He began expanding his herd of rabbits by twofold and enlarged his farm to 900 square meters with 3,000 rabbits.
After many failures, Toan now has achieved a high success rate of 95 percent.
Toan said he sells 800 rabbits to the Japanese partner each month that serves research and medicine production. However, the exports have halved in recent months because of Covid-19. 
Nhat Thanh

One of the entertainment services travelers enjoy in Hoi An is riding buffalos and learning to farm. The special tours allow local farmers to earn big money.

Vietnamese farmers often call on consumers to 'rescue' farm produce when there is an oversupply and sales are slow. But the use of e-commerce platforms has changed that.