Vietnam has attracted plenty of FDI into industrial manufacturing, and while previously overseas investors talked about the weakness of supporting industries, the current changes are step-by-step contributing to the attraction of FDI for the future. 
Chief representative of the Japan External Trade Organization in Hanoi, Hironobu Kitagawa, about the new business opportunities available, as well as suggestions on how to increase its competition.
How do you judge the ­potential co-operation between Japanese firms and Vietnamese counterparts in the robotic and automation ­sector?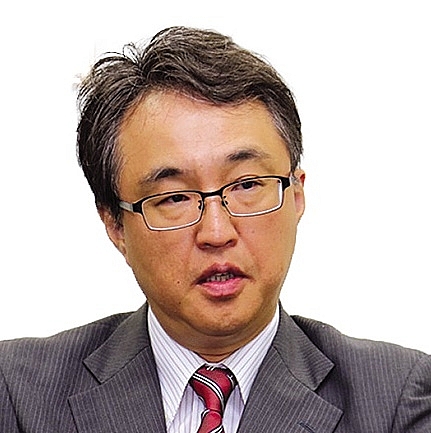 Hironobu Kitagawa
Growth in robotics and automation is propelled by a need to improve competitive capability in the industrial sector by improving efficiency and production stability, as well as cost control.
To encourage manufacturers to have a technology development plan for using automation and robotics in their manufacturing lines, they need to ensure they are up-to-date on all current ­and relevant information.
Japan is also one of the most robot-integrated economies in the world in terms of robot density, measured as the number of robots relative to humans in manufacturing and industry. Japan is willing to share experience and co-operation with Vietnam in this regard.
The localisation for materials, components, and spare parts of Japanese businesses in Vietnam is 36.3 per cent, while the rates for China and Thailand are 68 and 57 per cent, respectively. What should Vietnam do to increase this rate in order to attract more foreign direct investment, as well as increase competition?
Localisation leads to increased costs and high risks for Japanese investors, for operations in the Vietnamese manufacturing industry, and creates difficulties in maintaining medium- and long-term production activities in Vietnam.
However, Vietnam is expected to be more attractive to foreign investors thanks to the increase of localisation rate for parts production in the country, especially in the manufacturing industry. Vietnam's localisation rate has risen gradually.
It is essential for the country to focus on prioritised sectors and adopt appropriate industrial policies to strengthen links between Vietnamese and overseas firms in order to bring further growth to the Vietnamese economy.
The key factors for realising industrial sophistication are to strengthen technological capabilities in science and manufacturing, educate and develop local talent, and build industrial value chains.
What sectors interest Japanese investors the most in this country?
Vietnam has been attracting Japanese enterprises in recent years because it is not only a strong manufacturing location, with stable infrastructure and competitive labour costs compared to neighbouring countries, but also because it is a market that has significant potential. It is expected that domestic demand will grow due to increases in market size, stable economic growth, and higher incomes.
Japanese enterprises are attracted by human resources and domestic demand in Vietnam, both of which are issues they must address in Japan. In the manufacturing and processing sector, investment opportunities in fields with low-cost labour and land areas will continue to increase. VIR
Phuong Thu