A list of 755 enterprises failing to register to list on the stock market after equitisation will soon be announced.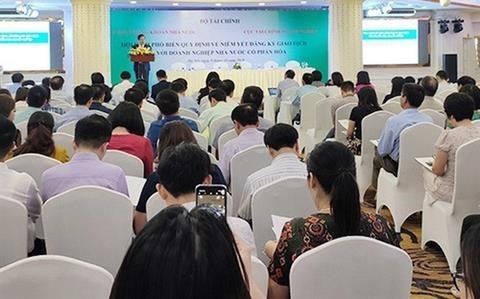 Dang Quyet Tien, Director of the Ministry of Finance's Corporate Finance Department speaks at the event
The information was released by Dang Quyet Tien, Director of the Ministry ofFinance's Corporate Finance Department, during a meeting held on October 11 in Hanoi.
Of the 755 firms, 154 enterprises are newly included in the list. The 747remaining firms were previously announced in August 2017.
Under Decision 51/2014 issued by the Prime Minister, state-owned companies thatwere equitised after November 1, 2014 would have only 90 days to register with VietnamSecurities Depository (VSD) and State Securities Committee (SSC) for trading.Companies that were equitised before that date would have one year to registerfor trading.
Those found guilty of delays in registering as a public limited company withina year of their initial public offering (IPO), will be fined.
However, investors think the fines are only warnings, and want protection oftheir investments by reducing the time span during which companies mustregister their stocks with the VSD and the SSC after an IPO.
Quyet said the equitisitation process of State-owned enterprises facilitatedthe development of the capital market.
Firms who delay listing on the stock market would worsen their corporategovernance, which could lead to collapses after equitisation, Quyet said.
Equitisation associated with listing would help businesses improve governance,increase transparency and make the market healthier, he said.
Le Cong Dien, Director of the SSC's Public Enterprises Supervisory Department, saidlisting on the stock market would bring many benefits for enterprises, such aseasier capital mobilisation, corporate image promotion and increased liquidity.
The legal regulations and related procedures had also been greatly simplified,creating favourable conditions for post-equitisation State-owned firms to belisted, Dien said.
It was necessary to provide legal guidance for companies to fulfil the listingprocess, Dien said.
State agencies would impose sanctions on those firms who fail to register tolist in time, he said./. VNA