Ford Vietnam on January 14 announced it was investing another US$82 million (VND1.9 trillion) to upgrade its Hai Duong assembly facility and expand its annual production capacity to 40,000 vehicles.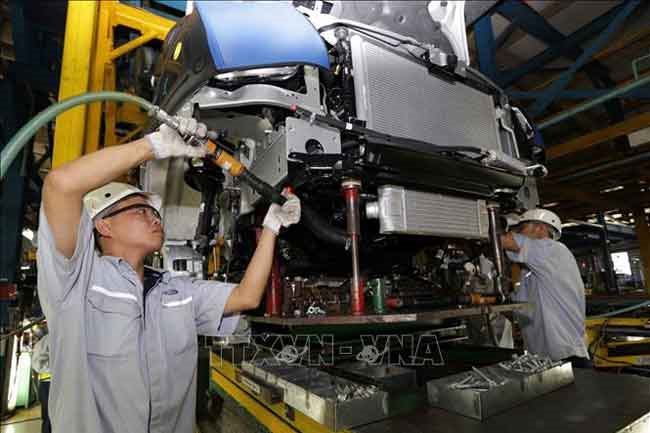 Workers assemble an auto at Ford Vietnam's Hai Duong assembly facility - PHOTO: VNA
The investment follows the strong and steady climb in demand for Ford vehicles in Vietnam, including record sales in 2019 of more than 32,000 vehicles, and the healthy forecast for the continued growth of Vietnam's burgeoning automobile industry. Ford Vietnam recorded full-year sales in 2019 that surged 31% year-over-year to 32,175 vehicles.
"With this additional investment, Ford Motor Company is expressing our continued confidence in the future of Vietnam's auto industry, as well as underscoring our commitment to the market and to meeting the increasing demand for Ford vehicles in Vietnam," said Andrea Cavallaro, operations director, Ford's International Markets Group.
The additional investment will bring Ford's total investments in Vietnam to more than US$200 million. The new investment in the facility in the northern province of Hai Duong will come in two stages over a two-year period starting this year, with completion scheduled for mid-2022.
The new construction will expand the factory across 60,000 square meters of land, bringing the total area to 226,000 square meters, including the body shop, paint shop, trim and final shop, materials, planning and logistics warehouse and parking area.
A significant part of the investment will allow the company to procure new manufacturing tools and equipment, including the latest robots, to improve the plant's efficiency and ensure the highest quality Ford vehicles for Vietnamese customers.
According to the company, the expansion will follow Ford's strict global manufacturing and environmentally responsible processes and systems.
Ford currently assembles three highly competitive vehicle models in the Vietnam market: the EcoSport urban SUV, the Transit commercial van and the newly launched seven-seat Tourneo MPV. The expansion of the Hai Duong factory opens up new opportunities for Ford to increase the number of locally assembled vehicles. 
"Ford is among the three fastest growing auto brands in the country, with three of the six vehicles we sell in Vietnam leading their respective segments," Pham Van Dung, managing director of Ford Vietnam, noted, adding, "The new investment in local production will help us grow even further and serve even more customers in Vietnam."
Dung claimed the new investment would add more than 500 jobs at Ford in Vietnam, nearly doubling its current total, while helping to create thousands of more indirect jobs across Ford's supplier and dealer networks in Vietnam.
The additional investment in the Hai Duong facility coincides with Ford's celebration of its 25th anniversary in Vietnam. Ford was one of the first investors in the country after U.S.-Vietnam relations were normalized in the mid-1990s.
"Today's investment announcement is a great way to help celebrate Ford's 25th anniversary of operations in Vietnam by underscoring our long-term commitment to the market and to further contributing to the auto industry's ongoing growth and success," said Dung.
In addition to its record business growth, Ford has been an active and engaged corporate citizen across Vietnamese communities, including road safety education through Ford's Driving Skills for Life (DSFL) driver safety program. Since its local launch in 2008, more than 15,000 people have participated in DSFL training sessions across the country, free of charge. SGT
Hung Le

Among the incentives, the government is urged to lower the special consumption tax for locally made parts to help them reduce prices to compete with foreign manufacturers.

Car sales in November failed to meet expectations even though the year-end shopping season has started and despite various discounts of up to hundreds of millions of dong.