The UK-based Vietnam Investments (VI) Fund II LP plans to sell more than 58 million shares of logistics firm Gemadept JSC.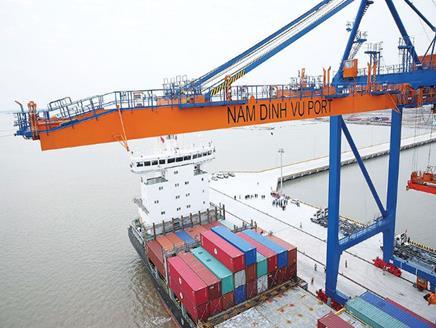 A corner at Nam Dinh Vu Port in the northern port city of Hai Phong, which is being operated by logistics firm Gemadept. The company's shares have gained nearly 13 per cent in the last three trading weeks. — Photo gemadept.com.vn
The fund will offer those shares for sale between August 23 and September 20, 2019. After the deal, VI Fund II will cut its ownership at Gemadept to zero from the current 19.55 per cent.
VI Fund II had sold nearly 29.7 million Gemadept shares to slash its stake in the Vietnamese logistics firm to 19.55 per cent from previous 29.55 per cent, or more than 87.7 million shares.
Transactions were carried out between July 8 and August 2. During the period, SSJ Consulting (Vietnam) Limited Liability Company registered to purchase nearly 29.7 million Gemadept shares between July 5 and August 2.
Gemadept shares (HoSE: GMD) had gained as much as 12.8 per cent in the last three trading weeks. The firm's shares ended Wednesday at VND28,650 (US$1.23) per share.
The British firm also saw its VI Fund I LP sign up to sell 2.45 million Gemadept shares between August 16 and September 13. Gemadept Chairman Phan Thanh Loc and board of directors' member David Do are managers of VI Fund II LP.
VI Fund II LP is a Viet Nam-focused investment fund run by the UK firm CDC Group Plc. It became one of the major shareholders at Gemadept after receiving 87.7 million shares via a private deal as a swap for the Vietnamese firm's $40 million loan.
VI Fund manages $400 million worth of Vietnamese assets, having invested in local firms such as PG Bank, Eximbank, Thien Minh Group and SSG Education, as well as Gemadept.
In the second quarter, Gemadept reported net revenue of VND668 billion ($28.7 million), up 12 per cent year on year. Main incomes came from port operation and logistics.
However, Q2 net profit was down 27 per cent year on year to VND201.6 billion as income from financial investments and sales fell 36 per cent to VND94 billion.
In the first half of 2019, Gemadept earned VND1.3 trillion in revenue, a slight decrease from the previous year. Income from core business – port operation – gained 11 per cent year on year to VND1.13 trillion.
Of the income structure, its financial income was VND105 billion in the first six months.
The logistics firm posted a 78 per cent reduction of post-tax profit in the first six months this year, which was VND348 billion. It has fulfilled 46 per cent and 57 per cent of the full-year revenue and profit targets. — VNS