A series of large-scale foreign-invested projects worth hundreds of millions of US dollars are flocking to Vietnam, promising a bright outlook in attracting this type of capital inflow this year.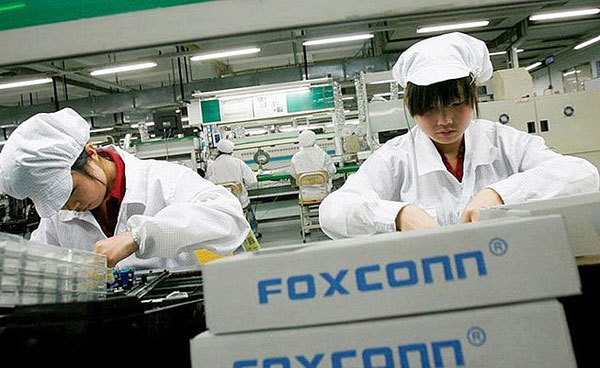 Foreign-invested capital on the rise. Source: plo.vn
While not yet reaching the dizzy heights of the $4-billion Bac Lieu LNG-gas-to-power project welcomed into the country a year ago from the United States, Vietnam continues to see a wave of billion-dollar ventures converge within the early months of the year despite the ongoing pandemic complexities worldwide.
Foxconn Singapore is considering three locations offered by Thanh Hoa People's Committee to develop a $1.3-billion project to produce electronic parts for Apple. The locations include Nghi Son Economic Zone, an industrial park in the west of the north-central province, and another one in Thieu Hoa District. Once complete, the plant will generate 100,000-150,000 jobs and generate $10 billion in export revenue per year.
According to Do Minh Tuan, Chairman of Thanh Hoa People's Committee, the investor is waiting for the opinions of the parent companies overseas before issuing a final decision. Foxconn representatives in recent times have visited Thanh Hoa on several occasions in order to work with the provincial leadership to promote investment activities.
"The province has committed to creating favourable conditions to shorten the timeline for project approval. Once the group has made its final decision, the province will establish a steering committee headed by the chairman to accompany the investor to develop the project," Tuan said
Along with Foxconn, numerous large-scale foreign-invested projects worth hundreds of millions of US dollars have already been licensed in the first two months of 2021.
Haiphong People's Committee awarded an investment certificate for a LG Display Haiphong project to increase capital by $750 million. The project now has total capital of $3.25 billion, becoming the largest foreign-invested project in the northern port city so far.
LG has plans to start implementation of the expanded project in March and take it into operation in May this year. The expanded factory will generate 5,000 labourers and arrange accommodation for 10,000 experts and other workers, simultaneously contributing $5 million to the state budget.
Elsewhere, an investment registration certificate was presented to developers of the 1,050MW O Mon II thermal power plant project on February 8. The plant is a joint venture between Vietnam Trading Engineering Construction JSC (Vietracimex) and Marubeni Corporation from Japan, with initial capital of VND30.56 trillion ($1.33 billion).
Bac Giang People's Committee has also granted investment registration certificates for four projects with the total registered capital of $570 million – $270 million of which is Foxconn Singapore's initiative to produce laptops and tablets.
Do Nhat Hoang, director of the Foreign Investment Agency under the Ministry of Planning and Investment said, "Nearly 300 enterprises from many nations are planning to expand their existing investment or explore opportunities in the country. Of this, over 60 groups have reaped initial results in new and expanded projects here. Initial information shows that the total registered capital of these projects will likely be over $60 billion," Hoang said.
The achievements are stemming from efforts to reform policies and legal frameworks, especially through implementation of the Politburo's Resolution No.50-NQ/TW issued in 2019 on orientations to perfect mechanisms, policies, raise quality and efficiency of foreign investment by 2030. Furthermore, three amended laws that came into effect at the same time are also strongly pushing the potential of attracting foreign-invested capital.
After the government's Resolution No.02/NQ-CP on the continued implementation of major tasks and solutions for improving the business environment and national competitiveness in 2021 came into effect at the start of the year, the country immediately saw positive signs from foreign-invested capital inflow.
In cities and provinces, leaders are also making efforts to reform administrative procedures and shorten the time for granting licenses, while ensuring they are available to deal with problems that arise during the investment process.
For example, the leadership team at Foxconn was surprised when it took only four days to receive an investment certificate for the Fukang Technology factory in Bac Giang Province. The provincial leaders also committed to support the investors to complete the remaining procedures as fast as possible. Besides that, they are willing to meet directly with investors to talk about their difficulties. The province in addition also organises periodic meetings with investors to listen to their proposals and problems, while looking for solutions.
Meanwhile, Le Trung Kien, director of Haiphong Economic Zones Management Authority, said that the LG Display project is a large-scale foreign-invested project in which the managing board, departments, and relevant authorities focused their power to appraise the investment registration procedure and grant the license within only five days. The achievement showed the determination in reforming administrative procedures, improving the business environment, and turning Haiphong into an ideal destination for investors.
Minister of Planning and Investment Nguyen Chi Dung said that in 2021, in order to improve the quality of foreign-invested capital inflow, the authority will review foreign-invested enterprises relating to their legal compliance, responsibility to the environment, and checking for signs of transfer pricing, among other issues.  VIR

Vietnam's effective control over the COVID-19 pandemic along with it signing a host of new free trade agreements has resulted in many global tech giants shifting their investment to the country.  

The wave of high-tech companies investing billions of US dollars in Vietnam is already materialising, raising the question for the country on exactly how to absorb all the incoming capital.