The "Vietnam Digital 4.0" program initiated by Google is to provide digital skills training courses for 500,000 workers at small and medium - sized enterprises in Vietnam.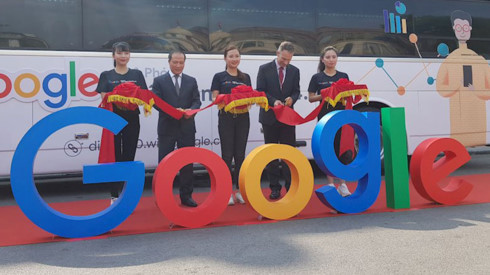 At the launching ceremony of "digital bus" scheme.
The Ministry of Industry and Trade (MoIT) and Google officially established their strategic relations on August 15 with the aim of expanding the program over the course of the next three years.
The program is advocated by Google in partnership with Vietnam Women's Union, Vietnam Chamber of Commerce and Industry's Ho Chi Minh City branch, Vietnam Women Entrepreneurs Council, and others across the country. It will provide small and medium - sized enterprises (SMEs) with free training courses for digital, soft, and business skills from basic to advanced levels.
This project is expected to help SMEs improve their competitiveness and gain greater business opportunities.
The partnership between the MoIT and Google will allow for the expansion of the project, especially through the introduction of digital skills to rural areas, while enabling local participants to improve their capability of doing business.
Google has announced further programs to reach additional enterprises and give participants the chance to gain easier access to digital skills training courses.
As part of the entire program, the "digital bus" scheme is to offer mobile digital skills training courses to those living in remote areas across 59 provinces and cities within 18 months from August 2019 to December 2020.
Google is to also launch the Primer application that will help learners improve their digital skills in a way that they could set forth their business plans in a quick and convenient manner without use of the internet. These business schemes cover administration, sales, digital advertising, social media, content marketing, and branding.
Cao Quoc Hung, Deputy Minister of Industry and Trade, said that the ministry has underscored the significant role of building a strategic vision on human resource development in a digital context.
Vietnam is to develop human resources based not only on the existing full-time training system but also on short-term and on-site training and the diversification of training models, Hung added.
He stressed that with the advantage of both sides, the ministry and Google will make combined efforts to efficiently develop skilled digital human resources.
Previously, the "Vietnam Digital 4.0" program was launched in June 2018. It had a slew of training courses held for nearly 85,000 participants from SMEs, while providing 24 different training models at six training centers across major localities, including Hanoi, Ho Chi Minh City, Danang, Can Tho, and Haiphong.