The Vietnamese Government has responded swiftly to the COVID-19 economic impacts, which was supported by strong fundamentals, thus ensuring the economy's resilience, said Asian Development Bank (ADB) Country Director for Vietnam Andrew Jeffries.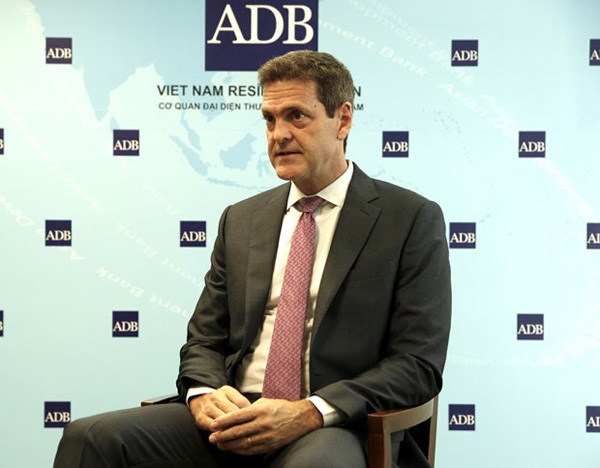 Asian Development Bank (ADB) Country Director for Vietnam Andrew Jeffries. (Photo: VGP)
Jeffries made that statement in a recent interview granted to the Vietnam Government Portal (VGP) regarding Vietnam's macro-economic prospects amidst the COVID-19 pandemic outbreaks.
Three key drivers of Vietnam's economic growth
Jeffries highlighted that Vietnam's economic growth is expected to growth by 6.7 percent in 2021 and 7.0 percent in 2022 - strong and steady growth made possible by Vietnam's success in containing the COVID-19 pandemic.

Inflation will be under control, despite an expected rise to 3.8 percent this year and 4.0 percent in 2022 due to rising international oil prices on the global economic recovery and increased domestic consumption, he added.

The ADB Country Director referred to the drivers of this growth, including industry, driven by export-oriented manufacturing, increased investment (private and public investment) given accommodative fiscal and monetary measures, and expanding trade, thanks to the faster-than-expected recoveries in China, the US, and Vietnam's participation in 15 major free trade agreements involving all advanced economies.

Regarding the Vietnamese Government's support packages for enterprises and people affected by COVID-19, he asserted that the Government has responded swiftly to the COVID-19 economic impacts, which was supported by strong fundamentals, thus ensuring the economy's resilience.

The accommodative monetary policy through key interest rate cuts together with the implementation of credit package and fiscal support measures have provided breathing space to affected businesses, including small- and medium-sized enterprises (SMEs).

However, the credit support has been mainly arranged and provided by commercial banks, said Jeffries, adding that the bulk of the increases of liabilities have been shouldered by the commercial banks, but they still have to apply required lending standards, especially when the balance sheets of affected firms are being deteriorated.

Without risk sharing by the Government, banks may have been reluctant to provide more loans to affected firms, he emphasised.
A more sustainable long-term strategy is needed
Mentioning Vietnam's measures to support businesses and people to overcome negative impacts of COVID-19, Jeffries said that the State Bank of Vietnam has instructed the banks to extend the implementation of credit support measures to the end of 2021.

The Government also allowed extending the deferral of taxes and landing rental in 2021 to further reduce the shock's impacts and support economic recovery, he said, stressing that the long-term economic recovery is being fleshed out by the Government. 

However, he supposed that the support was mainly in the form of deferral of taxes and land rental, and size of the support remained modest, as compared with other countries with fiscal support of up to 15 percent - 20 percent of the GDP, like in France, the UK or Singapore. 

Among others, the emerging long-term economic priorities after the COVID-19 are the imperatives to build an economy which is resilient to internal and external shocks which have become more frequent in recent decades; broad-based that can help reduce disruptive impacts from external crisis; and digitally able to strengthen economic competitiveness and efficiency, the ADB Country Director proposed.

An ADB study suggests that there is a huge impact of COVID-19 on income and poverty of Vietnamese households. For example, the impact of the pandemic will reduce household per-capita income on average by 9.8 percent, and the poorest income group will suffer a 10.2 percent income drop, while the poverty rate of households in the poorest income quintile will rise by 40 percent.

There will be an additional 1.7 million poor people due to the pandemic, and those living in rural, remote areas and ethnic minority people will be more severely affected.

Cash transfer in Resolution No. 42/NQ-CP dated April 09, 2020 assistance for people affected by the COVID-19 pandemic should be a short-term solution to over income shock, said Jeffries.

A more sustainable long-term strategy should be to help the poor and vulnerable to diversify their livelihoods through, for example, short-term vocational training and improved access to microfinance for establishing new businesses, he suggested.
Recommendations for Vietnam to achieve dual targets
In short-term, Jeffries indicated that the major downside risks are the pandemic re-emerging from new coronavirus variants and delays in the Government's vaccination plan.

A faltering global COVID-19 vaccine rollout could have an immediate impact on Vietnam being able to return to its strong pre-pandemic growth path given the country's reliance on external demand.

The fast revival of domestic private investment may also heighten the risk of asset bubbles if credit is not channeled to productive sectors.

Meanwhile, in the medium and long-term, main challenges facing Vietnam include climate change impact, unfinished reforms (financial sector reform and SOE reform), and low labor productivity, he underlined.

The ADB Country Director recommended Vietnam to reset the growth momentum to achieve green recovery in the medium-term and green growth in the long-term, given the daunting impact of climate change on Vietnam in the decades to come.

Strengthening institutional efficiency is the key to unlock the private sector's potential to support growth, he said.

Accomplishing unfinished business reforms (financial sector reform, and SOE reform), improving the quality, transparency, and enforcement of laws and regulations, and simplifying businesses conditions are all critical to improve institutional efficiency for private sector development, Jeffries advised.

He stressed the significance of promoting digital transformation to improve productivity by investing on education, technology, and innovation.
VNA

The S&P Global Ratings announced late last week it had retained Vietnam's sovereign credit rating and improved its economic outlook to "positive" from "stable".