Home to nearly two million inhabitants, Haiphong is the third-largest city in Vietnam, and rapid urbanisation has underpinned its exceptional growth over the past five years.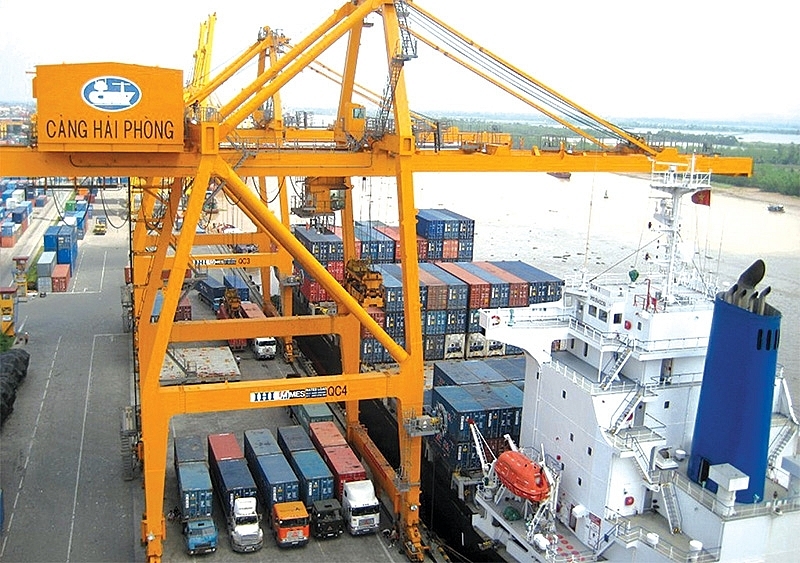 Haiphong enjoys a favourable position as a gateway to neighbouring regions and as a part of the country's coastline, Photo: Le Toan
Stephen Wyatt, country head of JLL Vietnam, provides tips on the city's potential for industrial real estate development.
Vietnam has gathered momentum over the past few years to establish itself as the production hub for Southeast Asia and now offers a viable alternative for companies looking to establish their operations outside of China. This is backed by a number of key fundamentals, such as strategic location, business-friendly environment, and competitive labour costs. While Hong Kong's central area will set you back in occupancy costs of $338 per square foot, premium offices in Taipei are 80 per cent lower and, in Seoul, office costs are around 70 per cent lower.
With a coastal line stretching over 3,200 kilometres along the East Sea, Vietnam possesses an advantageous geographical location that provides great access to the world's major shipping lanes. As a result, sea transport has been the most prominent mode of freight transportation facilitating international trade, with the majority of cargo going through the shipping hubs located at either end of the country.
The south, with the presence of long-standing ports such as Cat Lai, Hiep Phuoc, and Cai Mep, typically contributes more than half of the country's total sea cargo throughput while its northern Haiphong counterpart accounts for more than 30 per cent.
With an increasing proportion of foreign direct investment (FDI) pouring into the north over the past decade, Haiphong is fast becoming a focal point, providing companies with easy accessibility to transport their goods on a global basis which will create considerable growth opportunities. In light of this backdrop, Haiphong will gear up to become an internationally-recognised trading hub and a driving force for development in northern Vietnam.
Located on the main economic corridor, along the north-eastern coastal area, Haiphong is one of five major municipalities in Vietnam, and is set to become the main gateway for import and export for the northern region.
Given its proximity to China, only 200km from the border, the city is widely regarded as the China+1 manufacturing base in the ASEAN to take advantage of the China-ASEAN Free Trade Agreement (FTA).
Haiphong has been the spotlight for FDI inflows, garnering attention and support from the central government, supported by a major infrastructure boom and numerous governmental incentives. The Haiphong Economic Zone, which offers companies preferential treatment when they set up operations, is also acting as a catalyst to tempt more investors to the region.
The central government has shown its commitment to continue Haiphong's exponential growth by offering numerous special tax incentives, which has paved the way for it to become a foreign investment magnet, as streams of FDI pour into the city's economy. The constant improvement of Haiphong's Provincial Competitiveness Index rating demonstrates the continued efforts of authorities to enhance the business environment, which will further bolster the attractiveness of the city.
Recognising that infrastructure is a crucial element to leverage economic development, Haiphong will mobilise its resources to develop modern and synchronous transportation infrastructure, which will improve connections to key surrounding regions. This will contribute to establishing Haiphong as the main maritime trade gateway of the economic corridor in the northern region.
The city's infrastructure has undergone significant improvements through the completion of three core projects. These are Hanoi-Haiphong Expressway, Tan Vu-Lach Huyen Highway, and Dinh Vu-Cat Hai Bridge. By facilitating the links to Hanoi-Lao Cai Expressway, these projects will reportedly help reduce the commute time between the northern province of Lao Cai and Haiphong International Gateway Port to approximately six hours.
Over recent years, Haiphong had established itself as a core industrial hub in Vietnam. Benefitting from the positive effect of the China-ASEAN FTA and official development assistance from Japan, Haiphong is the preferred destination for manufacturing giants in hi-tech industries. Along with numerous incentives available to interested investors, Haiphong, together with the northern province of Bac Ninh, are transforming the industrial landscape across the northern region.
There are many examples of successful port cities around the world, such as London and Amsterdam. When developed in the correct manner, they can drive economic activity and serve as a crucial connection between sea and land transport. Haiphong has all the necessary ingredients to develop into a true global port city. With continued investment in new roads, traffic management, and rail and inland waterways, an increase in labour productivity, efficient administration procedures, and development of supporting industries, we firmly believe that Haiphong has a vision for growth which is set to continue for many years to come.
Le Huong Giang - Deputy director Investment Promotion Centre for the South
Haiphong has become a popular destination among overseas ­investors. Especially, those coming from Asia are pouring capital into logistics, ports, and manufacturing in the city.
By the end of March 2019, South Korean investors led the way in ­investing into Haiphong with more than 180 projects and the total investment capital of more than $6.7 billion. China, Taiwan, and Hong Kong together had more than 220 projects with the total investment capital of $2.6 billion in the city.
Until now, Haiphong's 13 industrial and ­economic zones have been home to 311 foreign-invested projects with the total investment capital of $13.58 billion, and 138 ­domestic projects valued at VND136 trillion ($5.9 billion). A list of six more industrial zones is also in the pipeline for 2025.
Do Thi Thu Hang - Associate research director, Savills Hanoi
Strong industrial infrastructure development and a sharp rise in investment in Haiphong have helped to fuel the ­municipal tourism sector in ­recent years. A range of major infrastructure projects in the area, such as Halong-Haiphong Expressway, Vu Yen I Bridge, and Haiphong ­International Container Terminal, have had an impact.
A wave of foreign direct ­investment into the city has also sharply increased. These are seen as the primary factors in attracting people far and wide to the city for ­business trips, to survey ­investment opportunities, and also to carry out major projects.
Haiphong currently has 14 hotels at a rating of 3-5 stars, providing a total number of 1,400 rooms. The average ­revenue of 5-star hotels was ­estimated at $63 per night in 2018, doubling the ­figure of the 4-star segment.
By the end of 2017, around 3,000 hectares of seven industrial zones in Haiphong had been filled. Overseas staff and experts' ­demand to stay in Haiphong to serve investment ventures is quite high, mostly in the hotel and serviced apartment ­segment. Japanese and South Koreans accounted for the ­majority of foreigners in the northern port city.
Hong Rae Cho - Business director Daiwa House Vietnam
Japanese investors are ­increasing their investment into the Vietnamese market and are hunting for warehouses for their manufacturing activities. Japanese investors are considering very carefully the destinations for these facilities. They must be close to a port, ensure a strong transport ­system, have good infrastructure, and have been built by prestigious developers with a god track record – and Haiphong can meet all these strict requirements.
Atsushi Otsu - General director Yusen Logistics
Haiphong has utmost ­advantages compared to other cities and provinces thanks to Lach Huyen Port which can ­receive 100,000 deadweight tonnage vessels. With its high potential in the coming time Haiphong will continue attracting more ­investors into the logistics ­sector.
Apart from traditional investment in warehouses, ­logistics, and shipping, foreign ­investors are also heading to ­towards cold logistics systems in the city. VIR