HCMC needs a pork and pig exchange floor where safe pork can be traded and the prices of pork and live pigs can be stabilized, benefiting both customers and pork suppliers and traders.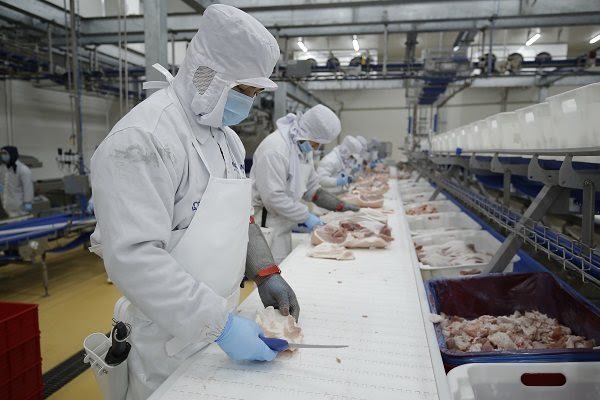 Workers process pork at a facility. HCMC needs a pork and pig exchange floor where safe pork can be traded and the prices of pork and live pigs can be stabilized
Speaking at the meeting held by the HCMC Department of Industry and Trade on November 14, Nguyen Ngoc Hoa, deputy head of the project division of the exchange floor project, said that the establishment of the exchange floor is necessary and important.
Despite African swine fever outbreaks, the demand for pork among HCMC residents remained high, he remarked.
However, traditional slaughter methods and poor pork sales and transport activities have discouraged customers and lowered their confidence in the safety of pork, he explained, adding that price gouging is widespread.
The pork exchange floor will help address these obstacles, including the uncertainty of pork and pig prices, unclear origins, limited access to information on the market and the poor governance of farming activities, he said.
A representative of Hoc Mon Wholesale market pointed out that the establishment of the pork exchange floor will give pig farmers the right to decide prices instead of traders.
Apart from this, the exchange floor is expected to raise customers' confidence in the safety of pork on the market, the representative said.
At the event, some firms active in pork trading activities in HCMC proposed running the projected pork exchange floor in the city under the equitization model to ensure transparency in pork and pig prices and encourage firms to get involved.
Nguyen Nguyen Phuong, a representative from the HCMC Department of Industry and Trade, noted that to prepare for the launch of the exchange floor, the department had dispatched a working team to Taiwan to study and survey the model and operating methods of the pig and pork exchange floor there.
Earlier, in March, the British Consulate General in HCMC signed a memorandum of understanding to cooperate with the HCMC Department of Industry and Trade to set up a pork and pig exchange floor in HCMC.
Pork prices soar in HCMC
Many wet markets in HCMC saw pork prices surge by up to VND35,000 per kilogram on November 14, Thanh Nien newspaper reported.
At some wet markets in the city, including Hoa Hung, Tan Phuoc and Thai Binh, pork prices ranged from VND140,000 to VND170,000 per kilogram. Pork belly was priced at VND180,000 per kilogram.
Pork belly Type 1 sold for VND200,000 per kilogram at some meat stalls on Cach Mang Thang 8 Street.
Some vendors said that the prices were reasonable as pork was safe and clean, adding that their pigs were raised at their farms.
Many provinces in the southern region, such as Tien Giang, Long An and Ben Tre, also faced the same fate, witnessing live pig prices edge up to VND68,000 per kilogram on November 14, up VND7,000 per kilogram.
Live pig prices also rose to VND63,000 per kilogram in some provinces in the southwest region, including Ca Mau, Kien Giang and Vinh Long. In Dong Nai Province, the pig price reached VND70,000 per kilogram, the highest level recorded in the past five years.
On the northern market, the live pig price was recorded at the highest level of VND78,000 in the Hung Yen, Yen Bai and Lao Cai provinces.
Pig prices in many provinces in central Vietnam and the Central Highlands region ranged from VND60,000 to VND76,000 per kilogram on November 14.
Pork and pig prices are forecast to continue to rise in the coming days. 
Pork supply to meet demand on domestic market next months

Although pork is plentiful right now, the demand is expected to rise at the end of the year, then rocket by as much as 25 per cent when the Tet (Lunar New Year) holiday is coming near.
To meet the increase, Nguyen Xuan Duong, acting director of the Ministry of Agriculture and Rural Development (MARD)'s Department of Livestock Production, said there must be close cooperation between the agriculture and trade and industry sectors.
He said the average price of pork is still stable, around VND65,000-66,000 per kilo in the north and about VND60,000-61,000 in the south.
But there has been a price increase recently to VND75,000 per kilo but this is due to mistakes in circulation and miscommunication, not lack of supply, according to the Ministry of Agriculture and Rural Development (MARD).
Duong also said the domestic market has not ran out of pork because many localities such as Bac Giang and Hung Yen provinces still have large supply of pigs.
Together with dealing with the African swine flu, the domestic agriculture sector has instructed to raise poultry, cattle and seafood so the total food supply does not fall short.
According to the MARD's Department of Animal Health, the African swine fever virus has so far spread to more than 7,700 communes of nearly 650 districts in all 63 provinces and cities of Viet Nam.
More than five million pigs have been culled in a bid to stop the outbreak spreading.
Kieu Dinh Thep, sales director of CP Vietnam Livestock Joint Stock Company, said pork supply has increased by about 10 per cent against last year with an average selling price at VND65,000 per kilo. The company will keep its pork price stable until the end of the year.
To increase the supply, CP Vietnam has improved productivity and re-breeding herds with biosecurity measure, Thep said.
Nguyen Van Long, deputy director of the Department of Animal Health, said pig producers should use biosecurity and control measures to gain success in increasing number of pigs. VNS/SGT
 Vu Yen

The Ministry of Industry and Trade over the past few months has proposed solutions to the prime minister to stabilize the local market in the lead up to the upcoming Tet holiday early next year.
Sausages anyone? You can't beat a tasty pork sausage anytime of day, and in Việt Nam, well obviously they are brilliant bangers! Grilled or fried are the most popular choice, with a touch of chilli sauce on the side...