HCMC will establish business development councils for each business sector so that the city can have strong economic groups by 2025, and will encourage large groups to access modern technology, said HCMC Chairman Nguyen Thanh Phong.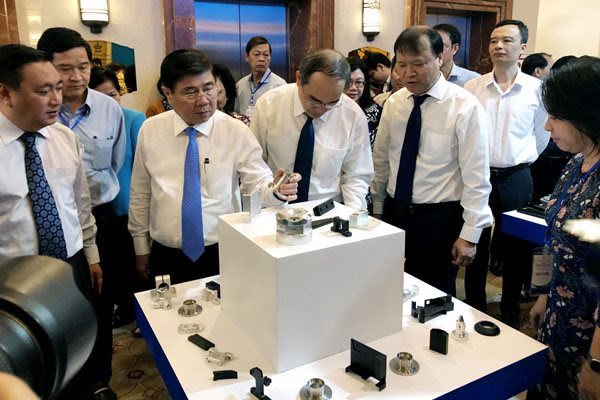 Secretary of the HCMC Party Committee Nguyen Thien Nhan, HCMC Chairman Nguyen Thanh Phong and other municipal officials visit a booth of a major enterprise during the seminar on industrial development -
At a December 6 seminar sponsored by the HCMC government, entitled "Industries of the city – roles and development potential," Phong said business development councils will include representatives of universities, State management agencies, research agencies and enterprises.
Although the industrial production scale in the city is increasing and many products have met the demand for local consumption and export, the competitiveness of local enterprises remains modest.
Notably, the city's export revenues continue to grow at a rate of 8.6% annually, and these revenues are mainly contributed by foreign-invested enterprises.
The municipal chairman pointed to reasons for the problem, noting that the proportion of micro enterprises in the city remains large.
The city is now home to nearly 380,000 enterprises, including only 700 large firms with registered capital of at least VND1 trillion. Micro enterprises account for up to 88% of the total number of businesses in the city.
Also, among 40 large brands in Vietnam, as recognized by Forbes magazine, those in HCMC make up a small proportion.
Phong admitted that the city's industries struggle due to shortcomings, in particular, the city's four key sectors--- mechanical engineering, electronics-information technology, rubber-plastics and food and foodstuff processing---are facing multiple challenges, despite high growth and significant contributions to the city's economic development.
The four sectors account for 9.8% of the city's gross domestic product and report an annual growth rate of 9.22%, higher than the city's economic growth of 8.3%.
However, the city's land fund has yet to meet the demand for these industries. Localities across the country are increasingly competing to attract investment, while the city is facing a shortage of cleared land, Phong said, adding that land rents in the city are higher than in export processing zones and industrial parks in adjacent localities, so enterprises tend to move to other localities.
The investment in the manufacturing and processing sectors has yet to match the city's potential. Further, the study and application of science and technology in production remains limited and has not kept pace with other countries, especially in the fourth industrial revolution.
The city's preferential policies have not encouraged enterprises to promote their investments, while regulatory obstacles, especially those relating to investment and product consumption, have yet to be removed.
Therefore, the city will prioritize the development of policies to attract investors for the manufacturing and processing sectors.
Meanwhile, Secretary of the HCMC Party Committee Nguyen Thien Nhan said cooperation among management agencies, and between these agencies with enterprises, is still minimal, so the city's key sectors have yet to develop as expected.
He asked departments and agencies to listen to enterprises' proposals and improve dialogues with them to improve policies for industrial development in the near future.
Particularly, the municipal Department of Industry and Trade must perform its role to connect the relevant parties, especially industrial parks, export processing zones and hi-tech parks, and review business support policies to amend unreasonable regulations, in a bid to create a favorable business environment for enterprises. SGT
Hung Le