High-tech, Chemical, and Trading leading the way in salary increases in 2019, Mercer-Talentnet survey finds.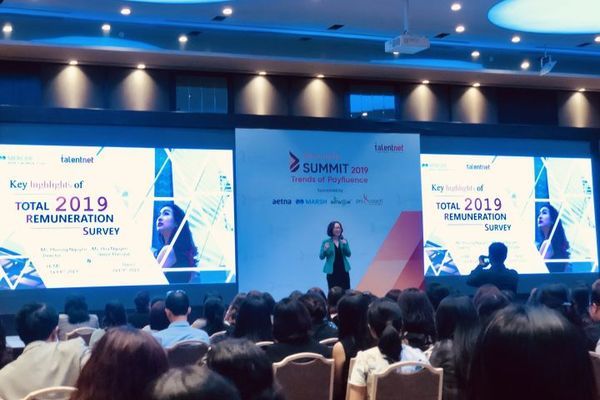 Talentnet recently announced the results of the 2019 Mercer - Talentnet Total Remuneration Survey at the Vietnam Rewards Summit 2019 in Ho Chi Minh City on October 8. There were 605 multinational companies (MNCs) and local conglomerates in 16 different industries participating.
The High-tech, Consumer Goods, Chemical, Life Sciences, and Manufacturing industries had the most participants. With remuneration data on over 342,000 employees in Vietnam, the 2019 Mercer - Talentnet survey is the latest edition of what has been the largest and most comprehensive salary and remuneration report in Vietnam for the last decade.
Salaries at MNCs have increased 8.6 per cent this year and 8.9 per cent in local businesses; not significantly different to last year but still higher than Vietnam's inflation rate and GDP growth.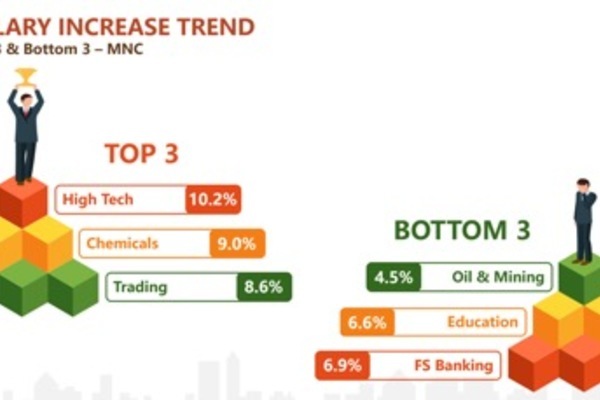 High-tech, Chemical, and Trading are the top 3 industries providing the highest salary increases, at 10.2 per cent, 9 per cent, and 8.6 per cent. Industries such as Oil & Mining, Education, and Financial Services - Banking reported the lowest salary increases, of 4.5 per cent, 6.6 per cent, and 6.9 per cent.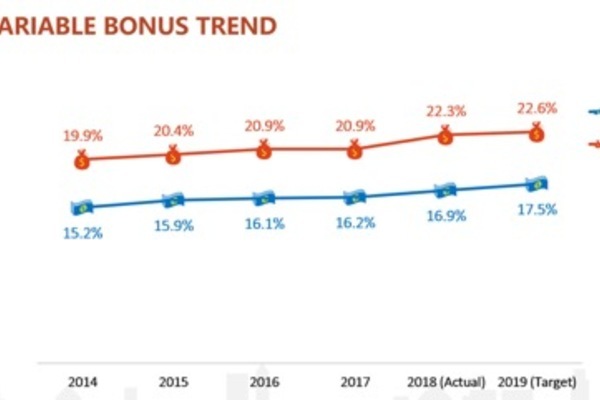 The average salary offered by local companies this year is 29 per cent lower than at MNCs. The difference in annual base salary in different positions between MNCs and local enterprises is 14 per cent for para-professionals, 25 per cent for professionals, and 33 per cent for management.
The gap is much wider at the management level as MNCs have been focusing on offering higher salaries in these positions to compensate managers for their greater contribution and scope of work.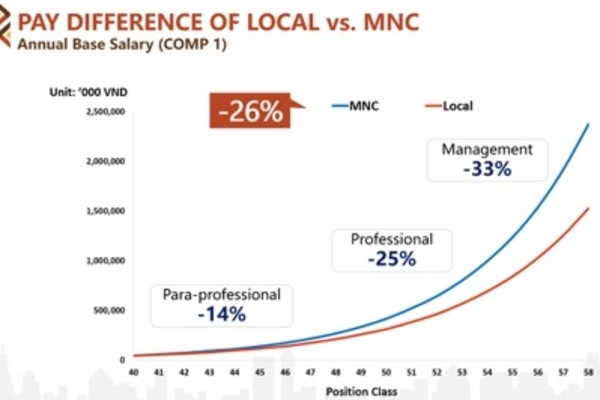 Meanwhile, the forecast variable bonus rate of Vietnamese companies this year is higher than that of MNCs, at 22.6 per cent compared to 17.5 per cent. These figures show that local companies are willing to be more flexible in pay and bonuses to compete with MNCs in the war for talent.
"The significant increase in participating companies in the Mercer - Talentnet salary survey this year reflects the huge demand among businesses for an official and reliable database to benchmark their current rewards system with that of the market, maximize the use of human resources (HR) budget, and build an effective remuneration system to attract talent and enhance competitive edge," said Ms. Nguyen Thi Thanh Huong, Deputy CEO of Talentnet.
"The salary report is also a valuable source of information for CEOs and HR leaders in making informed business development as well as succession planning decisions." VN Economic Times

According to audited financial reports 2018 from 20 Vietnamese banks, the average monthly income of banking employees in 2018 were VND12.37 million-34 million (USD521.73-1,478).  

The negotiating skills of executive boards of trade unions need to be strengthened, Tran Thi Thanh Ha, deputy head of the Viet Nam General Confederation of Labour's labour relations department, said.

A range of new policies are coming into effect this month, including wage increases, paternity leave for male workers and regulations relating to retirement age of the people's public security force.