A number of projects located on the bank of the Saigon River in the second city could face the axe from next month after an inspection by Ho Chi Minh City People's Committee found that they violated building regulations.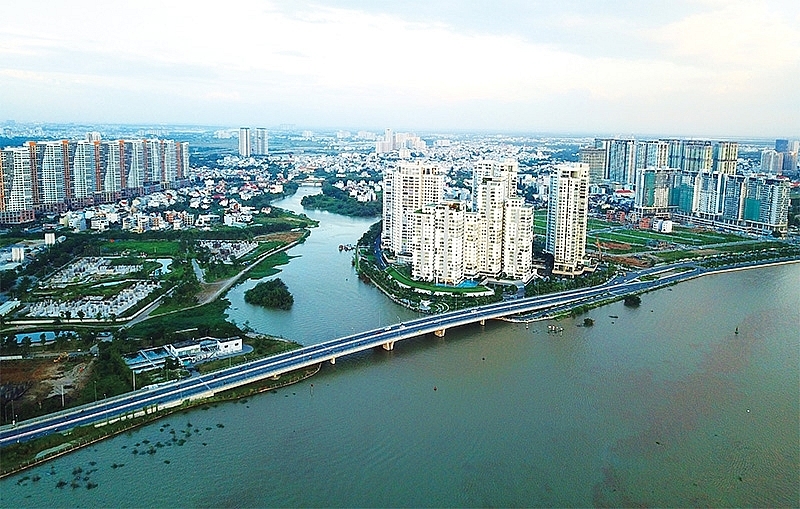 Companies that do not adhere to the regulations risk causing floods, water pollution, and traffic chaos

According to Decision No.22/2017/QD-UBND dated April 18, 2017, construction must take place at least 30m from the river bank, but several projects have failed to adhere to it.
Those at fault include Saigon Riverside joint venture's Riverside project, which has 13 structures located a mere 7.5m from the river, and Van Minh Co., Ltd., which has buildings 10m from the bank.
Others developers listed include Hai Vuong Co., Ltd., The Minh Construction Co., Ltd., SSG JSC, and Geleximco South.
A working group made up of officials from Ho Chi Minh City People's Committee is inspecting more than 100 projects accused of encroaching on the river banks.
According to the committee, half of these have previously been notified of violating the rules, yet construction continued.
A source from the committee said, "All illegal uses of land for improper purposes or causing harmful effects or landslides, affecting the safety and stability of construction works, are strictly prohibited."
The group will scrutinise the developers' actions, their construction permits, and project approvals, reaching a verdict on their adherence to land regulations.
The projects are located along the bank in nine districts, including inner city districts 1, 2, 4, 7, 12, and Binh Thanh, and the outskirt districts of Cu Chi, Hoc Mon, and Thu Duc.
The final results will be sent to Ho Chi Minh City People's Committee by January 15, 2020.
According to Ho Chi Minh City Department of Construction, by April, 116 land plots were judged to have had a negative impact on the river bank. Of this, 76 were completed, 13 had been put into operation, and the remainder were still under construction.
In 2017, Sapphire JSC, the developer of Holm Residences, received a fine of VND40 million ($1,740) for infringing on the no-go area next to the Saigon River.
Establishing urban areas alongside rivers can be advantageous, but regulations exist governing population density and the constructions' height and distance from the river bank.
If these rules are not followed, it could lead to traffic jams, flooding, and water pollution.
The Saigon River is 256km in length, and passes several districts. Up to July, more than 60 violations had been identified.
A full list of offending projects will be published on vir.com.vn. VIR
Bich Ngoc

The market was quiet most of the time in 2019 though it witnessed many transactions in some segments in the first months of the year.

2019 was a tough year fot the real estate market when many projects remained stagnant. However, the situation may be even more serious in 2020.