In an effort to attract investment, especially from the start-up community and young entrepreneurs, the authorities of Hoa Binh province have issued special incentive policies.
Home for creative startups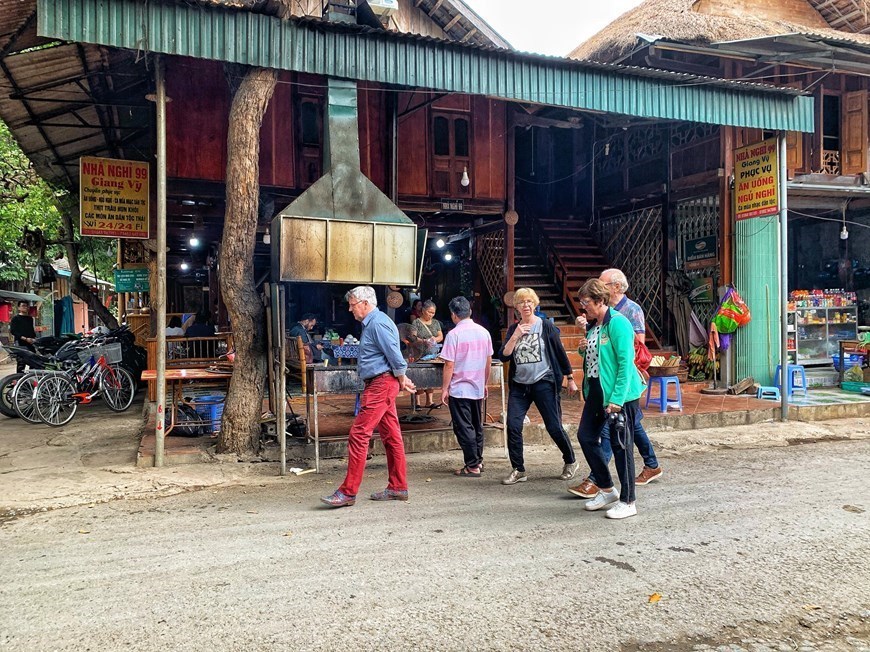 European tourists choose Mai Chau as a stop during their journey in Vietnam.
On an area of ​​4.68 hectares in Dong Chui hamlet, Tan Vinh commune, Luong Son district, in Hoa Binh province, the Happy Farm is a start-up project of three young people - Dinh The Ngu Ton, Dinh Minh Quy and Dinh Thi Loan.
The winner of the first prize of the 2nd Creative Startup Idea Contest of Hoa Binh Youth 2019, this project aims at specific goals. In the short term, Happy Farm will apply science and technology to develop high-tech agricultural production combined with farm tours to students and families.
Happy Farm, with the 4k model, has cooperated with other tourism models in Tan Vinh commune to expand its farm tours with various activities. The 4k (in Vietnamese) is khách hàng (customers) - khoa học kỹ thuật (sci-tech) - không gian (space) - không khí (air). This startup model of young Muong people has promoted the potential and strengths of the locality and each individual.
In the long term, Happy Farm will expand the scale and area of ​​high-tech agricultural production. Its goal is to become the top destination for experience tourism in the northern Vietnam.
Another startup model in Hoa Binh province is the project of Mr. Nguyen Van Toan, from Dong Tien ward, Hoa Binh city. Toan kicked off this project in 2010, with 7-10 cages of baby fish and then 14 – 28 cages. The Hai Dang HB Seafood Co., Ltd. of Toan's family has had up to 170 cages of fish of various species such as hemibagrus, black carp, sturgeon... Using VietGAP standard to ensure quality, the company's products are favored by the market.
Every year, Toan's company sells about 300 tons of fish, earning a profit of 1-2 billion VND. Toan plans to increase the number of fish cages to 250 in 2022 and turn his fish products into typical products of Hoa Binh Province, which meet standards for OCOP products. The company will open an additional warehouse in Hanoi to distribute its products to other provinces and cities.
In Hoa Binh, start-up projects are highly supported by the authorities. Dinh The Ngu Ton, a founder of Happy Farm, said this project is entitled to land tax exemption and 50% reduction of land rent for the next five years. Credit institutions are also willing to help the project to have more capital.
According to statistics, the number of newly established enterprises in Hoa Binh province is on the rise. In 2020, 365 businesses were established with a total registered capital of 12,672 billion VND. By the end of 2020, the province had 3,770 enterprises with a total registered capital of more than 47,003 billion VND. Of this number, there were 3,527 small and medium enterprises, making up over 97% of the total number of enterprises with total registered capital of 31,486 billion VND.
Encouraging business development
Adjacent to Hanoi, as the gateway to the Northwest region, Hoa Binh has a great opportunity to welcome a new wave of investment and become a developed center in the region. This province has issued many policies to motivate small and medium enterprises to innovate and attract the young business community.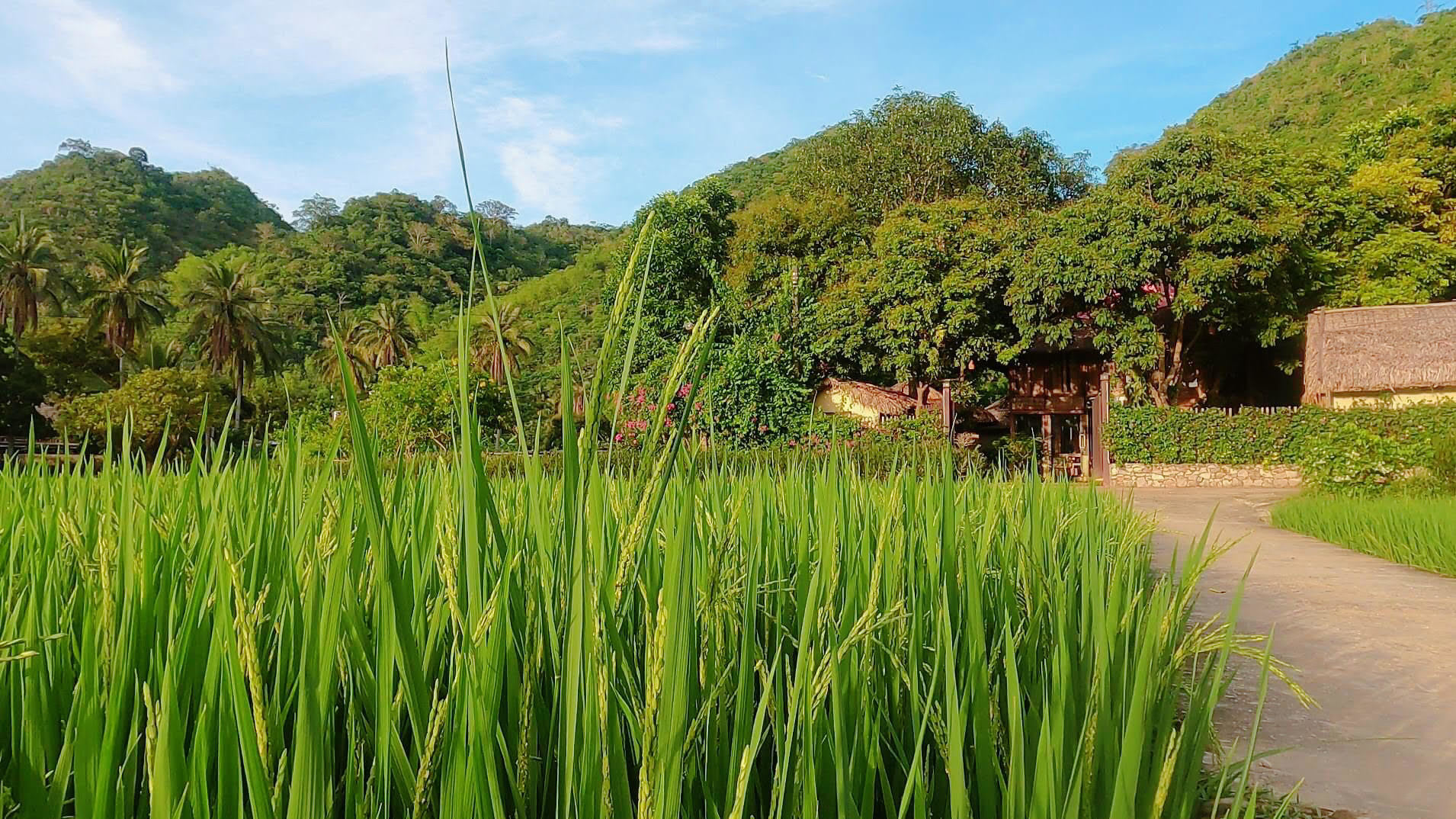 Mai Hich is about four hour drive from Hanoi city and about a half hour drive from Lac, Poom Coong village.
Specifically, the Hoa Binh Provincial People's Committee issued Plan No. 67/KH-UBND on supporting startups and innovation in Hoa Binh province for the period of 2017 - 2020. The targets are individuals and groups of individuals with start-up projects, start-up businesses capable of growing rapidly based on exploitation of intellectual property, technology, and new business models; start-up businesses operating for no more than 5 years since the day they were granted the Certificate of Business Registration for the first time; and organizations and individuals participating in start-up and innovation activities in the province.
To create favorable conditions and encourage business development in the province, Hoa Binh authorities have implemented the Law on Supporting Small and Medium Enterprises as well as practical mechanisms and policies to promote effective business operations. Thanks to these policies, the investment and business environment in the province has improved significantly, creating favorable conditions for people and businesses.
The Hoa Binh Provincial People's Committee has also issued Plan No. 158/KH-UBND on supporting local small and medium enterprises. In particular, this plan provides solutions, preferential mechanisms and policies, and assigns specific tasks to local departments, agencies, and localities to develop and implement business support projects and programs to ensure feasibility and effectiveness in accordance with the provisions of the law and guiding decrees.
In 2020, Hoa Binh province organized many activities to support small and medium-sized enterprises (SMEs) such as: supporting SMEs to access to business information on the National Business Registration System, providing free consultation on business registration procedures, and exempting registration and business reporting fees for them.
Regarding consultancy and guidance on tax procedures and policies, the local agencies published 1,122 articles on the local media (an increase of 49.2% compared to 2019), made public new tax regimes, sent emails to 52,440 taxpayers (an increase of 116.2% compared to 2019), answered questions about 65 documents, organized 5 training courses and dialogues with the participation of 304 taxpayers, organized the "Week to listen to taxpayers' opinions" to immediately solve problems for taxpayers…
At the same time, the local agencies gave support to local businesses in terms of technology such as: guiding businesses to apply management systems and basic productivity improvement tools; assisting enterprises to use the product and goods traceability system, to apply the good agricultural practices (GAP), to practice organic agricultural production, green productivity model, to apply information technology applications, digital technology to establish, optimize and modernize the corporate governance system; supporting businesses to apply standards, supporting tools for smart manufacturing, smart services; providing guidedance and support to enterprises to develop and apply basic standards…
The authorities of Hoa Binh province have also provided maximum support for businesses and investors in administrative procedures. At the same time, the province has strengthened information coordination and provision between state management agencies and businesses, investors, and simplified administrative procedures in production and business.
Hoa Binh province's officials always want businesses and investors to cooperate with the province in investment, production and business; to fully comply with the provisions of law on tax policy, environmental protection, job creation; to implement projects according to the committed schedule; to concentrate on production and business, gradually innovating technology to increase labor productivity and economic efficiency to contribute more and more to the local budget, create more jobs for local workers, and contribute to ensuring social security in the province.
Regarding the investment environment of Hoa Binh province, Pham Xuan Tri, Director of Tien An Investment and Construction Co., Ltd., in Hoa Binh City, who was presented the title "Outstanding Entrepreneur of Hoa Binh Province" in 2019, said: "Hoa Binh province has an attractive investment environment and is a destination for many entrepreneurs and businesses. Besides developing the local economy, I want to join other businesses to contribute to the local community and society".
According to Nguyen Cao Son, Chairman of Hoa Binh Provincial Business Association, the contributions of the business community have been highly appreciated by the Party Committee, government and people of Hoa Binh province and considered as a key force for Hoa Binh's socio-economic development. The local Business Association and business community will continue to promote their achievements and join hands with the local Party Committee, government and people to successfully implement the Resolution of the 17th Hoa Binh Provincial Party Congress.
Mai Hoa

Home to rich valleys with fertile rice fields and fruit-laden gardens, Tan Lac District in the northern province of Hoa Binh is an ideal place for those interested in exploring the indigenous culture of the Muong ethnic group