Buoyed by a strong economy and excited by their international prospects, Vietnamese businesses are anticipating a bright future, according to the latest "HSBC Navigator: Now, Next and How" report.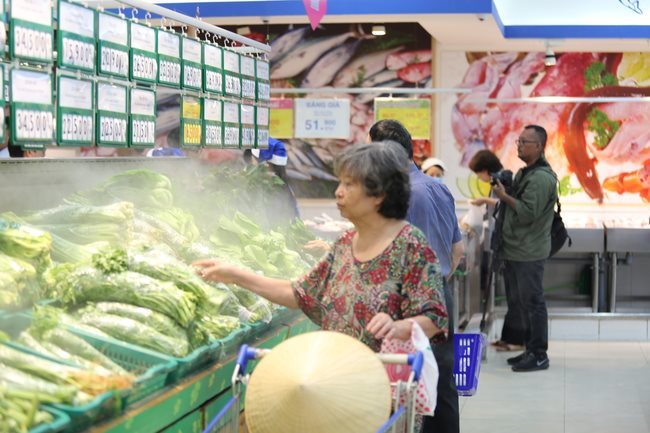 A shopper inspects vegetables at a Co.opmart supermarket in HCMC. HSBC has found that the vast majority of Vietnamese firms expect their sales to grow over the next year
The global survey, which polled 9,131 businesses in 35 markets, found that nearly all Vietnamese businesses (97%) believe their sales will grow over the next year; significantly higher than the global and Asia-Pacific averages of 79% and 77%, respectively.
Some 39% of businesses in Vietnam are classified as "high-growth firms," meaning they foresee achieving at least 15% growth over the next year, nearly double the number of high-growth businesses globally (22%). The mid-term view in Vietnam is even brighter with 100% of firms expecting sales to grow over the next five years.
"From an international trade perspective, Vietnam is one of the most optimistic countries globally and justifiably so," said Tim Evans, chief executive officer at HSBC Vietnam.
Evans noted that the domestic economy is in a good place, growing to a 10-year high of 7.1% in 2018 and bolstered by the continued strong momentum in 2019 with third-quarter growth reaching 7.31%.
"Middle-class income and consumption are increasing and the manufacturing sector continues to go from strength to strength, while the service sector is providing additional positive impetus to strong underlying economic growth. Vietnam remains well-poised to make substantial gains from international trade in the years ahead," he added.
Investing in innovation and sustainability
The survey found that Vietnamese firms also see beyond the bottom line when it comes to the positive effects of international trade. Over the next five years, 98% believe it will drive innovation, compared with 80% globally, while 96% suggest it will provide new business opportunities (79% globally) and 95% believe it will improve efficiency (78% globally).
More than one-third of firms surveyed (32%) are already exploring digital technologies to enhance their supply chains to accelerate their speed to market and to move closer to the end consumer.
As the shortage of skilled labor continues to be a deterrent for foreign investors, businesses in Vietnam are improving the quality of their products and services and investing in new skills among their workforce.
Vietnamese companies are also increasingly recognizing the importance of sustainability as a factor that drives the long-term viability of their business and as a way to attract and retain talent.
More companies in Vietnam (28%) believe their expected sales growth will be supported by making their business sustainable than any of the 35 markets surveyed in the Navigator report.
Global partnerships unlock new opportunities
Over the last three years, businesses in Vietnam have become more aware of the global emergence of protectionism. More than four-fifths (87%) of those surveyed say governments are becoming more protective of domestic businesses, compared with 78% last year and 67% the year before.
However, like many companies around the world, 72% of Vietnamese firms believe they are gaining more than they are losing as a result of protectionism, compared with 57% globally and 56% in the Asia-Pacific region.
Only one in 10 complain that they are losing more than they gain, lower than their peers globally and in the Asia-Pacific region at 16% and 17%, respectively.
"Vietnamese firms are increasingly aware of how international trade will help shape the country's future, making Vietnam more integrated with the global economy, more advanced from a technology perspective and, overall, an even more dynamic economy," remarked Evans.
To counter geopolitical risks and protectionism, businesses are seeking out joint ventures and taking more of their business online. Sourcing locally and securing a supply of raw materials and energy are also mitigating factors, according to the report. SGT
Thanh Thom

Vietnam has the second-largest consumption share in ASEAN, with the potential to outpace the Philippines soon. 

Vietnam ranks 10th among best destinations for expatriate workers to live and work, according to HSBC's Expat 2019 Global Report released recently.