While the pandemic has affected nearly every business, Vietnam's real estate sector has seen significant movements throughout the year. 
Dr. Vu Dinh Anh, economist at the Ministry of Finance's Price Market Research Institute, presents a detailed analysis of the year's happenings as well as a brief outlook for 2021.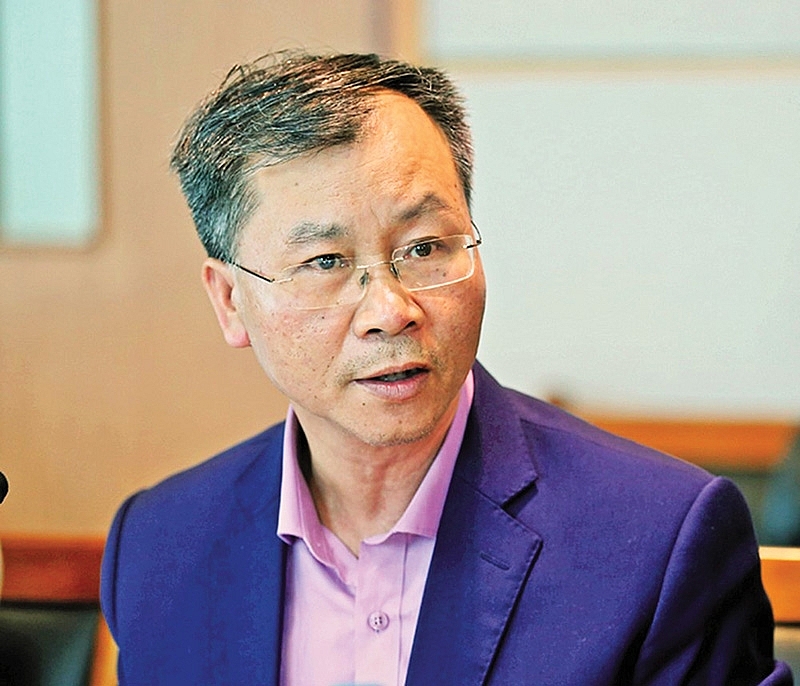 Dr. Vu Dinh Anh, economist at the Ministry of Finance's Price Market Research Institute
Successful real estate businesses across Vietnam can continue their growth momentum, and even those currently suffering losses can recover along with the general growth of the economy, which is expected to return to its normal rate from 2021 if the business community captures and makes good use of the real estate market's trends amid the influence of the pandemic.
The inevitable consequence of the pandemic is that many production and business activities have been delayed, with major national and international value chains interrupted. Governments of many countries have been forced to launch a series of bailout packages worth tens or hundreds of billions of USD, making their budgets fall into heavy deficits while increasing public debt.
Vietnam has become a rare bright spot not only in the region but globally by simultaneously maintaining economic growth and curbing the pandemic.
On one hand, the country succeeded in controlling outbreaks in a short time, minimising the number of infections and deaths caused by COVID-19, thus creating a miracle that many other countries admire.
On the other hand, after economic growth bottomed out at 0.39 per cent in the second to third quarter, it has recovered to 2.62 per cent and is expected to even reach about 3 per cent for the whole of 2020.
In that context, the real estate market has both movements due to the direct impact of the pandemic and the continuing trends formed before the global health crisis, which are accelerating alongside each other.
Market Darwinism
Nonetheless, COVID-19 left its mark on the real estate market's performance. Like the vast majority of businesses, real estate ones, including large-scale businesses with strong financial potential, have been heavily influenced by the pandemic, especially in the second quarter.
Data on the National Business Registration Portal shows that in the first 11 months of 2020, Vietnam had nearly 124,300 newly-established enterprises, down 1.9 per cent from the same period in 2019. At the same time, about 93,500 businesses withdrew from the market, about 44,400 of which registered to suspend their operation for a definite period, up 59.7 per cent over the same period in 2019.
However, with creativity and dynamism, a number of enterprises have not only maintained their pivotal role in the market but also grew in size and profitability, even amid these difficult circumstances.
Around 37,700 real estate businesses returned to operations, an increase of 8.2 per cent compared to the first 10 months of 2019, bringing the total number of newly-established and returning businesses to nearly 149,000.
The persistent vitality of many real estate businesses not only helps the market overcome the pandemic and contribute to economic growth but also accelerates restructure of the market.
COVID-19 became an important factor to retain truly reputable businesses, with large land funds, strong financial potential, and reasonable sales policies, while phasing out those that do not meet these conditions.
The total pre-tax profit of the 40 largest listed companies on Vietnam's stock market in the first nine months of 2020 reached VND168.6 trillion ($7.6 billion). Although this number still decreased by 14 per cent compared to the same period last year, there are certain signs of recovery as the total profit in the third quarter decreased by 9.2 per cent over the same period in 2019. However, some listed real estate companies in the first nine months of 2020 recorded losses.
Clear winners
In the opposite direction, the listed companies with high profits and growth rates of over 20 per cent include names such as Novaland Group, which scaled its profit to VND3.8 trillion ($165 million), and Vinhomes with a stunning profit of VND23.1 trillion ($1 billion).
Total consolidated net revenue of Vinhomes in the first nine months of 2020 reached VND49.38 trillion ($2.14 billion), an increase of 31 per cent compared to the same period in 2019, mostly due to the handovers of projects like Vinhomes Ocean Park, Vinhomes Grand Park, Vinhomes Smart City, and Vinhomes Marina.
Total converted consolidated net revenue recognised in the first nine months of 2020 reached VND62.57 trillion ($2.7 billion), an increase of 19 per cent compared to the same period in 2019. As of September 30, Vinhomes' total assets reached VND220.51 trillion ($9.6 billion).
Despite the pandemic, a series of other real estate businesses also achieved huge increases in profit compared to the same period last year, including DIC Group (15 per cent), FLC Homes JSC (448 per cent), Ha Do Group (22 per cent), and Khang Dien JSC (49 per cent).
As shown with these examples, many real estate businesses have overcome the difficulties caused by the ongoing pandemic, with some even showing spectacular growth rates, whether under normal conditions or amid adversities like the pandemic.
Four major market movements amid the pandemic
- The industrial real estate market has many opportunities to thrive in parallel with the wave of foreign investment moving to Asia and Vietnam;
- The investment shifts to neighbouring provinces of Hanoi and Ho Chi Minh City will get rid of the scarcity of land funds in these cities with increasingly attractive markets, such as in Bac Ninh, Bac Giang, Vinh Phuc, Binh Duong, Dong Nai, Long An, Ba Ria-Vung Tau, and Phan Thiet;
- Real estate businesses will increasingly apply Industry 4.0 solutions, especially in the context of changing consumer behaviour amid the pandemic, towards accessing real estate information and the satisfaction of the ever-growing demand for more transparency. Besides this, there is a trend of applying modern technology and building smart, green, and convenient cities; and
- The increase in mergers and acquisitions due to the pandemic has pushed some real estate businesses into difficulties, forcing them to sell their assets. Meanwhile, those with abundant financial resources will want to increase land funds and restructure their products and fields of operation, while reducing speculation and accumulation of land and stalling real estate projects. VIR

With the economy been hit hard by Covid-19, the HCM City real estate sector has been facing difficulties. However, there are still bright spots.

The real estate market of Phu Quoc in the Cuu Long (Mekong) River Delta of Kiên Giang was forecast to be robust as the island district has just been given the green light to be upgraded to the country's first island city in March this year.