Director General of General Statistic Office of Việt Nam (GSO) Nguyen Bich Lam talks about the importance of improving labour productivity for the country's development.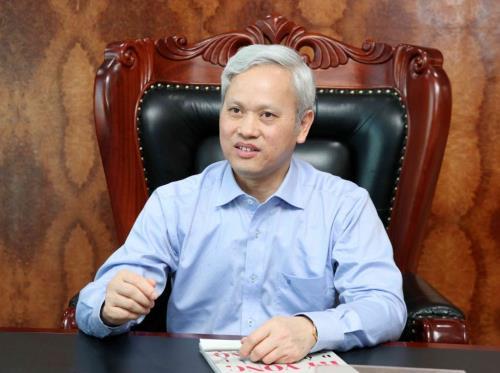 Nguyen Bich Lam.
How do you rate actual labour productivity in Việt Nam now? And how has improved labour productivity contributed to socio-economic development?
From 2016-19, Việt Nam's economy created a new impetus for the development process, of which labour productivity must be mentioned.
With impressive economic growth of 7.02 per cent last year, Việt Nam's labour productivity at current prices has reached VNĐ110.4 million (US$4,791) per labourer, an increase of VNĐ25.9 million compared to 2016, equivalent to $940. According to the purchasing power parity (PPP) of 2011, Việt Nam's labour productivity in 2019 reached $11,757, an increase of $1,766.
In recent years, Việt Nam's labour productivity has increased in both value and speed, making important contributions to the country's socio-economic development. Last year, labour productivity increased 6.2 per cent over the previous year, the year with the highest labour productivity growth from 2016-19, making us one of the countries with the highest labour productivity growth rate in the region.
Despite improvements, Việt Nam's labour productivity is still considered low compared to other countries in the region and around the world. Why?
In terms of PPP, Việt Nam's labour productivity from 2011-19 increased an average of 4.87 per cent a year, higher than the average of Singapore at 1.4 per cent, Malaysia at 2 per cent, Thailand at 3.2 per cent, Indonesia at 3.6 per cent and the Philippines at 4.3 per cent. As a result, Việt Nam closed the gap between ASEAN countries with higher development levels.
In 2011, labour productivity in Singapore, Malaysia, Thailand, and Indonesia was higher than Việt Nam's, respectively 17.6 times, 6.3 times, 2.9 times and 2.4 times. By 2019, this relative distance decreased to 13.1 times, 5.1 times, 2.6 times and 2.2 times, respectively.
According to PPP 2011, Việt Nam's labour productivity in 2019 was only 7.6 per cent of Singapore's, 19.5 per cent of Malaysia's, 37.9 per cent of Thailand's, 45.6 per cent of Indonesia's and 56.9 per cent of the Philippines', and only higher than Cambodia's by 1.6 times. This shows that Việt Nam's economy will face huge challenges in the future to be able to catch up with other countries.
Although Việt Nam's labour productivity has improved much in recent years, it is still low and has a considerable distance from other countries in the region. Some of the main reasons leading to this situation are due to the small size of our economy and slow economic restructuring.
In addition, although the process of economic and labour restructuring has gained positive achievements, it is still slow. The quality of human resources is limited. Labour restructuring is happening relatively fast but the labour force in agriculture, forestry and fishery is still large. The majority of labourers in these sectors are unskilled and seasonal with unstable jobs, resulting in low added value and low labour productivity.
Would you elaborate more about the limited human resources?
The quality of human resources in Việt Nam is indeed limited. This is clearly reflected in the low rate of trained labour, unreasonable training structure, shortage of highly skilled labour and the big gap between vocational education and labour market demands. The proportion of trained workers aged from 15 working in the economy has been increasing year by year, but only reached 22.8 per cent in 2019.
In addition, the sense of teamwork and foreign language skills to expand international integration in the trend of globalisation and participation in global links is still limited. These are major barriers to improve labour productivity.
The business sector has not really been the driving force for increasing labour productivity. Domestic enterprises have not participated deeply and have not been able to connect to the global value chains of large transnational corporations, so they have not taken advantage of knowledge, technology, management skills or flexibility to grasp and meet new market demands. In addition, the equitisation process of State enterprises is still slow while the allocation of resources of State enterprises is limited.
One of the other causes is outdated equipment and technology. Most businesses, especially private ones, have low levels of science and technology and innovation. Many businesses are using old, outdated technology, lagging behind two to three generations compared to the world.
What solutions has the GSO proposed to improve labour productivity in the future?
Improving labour productivity is the shortest way to help the economy develop rapidly, sustainably and catch up with the development levels of other countries in the region.
This needs the participation of all levels, sectors and society to raise awareness. Accordingly, a number of key tasks to be undertaken are to promote stronger reforms of institutional foundations, including human resources to be allocated and used most effectively.
In addition, the Government must develop a national strategy for the development of tech enterprises, giving priority to developing digital and high-tech enterprises in designing, creating and manufacturing in Việt Nam. It is necessary to develop and implement strategies to improve labour productivity based on knowledge and technology, focusing on investment for improving science and technology capacity, innovation, and the application of advanced and modern technology in production and business management.
In addition, restructuring agriculture must be associated with new rural style development, restructuring plant and livestock structure in accordance with reality, the market and adaptation to climate change. At the same time, we need to enhance the application of scientific advances, especially biotechnology, to develop industries for agriculture, and attract enterprises to invest in rural areas to quickly shift agricultural labour to the higher-yield industrial and service sectors.
The Government needs to establish an incentive mechanism to attract talented experts and managers to Việt Nam. Labour productivity is strongly connected to the education, capacity, skills and expertise of workers. — VNS

Despite difficulties resulting from the acute respiratory disease caused by the novel coronavirus SARS-CoV-2 (COVID-19), Vietnam's socio-economic situation in February basically remained stable, said Prime Minister Nguyen Xuan Phuc.

Prime Minister Nguyen Xuan Phuc has signed a decision to implement a 2021 general economic census to gather information about producers, businesses and non-governmental organizations nationwide.