The growth of import slower than that of export helped Vietnam clinch a trade surplus of over US$20 billion in the first 11 months of 2020.
However, the surging surplus also indicated a hard time for Vietnamese enterprises, especially those in the export sector. Therefore, when import is up again, it turns out to be a positive sign.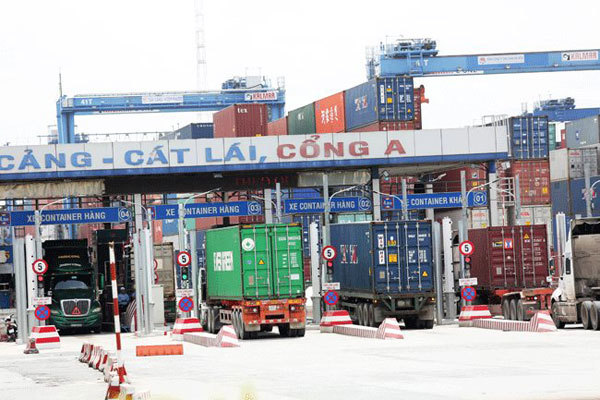 The increased import value is due mainly to production materials, which means that the commodities will be used to produce goods in the future – Photo: Thanh Hoa
Statistics obtained from the General Statistics Office (GSO) show that the value of goods import in November 2020 reached some US$24.2 billion. Although it is a 0.5% drop against that of October, the growth is still 13.4% higher than in the same period of 2019. Cumulatively, Vietnam's export sales reached US$234.5 billion in the Jan.-Nov. period of this year, a 1.6% increase year-on-year.
To put it differently, after six months in a row, when Vietnam's import value suffered a negative growth, it switched back to the positive territory in October and November.
Import fell during the six-month period, from April to September, as enterprises failed to win new orders and weren't sure about their business plans in the rest of 2020. Production during this time relied mostly on inventories. This is also a key factor which sent Vietnam's trade surplus soaring unexpectedly during that period.
The comeback of high export value can be seen as a positive sign for the economy. In the country's import-export profile, export sales of foreign-invested enterprises (FIEs) account for almost 70%. Furthermore, the majority of FIEs in Vietnam are in the manufacturing-processing industry. That means more import is synonymous with enterprises about to expand their operations or activities, thus needing more input materials for their coming production plans. 
Lower trade surplus anticipated
GSO statistics also show that Vietnam's trade surplus was only US$600 million in November which is way below the US$2 billion average of the previous 10 months. The balance in this December and the months that follow may further decline or even be negative.
Two reasons can be given for this tendency. First, as indicated above, import is back quickly, switching from minus 4.8% in April to 1.6% in November. The climb is believed to continue as operations of both domestic and foreign enterprises are recovering fast. By end-November, there had been four groups of commodities attaining import value higher than and one equal to that of the year-earlier period. Fast increasing import also leaded to higher export, at 25.2% during the first 10 months of 2020. Notably, the category of machinery and equipment for the first time this year reached the same level of 2019 year-on-year.
Secondly, as a result of the Covid-19 pandemic, foreign direct investment (FDI) disbursement in the first 11 months dropped for the first time year-on-year, down by 2.3%. However, foreign capital inflow is forecast to surge strongly next year after the pandemic is under control. Particularly, a piece of news made headlines recently: Foxconn is building factories to assembly Apple's iPads and MacBooks. Higher FDI disbursement means also a higher import of machinery, equipment and materials. Inevitably, the trade balance is likely to become negative in the coming time. 
Robust growth of the economy next year
The increased import value is due mainly to production materials, which means that the commodities will be used to produce goods in the future. The Government warmly welcomed the return of import during its November regular monthly meeting, especially when the group of machinery and equipment imports no longer posted negative growth. This fact indicates that enterprises have embarked on their new factories and expanded their operation after almost a year grappling with Covid-19.
The news that Foxconn is shifting part of its production lines to Vietnam as well as new plans built by Apple satellite companies, such as Pegatron, Luxshare or Goertek, may be indicative that Vietnam is on the way to becoming a more important phase in Apple's global value chain.
It is not yet known now how big this value chain compared with that of Samsung. Yet one thing is for sure. Apple is going to drag into Vietnam a host of other enterprises, a key argument which says that the country's economy will grow sharply next year.
The GDP growth plan submitted by the Government to the National Assembly for approval in November is considered a prudent scenario, at only 6.5%. Yet many organizations have put it at 7-7.5%. These forecasts by international institutions have been supported in one way or another by stock investors as the VN-Index has soared strongly higher than the top level in the pre-Covid-19 period. SGT
Mai Khanh

Vietnam is facing an increasing risk of trade defence lawsuits as exports expand after the country's active international integration and participation in free trade agreements (FTAs).

Once a big oil and coal exporter, Vietnam has become an importer of the materials in increasingly high quantities.