Losing patrons and having no money to pay for rent, the owners of many coffee houses have had to shut down.
Many cafes in Hanoi have been put up for sale since August as their owners can no longer survive amid the Covid-19 pandemic. Some owners have advertised that they "want to sell the shops at any price".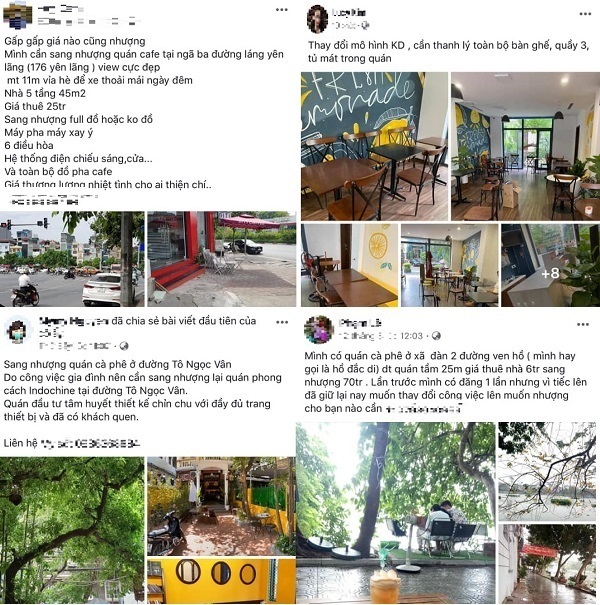 Many cafes in Hanoi have been put up for sale
Nguyen An Tam, the owner of a café on Phan Chu Trinh street in the central business district of Hoan Kiem, is one of them.
Tam opened the café in early 2020. She hoped that the situation would be better after the lockdown was lifted in May. However, hopes were dashed because of the second outbreak.
Tam said the initial investment capital was VND200 million, which was spent on design and interior decoration. Recently, the electricity and water systems were repaired and security cameras were installed. She has also equipped the shop with kitchenware to provide lunch to office workers.
However, she now has to stop losses by liquidating the shop at VND130 million.
Pham Le, the owner of a lakeside café on Ho Dac Di street in Dong Da street, said she posted an ad on selling the shop some months ago, but changed her mind later. However, she is now thinking again of selling the shop of 25 square meters at the price of VND70 million.
Real estate brokers said coffee shops are 'surprisingly cheap'. The owner of a 4-storey café at the Kim Nguu – Lo Duc crossroads, an emerging café area, is seeking to sell the shop, though the landlord accepted to slash the rent by 30 percent.
In general, café owners want to sell their entire coffee shops rather than sell furniture, electric fans, bill printers, orange extractors, coffee makers and blenders separately.
Hoai, the owner of a coffee shop in Ha Dong district, said many buyers prefer buying items separately.
"These buyers are also owners of coffee shops and they want to buy things that they still lack at their shops," Hoai said.
Café owners who are offering to sell their shops all said that they have accepted to sell products at half of the prices of brand new products.
A coffee shop on Nguyen Huy Tuong street in Thanh Xuan District, for example, is offering coffee makers at VND15 million, while a brand new product is sold at VND19.4 million in the market. Buyers also receive 5 kilograms of coffee beans as a gift.
As many investors are leaving the market, it is now a golden opportunity for others, as things are much cheaper, from rent to equipment. 
Thu Ky
Many restaurants and coffee shops in Hanoi strictly obeyed the social distancing rules on August 19. However, some did not comply with the regulations.

When children turn into adults they have many important decisions to make that will shape their entire life.