The prime minister has asked several ministries, agencies and local governments to report on the risk of the domestic real estate market being dominated by foreign entities, given the recent influx of foreign investment into the sector.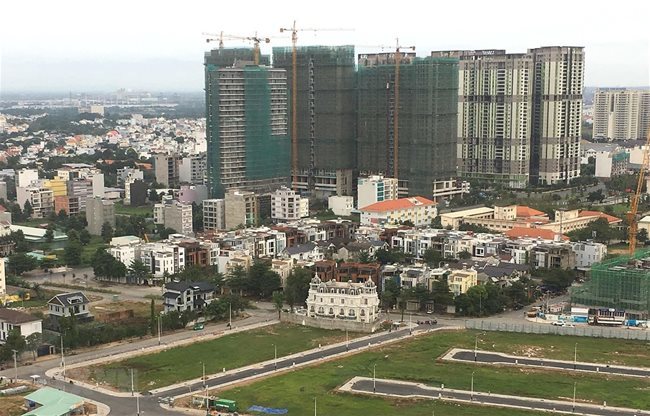 A new residential area in HCMC's District 2. The recent influx of foreign investment in the local property sector has raised concern
Recently, 21 land lots, with some measuring up to 20 hectares, near Nuoc Man Airbase in Danang, were reportedly sold to Chinese people, raising public concern.
The Danang Department of Natural Resources and Environment explained that Vietnamese individuals had transferred these land lots to a local company many years ago, but Chinese investors hold a 48% stake in this company.
Le Hoang Chau, chairman of the HCMC Real Estate Association, was cited by Thanh Nien Online newspaper as saying that the risk of domestic property enterprises losing the home market was not significant as they still dominate the market with multiple large projects across the country.
However, he warned that foreign investors may hide behind domestic firms to acquire local real estate projects.
They are typically keen on projects in areas sensitive to the country's security and national defense, such as coastal and riverside areas and those near airports and border gates.
According to Dinh The Hien, director of the Institute of Information and Economic Research, nearly 70 enterprises active in the real estate, infrastructure and industrial park sectors in Vietnam have listed on the stock market, including VinGroup, Novaland, FLC and Vinaconex.
To determine whether domestic real estate firms are controlled by foreign ones, the competent agencies can check the lists of shareholders of these large firms.
According to the regulations of the stock exchanges, the names of shareholders owning at least 5% of a listed company must be publicized.
If large projects are assigned to small businesses, the origin of the capital used in these projects must be checked carefully, Hien added.
Phan Huu Thang, former director of the Foreign Investment Agency at the Ministry of Planning and Investment, and vice chairman of the Vietnam Real Estate Association, pointed out that the association has yet to receive complaints of foreign control over local real estate projects.
He recommended localities take precautions in accepting foreign direct investment in the real estate sector.
According to statistics from the Foreign Investment Agency, the real estate sector attracted the second highest amount of registered foreign investment in the January-September period this year, at US$1.77 billion, accounting for 10.6% of the country's total registered foreign capital. SGT
 

Vietnam needs to renew its real estate market to attract more foreign investors and increase the quality of foreign direct investment (FDI) in the sector, according to experts.