An international deepwater container port was put into operation at Nghi Son International Port in the north central province of Thanh Hoa on Wednesday.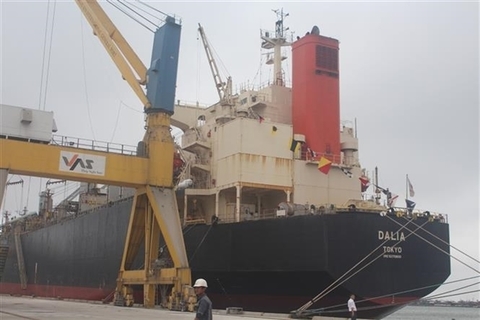 The port also welcomed its first container ship - Haiphong China Express.
Addressing the event, Deputy Minister of Transport Le Dinh Tho appreciated CMA Group's decision to open a container port and selection of Nghi Son International Port for the construction.
The route will create favourable conditions for import-export enterprises in Thanh Hoa and neighbouring provinces, thus contributing to making Nghi Son Economic Zone and economic zones in Thanh Hoa well as other provinces in the region more attractive to domestic and foreign investors.
To tap the potential for Nghi Son Port to become a strong deep-sea port, Tho proposed Nghi Son International Port company modernise its production organisation and freight forwarding, and provide top services for ship owners and import and export firms.
He asked for efforts to effectively organise logistics service to cut shipping and logistics costs for businesses.
The ministry will work with provincial authorities in directing the implementation of some key projects such as the North-South expressway - the Ninh Binh - Thanh Hoa and Thanh Hoa – Bai Vot sections, the second phase of the national highway 217 project, a coastal road route and investing in port projects, Tho said.
On the same day, the port also welcomed its first container ship - Haiphong China Express.
Starting operation in October 2017, the Nghi Son International Port consists of four wharfs, nine multi-purpose shore cranes and modern equipment capable of handling 9 million tonnes of goods per year. It is fully capable of receiving bulk carriers, goods, liquid cargo ships and container ships.
Along with Nghi Son International Port, another container-dedicated port is being constructed in the locality with a container handling capacity of up to 600,000 TEU per year.
The port opening shows the potential of Thanh Hoa Province in making use of maximum geographical position to develop trade by sea and at the same time make an important contribution to reducing freight and logistics costs as well as reducing the load on the road system. — VNS