So many bubble tea shops joined the market in recent years that many of them have had to give up the game.
Thu Hang, 43, in Go Vap district, is having her street-front house in Go Vap district repaired. The house is now used for a bubble tea shop but Hang plans to open a fruit shop instead.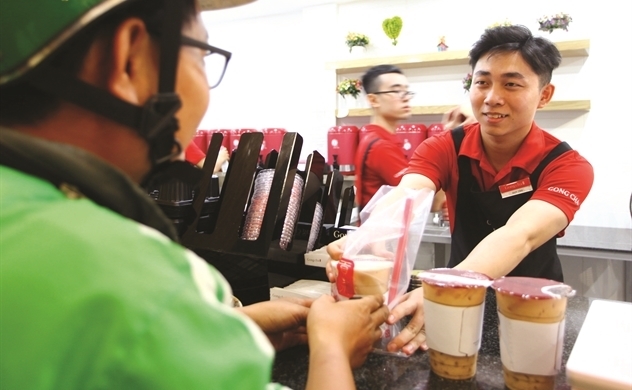 "Bubble tea's time is over," she said.

According to Hang, most bubble tea shops are now poorly patronized, and only some shops are crowded after sale promotion programs.

"The input materials are expensive, while the rents are extremely high. Bubble tea shops cannot make much profit," she said.

Analysts confirmed that the bubble tea shop market which was sizzling three years ago is on the decline. Nhip Cau Dau Tu cited reports about the food and beverage (F&B) sector as showing that the market is cooling down with modest growth rate of 5.7 percent, which is just a quarter of that in the hot development period.

So many bubble tea shops joined the market in recent years that many of them have had to give up the game.
It is estimated that 20 bubble tea brands are struggling to scramble for pieces of the market. 
Three years ago, bubble tea was considered the hottest segment of the F&B sector with brands available in the market including KOI Thé, Gong Cha, Royal Tea, Ten Ren, The Alley, TocoToco and Bobapop. There were over 1,500 bubble tea shops across the country.

However, the market is cooling down with the departure of many big names. Two months ago, Ten Ren, a brand managed by The Coffee House, stopped operation.

The Coffee House planned to invest VND100 billion in the chain to develop 30-40 shops in 2018. Meanwhile, TP Tea, from the establishment to the closing day, did not leave good impressions among consumers.

Bubble tea models are diverse in Vietnam. There are small shops which sell take-away and have small investment capital of several million dong. There are large shops with investment of hundreds of millions or billions of dong.

Bubble tea chains also have different scale. Large chains have 150 shops, while smaller chains have fewer than 20. Regarding ownership, many brands are owned by Vietnamese, while others are run under franchises from Taiwan and South Korea.

Domestic bubble tea models have a franchise fee of VND300-500 million, while foreign brands are VND1-5 billion. With high franchise fee, plus high rent, VND30-50 million a month, many shops take a loss.

Meanwhile, the competition is getting fierce as many F&B chains such as Thai, Japanese and Korean restaurants and KFC now also serve bubble tea.
Kim Chi 

The national steering committee on food safety has set up six inspection teams to check food safety and hygiene for the coming Tet (Lunar New Year) festival.

With Vietnamese football teams busy playing in various regional and international tournaments, here are some suggestions of well-known coffee shops located around Hanoi in which football fans can visit to catch up on the latest action.