Vietnam is a major rice producer and exporter in the world, but Vietnamese farmers and companies cannot make fat profits.
Pham Van Quang, chair and general director of Trung Thanh Hi-tech Agriculture JSC, complained at the dialogue between local authorities and enterprises in Can Tho City some days ago that his enterprise meets difficulties in loan access and human resources.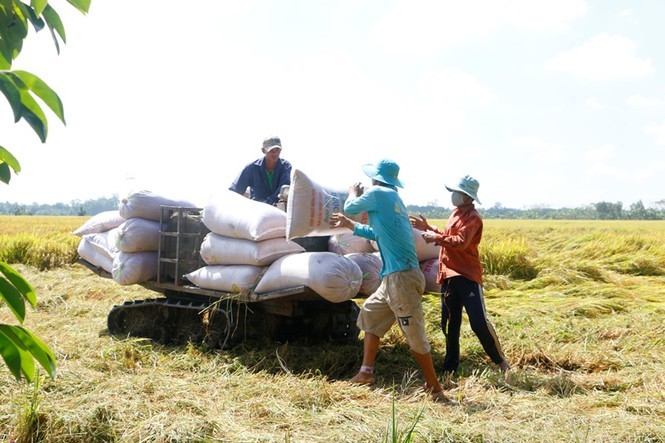 Quang said rice companies need huge capital to collect rice from farmers, upgrade the husking technology and preserve products to serve exports. Most of the technologies being applied by rice processing mills are out of date.

"We want to export rice to choosy markets which always set high requirements. Even China, the familiar export market of Vietnam, now also requires product traceability. This proves to be an impossible mission if we don't have huge capital," he said.

Quang emphasized that enterprises need capital rather than preferential interest rates.

Meanwhile, commercial banks are tightening lending and the local authorities don't have policies to support companies to make medium- and long-term investments.

Le Thi Thuyen Quyen, deputy director of the State Bank of Vietnam (SBV) Can Tho Branch, while affirming that banks don't lack capital to provide to rice companies, said in order to increase the credit limits, borrowers have to satisfy some conditions. They have to have feasible business plans, assets to mortgage for loans, and transparent financial situation.

Quang said companies are seriously lacking high-quality workers.

"Many workers who operate machines worth hundreds of billions of dong only finished the third or fourth grades," he complained, adding that the result of the use of unskilled workers is the high rate of loss during rice processing.

If rice is dried with commonly used technology, the cost is VND100-120 per kilogram for summer-autumn and autumn-winter crop rice and VND80 per kilogram for winter-spring crop rice. Meanwhile, if drying with higher technology, which allows to control the heat, the production cost would be VND35 per kilogram only.

Vietnam's Mekong Delta has the total rice growing area of 2 million hectares and the rice output of 25 million tons a year, of which 50 percent is reserved for export. One of Vietnam's rice varieties, ST 25, has been recognized as the best in the world.

Scientists said with the great potential, Vietnam will be a rice production power if it can modernize the rice production phases.

One of the barriers that make it difficult to do this is the existence of fragmented small fields. It is impossible to modernize the production phases on the fields with the area of less than 0.5 hectares. Meanwhile, most households are farming on such small fields. 
Mai Lan

The Philippines and China, Vietnam's two major rice export markets, may reduce rice imports in 2020.
The Ministry of Agriculture and Rural Development's leadership should evaluate and learn from its shortcomings and be held accountable for delays in reporting the potential shortage of pork and the pork price hike to the Government.