Traditional taxis and ride-hailing vehicles need not have light boxes installed as the Ministry of Transport has changed its stance, amending a government decree on transport business.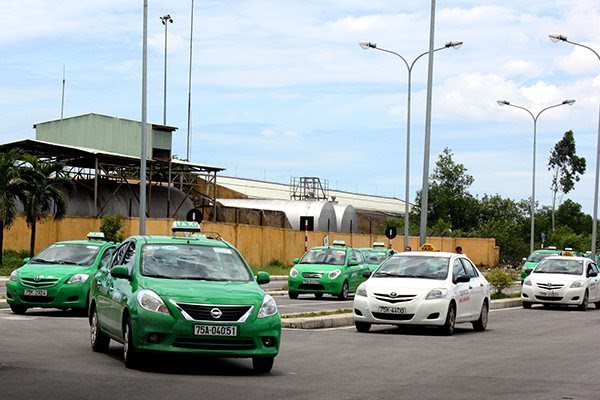 Traditional taxis are seen on a road in HCMC. Owners of traditional cabs and ride-hailing vehicles can decide whether to install light boxes
In a November 4 official letter sent to the prime minister, the ministry said that owners of traditional taxis and ride-hailing vehicles have the option of fixing either light boxes on their car roofs or reflective patches on their front and rear windshields.
If a light box is installed, it does not have to bear the phrase "Xe Taxi" (taxi).
The two options are aligned with prevailing regulations. For example, the 2008 Law on Road Traffic does not compel cabs to fix light boxes on their roofs, according to the ministry.
The ministry added that some countries do not force cabs to carry these light boxes, helping to reduce costs for transport operators and promote equality between traditional taxis and automobiles with fewer than nine seats that are used for contracted transport.
In terms of State management, control over the two types of vehicles is expected to be handled with visual identification tools.
The ministries of Transport and Public Security will delay the mandatory installation of surveillance cameras on passenger and cargo vehicles from the previous deadline of late 2020 to early July 2021.
The move was said to be in line with the timeline for the draft decree's submission and would ensure sufficient time for transport businesses to complete the installation and for regulatory agencies to guide the application of the new regulation.
In the latest draft decree, the Ministry of Transport allows household businesses to offer contracted automobiles, which is said to be in accordance with the Law on Road Traffic, the Civil Code and other related regulations.
However, these businesses must comply with all transport business requirements, such as holding transport business licenses and drivers' licenses, installing Global Positioning System devices and listing business information on the sides of their vehicles.
In July this year, Prime Minister Nguyen Xuan Phuc asked the Ministry of Transport to scrap unnecessary business requirements for transport firms, including a proposal for making rooftop light boxes mandatory for ride-hailing vehicles with fewer than nine seats.
The Government leader said the ministry should use information technology rather than traditional means to control ride-hailing firms, such as Grab.
Earlier, the ministry noted that e-charter automobiles with fewer than nine seats must have light boxes installed, reasoning that such a regulation would help manage transport business operations, enable customers to identify ride-hailing cars on streets and differentiate between a transport service provider and a supplier of other services.
The installation of rooftop light boxes would also prevent private vehicles from providing transport services illegally, which could make it difficult for traffic police officers to enforce laws, the ministry added. SGT
Le Anh

The market is on track to hit US$4 billion by 2025, becoming the fourth in the region, after Indonesia, Singapore and Thailand.

MyGo, Viettel Post's app, will likely decide to focus its fleet on delivery services and drop ride-hailing.

App-based ride-hailing vehicles may be managed by technology, instead of having to install a light box on top as proposed by the Ministry of Transport (MoT) earlier.