Policies are needed to support local e-commerce platforms and counter the might of cashed-up international e-commerce giants entering the Vietnamese e-commerce market, says chairman of Nextech, Nguyen Hoa Binh, who owned chodientu.vn.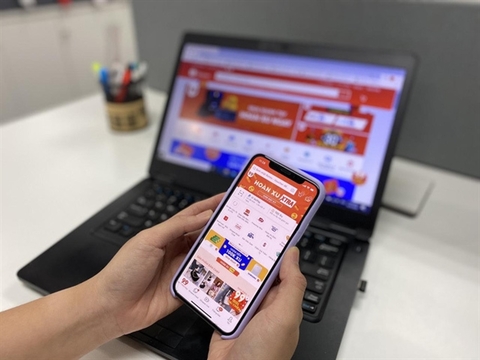 The e-commerce market of Viet Nam is seeing the rapid expansion of foreign-invested platforms while domestic online markets find it difficult to compete. — Photo ictnews.vietnamnet.vn
"When foreign enterprises with huge resources flood in, it is difficult for domestic enterprises to compete and domestic enterprises can soon run out of steam," he said.
Domestic online market chodientu.vn which pioneered in online shopping in Viet Nam must now be closed for an upgrade.
"Domestic enterprises do not need support but rather a runway long enough that they can gain enough momentum to compete [with foreign companies]," he went on.
Binh said that foreign enterprises had huge economic resources and when they expanded to a certain size that they could control the market, there would be problems for smaller competitors.
He stressed that promoting the development of domestic platforms was important to ensure the healthy and sustainable development of the e-commerce market.
He added that Viet Nam should introduce policies to balance the development of both the sharing economy and traditional economy and create a fair business environment.
According to Vu Hoang Linh from the Viet Nam Institute of Economics, the competition in Viet Nam's e-commerce market could be much more robust. Alibaba, Tencent and JD.com were foreign giants which had invested significantly in Shopee and Tiki to establish their presence in Viet Nam. The world's largest e-commerce company, Amazon, has also officially entered Viet Nam giving Vietnamese sellers access to foreign markets through their platform.
Of late, a new generation of free trade agreements has made Viet Nam an attractive market to global retailers.
Lai Viet Anh, Deputy Director of the Viet Nam E-commerce and Digital Economy Agency under the Ministry of Industry and Trade, said that the Vietnamese Government aimed to promote the development of e-commerce, especially in the context of the COVID-19 pandemic, adding that e-commerce was regarded as an important part of economic and trade growth.
She said it was necessary to develop appropriate tax policies to ensure healthy market development.
Connecting with tax management agencies
The General Department of Taxation has recently proposed electronically connecting e-commerce platforms to tax management agencies aiming to better collect taxes from sellers operating on the platforms.
It is currently soliciting opinions that must be sent to the tax watchdog before July 27.
Under Circular No 40/2021/TT-BTC issued on June 1, value-added tax, personal income tax and tax management of individual sellers would be the responsibility of e-commerce platforms.
E-commerce platforms must also provide information on sellers, including revenue, bank accounts and products, via a database to tax management agencies.
The electronic connection between e-commerce platforms and tax management agencies was expected to start at the beginning of next year. 
Source: VNS