Vietnam's medical equipment market is currently valued at more than US$1 billion, but overseas products account for a staggering 90% of the country's total medical imports.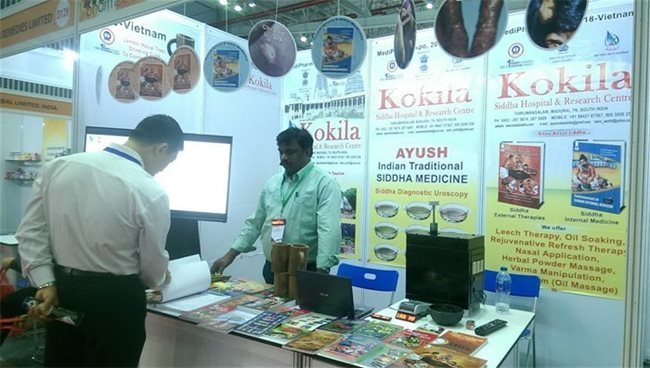 A booth from India displays its pharmaceutical products and medical equipment at the Vietnam Medi-Pharm Expo 2018. The Vietnamese medical equipment market relies almost exclusively on imports
Speaking at a press briefing for the upcoming Vietnam Medi-Pharm Expo in HCMC today, July 23, Hua Phu Doan, vice president of the HCMC Medical Equipment Association said the local medical equipment market grows an average 12-15% annually.
He added that its value was worth US$1.2 billion last year, and this figure could reach US$1.3 billion by the end of this year.
However, local medical device producers, which amount to fewer than 300 firms, account for only 10% of the market share and primarily manufacture simple and low value-added products, such as beds, trolleys and hospital furniture, he noted.
Though several firms produce devices with higher added value at hi-tech zones, but, according to the source, they mainly manufacture material, rather than medical devices.
He said medical instrument manufacturing requires technologies and equipment whose standards are higher than those of automobile production.
The development of spare parts is also a key factor, but the country's supporting industries in this sector are even below those in the automobile industry in terms of capacity, he continued.
As residents have higher requirements for their healthcare checks and treatment, hospitals and other healthcare facilities are likely to purchase modern medical equipment. Therefore, the trend towards medical device imports remains a favorable option.
Doan said Vietnam mainly imports medical equipment from Japan, the United States and the European Union.
The 19th edition of the Vietnam Medi-Pharm Expo is to take place from August 1 to 3 at the Saigon Exhibition and Convention Center in District 7, according to the organizer.
The event will be the largest-ever of its kind, as more than 400 firms from 35 countries and territories, such as Japan, South Korea, India, Germany, France, Italy, Hungary and the United States, will showcase their high-end products and services at 450 booths.
Notably, the EU Business Avenues mission, which will join the exhibition for the first time, is expected to comprise 51 exhibitors from 17 economies. They aim to cooperate with Vietnam's public and private hospitals, as well as those firms in the healthcare sector.
The World Bank's recent market research predicts that by 2020, Vietnam's healthcare market will grow threefold against 2010, and will soon surpass regional peers, such as Malaysia, Thailand and Indonesia.
Economic growth and population are boosting the demand for healthcare services across the country, especially in Hanoi and HCMC. The Government is funding major public hospitals to upgrade facilities and open new departments to meet specialized treatment. These developments are creating new opportunities for medical devices in Vietnam.
The Government encourages the import of medical equipment because domestic production is not sufficient to meet demand. Imported devices are offered low import tax rates and have no quota restrictions.
However, these devices must comply with regulatory and licensing requirements from the Ministry of Health. Only companies that have business entities registered in Vietnam and have an import license are eligible to distribute medical equipment. SGT
Le Hoang