With the upcoming entrance of global home furnishing brand Ikea into the Vietnamese market, many large local wood exporters are paying more attention to the domestic market.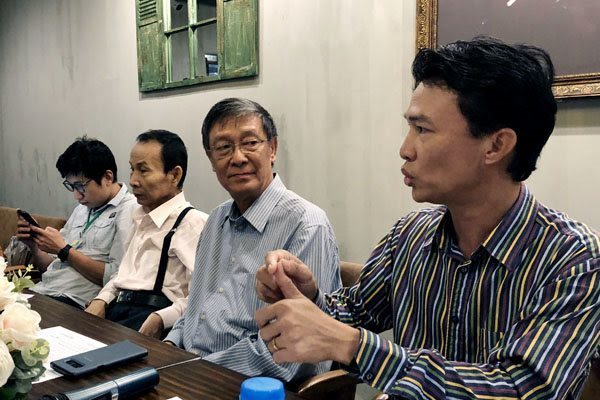 Huynh Van Hanh (2nd, L), vice chairman of the Handicraft & Wood Industry Association of HCMC, and representatives of wood processing enterprises at a press conference to introduce VIFA Home 2019 

At a press briefing on November 19 to introduce the 10th Vietnam International Furniture and Home Accessories Fair 2019 (VIFA Home 2019), Huynh Van Hanh, vice chairman of the Handicraft & Wood Industry Association of HCMC, said that in addition to major local and foreign furniture retailers, such as Chilai, Home'Furni, Toan Phu Furniture, VietmayHome and Duy Tan, domestic wooden furniture exporters, including Scansia Pacific, Savimex, Donata, Le Tran, Viet Can and Sadaco Binh Duong, have registered to take part in the fair.
These firms, which have focused on large markets such as Europe, the United States, Japan and China, will display their products at the VIFA Home 2019 to access local customers, Hanh said, adding that this is a good sign for the local market, which has strong demand for high-quality products.
Through the fair, local wood exporters want to understand the needs of local customers, to make adjustments to their products and services and seek business opportunities in the local market.
The Vietnamese market, with a population of nearly 100 people, will provide multiple opportunities for enterprises to turn a profit.
In addition, the wood sector has posted a high growth rate for the past few years. Last year, the sales of wood and wooden products in the domestic market amounted to US$4 billion, and the figure was forecast to increase to US$5 billion this year, Hanh said.
Over the last decade, VIFA Home has demonstrated its success in promoting trade among producers, traders, distributors and retailers and increasing producers' and consumers' responsibility for the environment through the use of wood materials from legal sources.
VIFA Home 2019, which will take place at Phu Tho Indoor Sport Stadium in HCMC's District 11 from November 28 to December 1, will feature 600 booths of 120 brands of interior and exterior furniture, decorations, craftwork and household items.
The fair will also include multiple promotional programs and seminars. SGT
 
Le Hoang

Nguyen Phuong, sales director of Minh Thanh Co., Ltd, said his company plans to invest more than 50 billion VND (2.15 million USD) in a production chain for bedroom and living room furniture.

Foreign direct investment (FDI) in the wood processing industry is on an upswing, but it should be tightly controlled to avoid trade fraud.