Viettel Global Investment JSC posted more than 2.15 trillion VND (over 93 million USD) in pre-tax profit in 2019, surging 2.3 trillion VND from the loss of 150 billion VND in the previous year.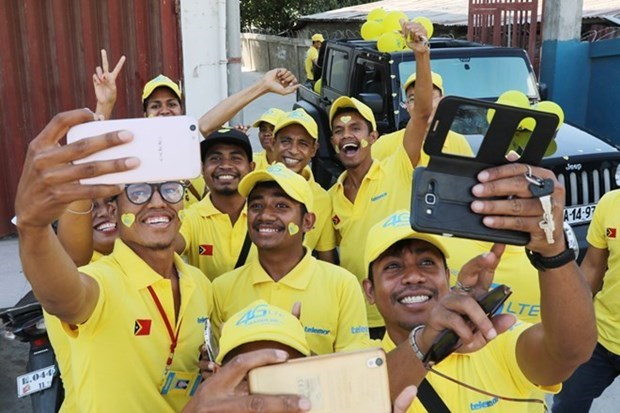 Staff of Telemor, the brand of Viettel in Timor Leste, pose for a group selfie (Photo: Viettel)
Viettel Global, a subsidiary of the Viettel Military Industry and Telecoms Group, reported its revenue last year at almost 17.05 trillion VND, compared to 16.87 trillion VND in 2018.
Its gross profit margin was at 34.1 percent, the highest so far, the firm said, attributing the profit growth largely to its arm in Myanmar which helped boost the whole company's profit by nearly 1.8 trillion VND from 2018.
Eight of the nine foreign markets of Viettel Global (Peru not included in its financial report) enjoyed double-digit growth rates last year. Besides, favourable exchange rate changes and minimised management and sale expenses have also greatly helped the company improve its performance, it noted.
Thanks to such positive outcomes, the price of its stock (coded VGI) on the Unlisted Public Company Market (UPCoM) has almost doubled over the past year to around 26,000 – 27,000 VND per share at present.
With the market cap of over 80 trillion VND, Viettel Global is currently the second largest firm on UPCoM./. VNA
Viettel claims innocence against Facebook's accusation that it discredited competitors in Myanmar through fake social network accounts.

Bitel, a subsidiary of the Viettel Military Industry and Telecomes Group in Peru, reported that its total revenue reached 274.2 million USD and profit before tax of 24.5 million USD in the first nine months of this year.