Law enforcement agencies have so far collected a whopping VND8.845 trillion (US$382 million) to recover losses from a murky share acquisition between State-run MobiFone Telecommunications Corporation and a private pay TV provider.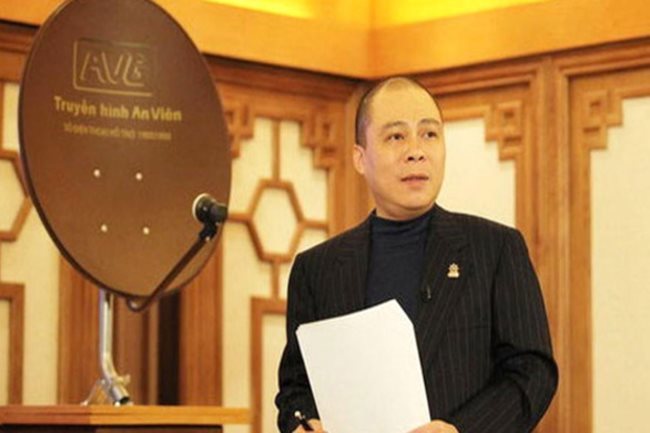 Pham Nhat Vu, chairman of Audio Visual Global JSC, speaks at an event 
The now-aborted deal saw MobiFone Telecommunications Corporation, a business under the Ministry of Information and Communications (MIC), overpay for a 95% stake in the loss-making Audio Visual Global JSC (AVG) in 2015, reported the Vietnam News Agency.
The Supreme People's Court stated in the case's indictment that between December 28, 2015, and January 15, 2016, MobiFone had paid more than VND8.445 trillion, equivalent to 95% of the deal's value, to AVG shareholders.
To pool the large sum of money within the 19 day period, MobiFone was found to have withdrawn money from term deposits ahead of their maturity dates from local banks, leading to VND115 billion in lost interest. Therefore, the total damage to the State amounted to over VND8.56 trillion.
When the Government Inspectorate uncovered irregularities associated with the deal, MobiFone and AVG decided to terminate the transfer of 344.66 million shares and refund each other between April and August 2018.
As a result, MobiFone recovered more than VND8.774 trillion from AVG shareholders, where VND8.445 trillion covered the value of the deal and VND115 billion covered the lost interest, reducing the damages borne by the State.
Former AVG chairman Pham Nhat Vu, 46, who was detained for bribery in connection with the deal in April 2019, confessed to investigators that he had used MobiFone's payments to AVG to finance the firm's business activities and pay its debts.
Regarding MobiFone's repayment obligation, Vu arranged for all money to come from his personal funds and loans from his firm and other individuals. He and his shareholders agreed to make the payment without any disputes.
According to the indictment, Vu had offered bribes worth a total of VND137 billion to the then-leaders of the MIC and MobiFone to speed up the sale of his company's stake.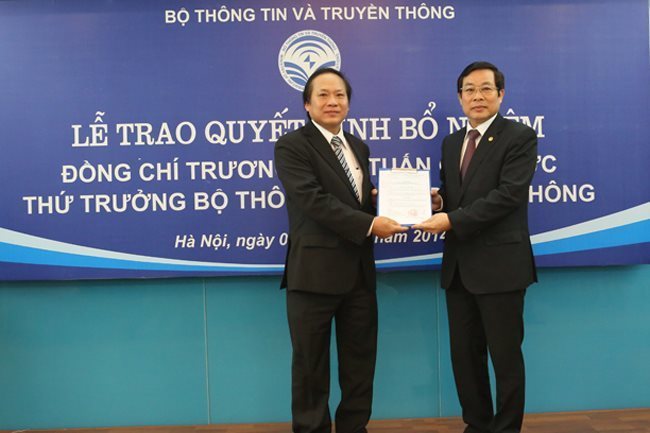 Then Minister of Information and Communications Nguyen Bac Son (R) awards a prime ministerial decision appointing Truong Minh Tuan to serve as his deputy minister in February 2014 – PHOTO: MIC
Former Minister of Information and Communications Truong Minh Tuan, 59, and his 66-year-old predecessor, Nguyen Bac Son, admitted to accepting bribes worth US$200,000 and US$3 million, respectively.
Meanwhile, MobiFone's former board chairman Le Nam Tra and former general director Cao Duy Hai, both 58, received US$2.5 million and US$500,000, respectively, from the-then AVG leader.
The four individuals were recently indicted for public capital mismanagement and passive bribe taking.
Seeking leniency, Tuan, Tra and Hai had their families return all of the bribes, while Son was only able to return a trivial sum of roughly VND592 million (US$25,500) from his bank account as his family was uncooperative in handing over the remainder.
Son admitted that he had given US$3 million in cash to his daughter, Nguyen Thi Thu Huyen, in 10 disbursements, ranging from US$300,000 to US$400,000 each, but she vehemently denied the allegation.
The results of the first-instance trial will serve as the grounds for looking into this claim, according to the Supreme People's Court.
Authorities have frozen the former ministers' assets to recover the losses in the case.
The country's top prosecution agency noted that Vu of AVG will not have to bear all liability for MobiFone's losses in the deal as he has proactively returned VND8.5 trillion paid by MobiFone to acquire AVG and has cooperated with investigators. SGT

Pham Nhat Vu, former chairman of private pay TV firm Audio Visual Global JSC (AVG), will not have to bear all liability for MobiFone's losses in the MobiFone-AVG deal.
The Supreme People's Procuracy on October 19 notified the prosecution of two former ministers of information and communications (MIC) – Nguyen Bac Son and Truong Minh Tuan, along with 12 other defendants.

Two former communication ministers have been accused of taking millions of dollars in bribes to make sure the deal to sell AVG to the State-owned telecom corporation MobiFone went ahead smoothly.