Local suppliers of overseas fashion brands may have a bumpy road ahead as materials from China have been blocked due to COVID-19.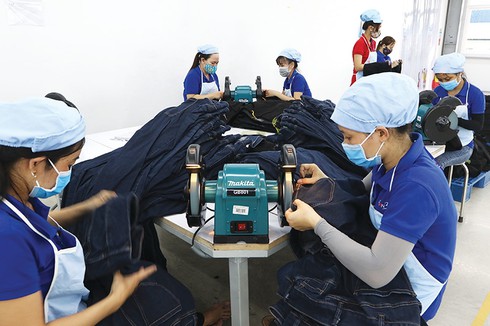 Manufacturers of textiles and garments are struggling to keep up with production due to supply shortages. 
Contrary to the performance of previous years, the new collection from Swedish fashion brand H&M is expected to be launched at only one store, at Vincom Centre Dong Khoi in Ho Chi Minh City, instead of all units across the country.
A shortage of goods from Vietnamese suppliers is being cited as the main reason behind new products not covering all outlets. H&M is now working with 30 suppliers and 40 tailor shops in Vietnam which account for 30 per cent of its total supplies globally. "However, we estimate COVID-19 will not cause any sizeable delays in the manufacturing process," an H&M representative told VIR.
"Running retail and production in the same market like we do in Vietnam has supported our operations at the current time. If H&M has to change its business plan, we will attach special importance to the major concerns of suppliers to figure out the best solutions," he said.
H&M, as well as other fashion brands, have been in a deadlock because of shortcomings in material supplies from China. This has resulted in delays of several months for orders from local partners in Vietnam such as Garment 10 Corporation, Saigon 3 Garment JSC, and Viettien, among others.
According to the Vietnam Textile and Apparel Association (VITAS), about 60 per cent of local garment supplies originate from China. As a result, the epidemic has far-reaching implications on domestic textile makers.
The import-export turnover in garments and textiles saw a reduction in the first two months of 2020 due in part to the COVID-19 epidemic, with the export value at $4.5 billion, down 1.7 per cent, while the import value of cloth hit $1.6 billion, down 10.5 per cent on-year.
Last year, the bilateral trade value in the sector between Vietnam and China was $15.7 billion, $4.2 billion of which was export turnover and the remaining $11.5 billion was the import value.
According to analysis by the Ho Chi Minh City Association of Textile, Embroidery and Knitting, businesses are facing a lack of raw materials in April and May. The shortage mainly focuses on enterprises specialising in export production. For small- and medium-sized enterprises with a 50/50 ratio of export and domestic consumption, the raw materials for production depend heavily on large enterprises.
The lack of materials caused by the COVID-19 epidemic has caused and textile producers difficulties in delivering orders for international fashion brands like Gap and Nike in time with enough quantity. Even large-scale producers only have enough materials to maintain manufacturing into the next two months at best.
Nguyen Chi Trung, board chairman at Gia Dinh Group, a supplier of world-famous brands like Nike, Adidas, The North Face, Polo, and Vagabond, said, "COVID-19 has greatly affected Vietnamese businesses, especially footwear enterprises. Before the Lunar New Year, they imported enough raw materials to produce in the first quarter. However, the following months will be difficult."
Other suppliers of fashion brands also expressed concerns about the lack of materials. A local supplier of Gap and Tommy Hilfiger, Garment 10 Corporation JSC – which imports 50 per cent of its materials from China – is struggling to complete orders due for delivery in March and April.
Furthermore, Saigon 3 Garment JSC, which specialises in supplying goods for UNIQLO and Nike, is reported to be able to only keep its workshops running through March.
Truong Van Cam, vice chairman of the VITAS, said that almost all members reserved enough materials to last until early April. Thus, after this time, if the epidemic is not controlled, enterprises may have to arrange an alternative timetable for staff or suspend their operation due to lacking materials.
Even though more than half of raw material factories in China have resumed production, Cam explained that it will take time for them to get back up to full speed. "Producers have been looking for alternative supply sources from India, Bangladesh, and Brazil to make up for the shortage of materials. However, it is sure that China could not be replaced as the main supplier by anyone else due to its much lower costs," Cam said. VIR

The number of orders that textile and garment companies have received for 2020 is just equal to 80 percent of that in the same period last year.

Export target of US$40 billion of garment and textile industry this year is on the verge of failing to achieve due to several difficulties, such as a shortage of orders and high dependence on imported materials.