The Vietnamese Government has decided to establish a management unit for the Van Don Economic Zone, located in the northern coastal province of Quang Ninh.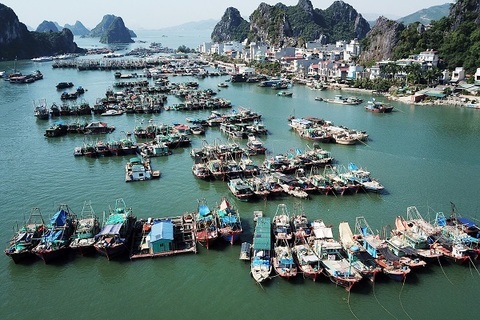 A view of Cai Rong Port in Van Don Economic Zone. By 2050, Van Don should become one of Viet Nam's major economic driving forces and a worth-living city in the Asia – Pacific. — Photo enternews.vn
Under its plan for the socio-economic development of Van Don, the locality will be transformed into a smart, modern and green coastal urban area, as well as the region's economic and cultural hub.
Van Don Economic Zone needs some VND171.5 trillion (US$7.4 billion) by 2030 for its investment demands, of which domestic investment accounts for VND75.1 trillion and foreign investment VND96.4 trillion.
The population is set to grow to 140,000 from the current 52,000, with 89,000 new jobs created. The average population growth rate from now-2020, 2021-25 and 2026-30 is expected at 6 per cent, 11 per cent and 8 per cent, respectively.
By 2050, Van Don should be one of Viet Nam's major economic driving forces.
Van Don Economic Zone was established under Decision No 120/2007/QD-TTg dated July 26, 2007 signed by the Prime Minister. The zone is based on an area of 2,170sq.km, including 581sq.km of land and 1,589sq.km of water area.
Van Don, along with Bac Van Phong (Khanh Hoa Province) and Phu Quoc (Kien Giang Province), have been put forward to become the country's three special economic zones (SEZs) in the draft law on SEZs.
With expectations of making a breakthrough in legal and institutional reforms to boost economic development and investment in SEZs, the draft law was first submitted to the National Assembly for review in October 2017.
Since then, Van Don has attracted resources for infrastructure projects. As much as VND20 trillion ($882 million) has been poured into the construction of an international airport and complex services building, and VND40 trillion into major transport and technical infrastructure work.
However, the draft law is now on hold, due to different opinions among National Assembly deputies, experts and the public. — VNS

Quang Ninh provincial authorities have vowed to close many outdoor mining sites for environmental concerns, particularly their negative impacts on Ha Long Bay.  

Quang Ninh province is not only the home to Ha Long Bay - a World Natural Wonder - but many other tourist destinations, including new ones.