Global Fashion Co. Ltd., owner of the brand Vascara, has sold most of its shares to a Japanese partner.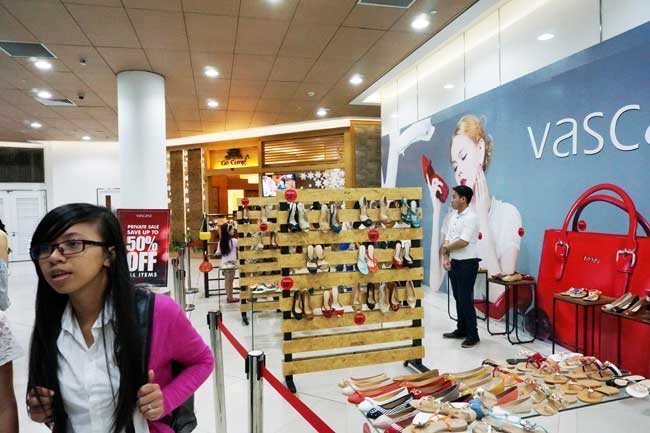 Vietnamese fashion brands: Who stays? Who goes?
This sale has further extended the list of Vietnamese players in the fashion industry now in the hands of foreigners. Industry experts have admitted, however, that it is an inevitable path for Vietnamese companies if they want to survive and develop in the current context.
In 2018, after 10 years of developing the fashion brand Hnoss for young office workers, Co Hue Anh, the founder of Hnoss, officially sold her "brainchild" and joined Seedcom, a group of new retail companies owning the chains of Con Cung, Juno, The Coffee House, King Food and Eva de Eva. "Mid-end fashion brands, having a few dozen outlets under their umbrella, will never survive if they don't comply with that trend," Hue Anh said. "That's why Hnoss accepts outside investment to do things systematically and grow up."
Explaining her view, Hue Anh said the reason is that mid-end brands are having too many difficulties in the current business context. The biggest stumbling block is land rent. Space for stores in big cities like HCMC is now two for three times more expensive than in the previous two years due to the fierce competition with convenience stores and bank branches. In many cases, one is not necessarily able to secure a location for business even when they are willing to pay a high price. The rent for a townhouse seven or eight meters in width and 12-15 meters in length on Nguyen Trai Street, in HCMC's District 5, may be as high as VND100 million per month. Such exorbitant rates make it difficult for fashion brands to expand their chains, one of the factors that help increase brand awareness, approach customers and balance sales.
Meanwhile, the cost of the online channel is also on the rise since everyone is running ads on Facebook. "Previously, it took only a few tens of dong to reach a customer, which is now up to VND500, or even VND2,000-3,000 during the peak of sales promotion occasions. In general, the total cost of this channel now makes up 35-40% of the order value, meaning to sell a dress worth VND500,000, you must spend nearly VND200,000 on advertising, marketing, delivery and the like," said Hue Anh.
Although operating costs keep surging, the price of products cannot be raised proportionately due to competition with other brands. The reason is consumers' shopping behaviors have changed: they are now less loyal to a certain brand, tend to make purchases based on advertising and promotions, and have way too many choices.
Sharing the same view, Le Viet Thanh, general director of K&K, a fashion chain for office workers over 30 years old, said customers today pay less attention to durability and sophistication, and care more about the design, the style, the color and if the items they buy are trendy. Shopping is now driven by emotions, experiences and advertisements on social networks, instead of by demand and budget as before.
Brand loyalty is therefore very low. And to attract customers, fashion brands are forced to pour their money into Facebook and Google ads, together with sales promotions. "As everyone is running ads online, you cannot be the only one left out," said Thanh.
"If you don't do it, no one will be aware of you. The greater the awareness of your customers is, the higher the chance they will pay your stores a visit. Our marketing budget 4-5 years ago was only 1% of our revenue, but now it is 7-8%."
Furthermore, a series of other costs have also sharply risen, from house rents—which are currently two times higher (no signs of cooling down since 2018)—to payroll and outsourcing costs. All of these significantly erode the net profit, now only 5-7%. Entrepreneurs have to make profit in any way possible, either via non-accounting expenses like management costs or by the use of their own premises.
"To survive on these days is a problem," said Thanh. "If you have to deal with one of the above factors or all, it will certainly be game over."
What would become of Vietnamese fashion?
Before their acquisition of Vascara, Japanese fashion retailer Stripe International two years ago bought a controlling stake in NEM Fashion Company, the owner of the women's fashion brand NEM. Late last year, Elise Fashion—a fashion brand for office people established in 2011—also accepted a Japanese firm as their investor.
Meanwhile, once-popular fashion chains—like Ninomaxx, N&M, Blue Exchange, PT 2000, Viet Thy, Ha Gattini and Sẽnorita—seem to be barely surviving as the number of their outlets has plummeted and their way of business been altered.
Currently, there are still some Vietnamese investors which own quite a big number of stores in the market, such as IVY Moda, Canifa and Hnoss. The remainder is a series of small brands owned by young designers.
The market is thus said to be very fragmented, without a brand big enough to be easily recognized by consumers. For a very potential market with more than 100 million people, enormous purchasing power and the growth rate estimated at over 20% per year, this is a quite bitter reality.
However, according to Co Hue Anh, it is such market context that opens up an opportunity for industry players in their race to gain a market share. The crux of the problem is to understand their customers and know how to apply technology. "Technology here is to use data to analyze customers' shopping behaviors and trends, thereby drawing up appropriate product plans," said Hue Anh. "Besides, knowing when to give them the impetus to shop is essential," said Hue Anh.
She added that each fashion chain must have their own "ecosystem," the way that clothes go with bags and shoes.
This is an effective method for attracting customers and solving the problem of operating costs (premises and staff). This is the reason why investors acquire different fashion labels: Seedcom with Juno, Hnoss and Eva de Eva; Stripe International with both NEM and Vascara.
According to Thanh, in the current context of cut-throat competition, fashion brands must manage their costs efficiently while paying special attention to inventory to ensure the cash flow. Gone are the days of mass production. Instead, one should calculate the details of each design (the number of each size, each color), and constantly launch new collections. SGT
 
Tam An

Vietnam's apparel industry will be a key beneficiary from the ongoing US-China trade war and the subsequent diversification strategies of US retailers, a research entity of Fitch Group has forecast.

Vietnam and Bangladesh are forecast to reap benefits from becoming alternative sourcing destinations as the fashion sector is reckoned the most exposed amid an escalating US - China trade war, according to Fitch Solutions analysts.