The Vietnamese government holds high hope for a green and safe agricultural sector that could be a driving force for growth just like the manufacturing and processing sector.
As of late 2019, the amount of registered foreign direct investment (FDI) into Vietnam's agro-forestry-fishery sector reached US$3.5 billion, accounting for 0.97% of total FDI commitments and below the global average of 3%.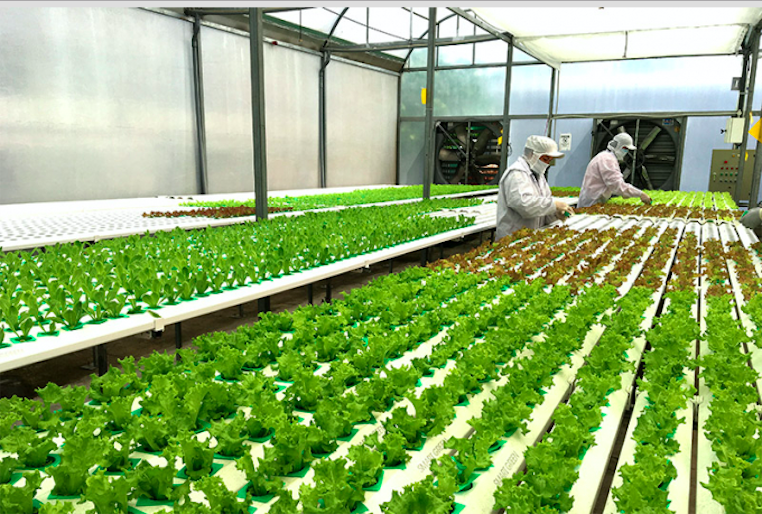 FDI into hi-tech farming in Vietnam remains modest. Photo: Tram Anh. 
Largest FDI contributors into Vietnam's agriculture include Taiwan (China), British Virgin Islands, Singapore and Thailand, making up 50% of total foreign investment capital into the sector.
"The Vietnamese government holds high hope for a green and safe agricultural sector that could be a driving force for growth just like the manufacturing and processing sector," stated Minister of Agricultural and Rural Development Nguyen Xuan Cuong.
Contrary to a modest foreign capital inflow into the sector, there has been a growing trend of domestic firms betting on the future of agriculture, especially in hi-tech farming, including Vinamilk, TH Truemilk, Thaco, Dabaco Vietnam, Masan, Lavifood, FLC, Ba Huan, among others.
A representative of the Foreign Investment Agency under the Ministry of Planning and Investment said despite its high potential, the agriculture with its existing shortcomings of fragmented and small-scale production is not attractive enough to lure high quality FDI.
"In fact, investors in the agricultural sector face numerous risks, including bad weather, natural disasters or diseases. Those investing in the field normally have strong expertise and sound financial capabilities," he noted.
Vu Thanh Tu Anh, dean of Fulbright School of Public Policy Management, Fulbright University Vietnam, said there have been positive changes in supporting policies attracting FDI into agricultural sector. "However, support for infrastructure and human resource development remains applicable for domestic firms, not for FDI projects."
The Japan External Trade Organization (JETRO) said one of the main restriction in attracting FDI into the agricultural sector is the shortage of land for farming , in which procedures to acquire land remains complicated.
"If local authorities can prepare adequate land funds for farming, it will be easier for investors to come to investment decision," the Japanese organization stated.
The government, meanwhile, should continue to create a predictable and favorable legal environment for investors in agriculture, especially in policies for land consolidation and investment in agricultural infrastructure.
Duong Thi Trang, lecturer at the University of Finance and Business Administration said local government in provinces/cities should play a more active role in facilitating the land consolidation process and ensuring lawful rights of both farmers and investors in this regard.
"Tax incentives, freezing and waiving of land rental fees for investors could be the first step in attracting investment in this field," Mrs. Anh noted.
"The government also needs to pay more attention in developing high quality manpower to meet growing demands of an era of an agriculture 4.0." Hanoitimes
Ngoc Mai-Thao Nguyen

Despite hardships along the way, perseverance has brought young man success in developing a high-tech farming project in his hometown in Binh Dinh Province.

The central province of Quang Nam and the Loc Troi Group have launched the use of drones in agriculture production – the first step in boosting hi-tech farming and joining the global farm produce supply chain in the near future.