The General Department of Taxation of Vietnam (GDT) on Wednesday announced the list of 1,000 highest taxpayers (V1000) in Viet Nam in 2018 which contributed 60.3 per cent of total corporate income tax.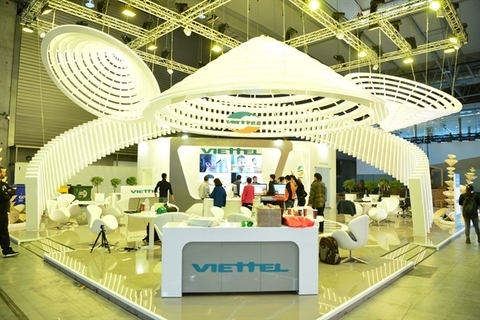 Viettel's booth in Mobile World Congress 2018. The company was the biggest tax payer in 2018. — Photo techinsight.com.vn
The value was not disclosed but it was 8.3 per cent increase compared to 2017's number, GDT reported.
Non-state enterprises dominated the list with tax payment accounting for 66.4 per cent of total tax contribution. State-owned enterprises made up just 24.6 per cent.
Topping the list was Viettel Military Industry and Telecoms Group. Foreign-invested company Honda Vietnam came second.
The third and fourth position belonged to PV Gas and Vietcombank while Samsung Electronics Vietnam Co Ltd was ranked fifth and Airports Corporation of Vietnam came sixth.
Among the top 10 were Techcombank, Vinamilk, Heineken and the Bank for Investment and Development of Vietnam.
Manufacturing and processing industry continued to be the biggest tax payers, accounting for 33.4 per cent of total tax payment last year, followed by finance-banking-insurance sector with 18.8 per cent and real estate businesses with 10.7 per cent.
V1000 companies are operating mainly in big cities and industrial park concentrated provinces including Ha Noi, HCM City, Dong Nai and Binh Duong.
Businesses in Ha Noi and HCM City each paid tax amounts of more than 34 per cent of total tax payment. Tax payment of enterprises in Dong Nai made up 4.9 per cent and of Binh Duong 3.9 per cent.
The V1000 list last year saw 299 new businesses included. Some firms paid very high tax due to irregular earnings from transfers of real estate projects, capital and other activities while some had to pay higher tax rates after they could no longer be subject to preferential tax schemes, GDT reported.
Many companies also expanded their activities and saw profits increase.
This is the third year the tax authority have published the V1000 biggest taxpayers on the basis of their tax contribution. However, this list did not take into account the tax law compliance of the companies and if any violation is detected, these companies will still be handled by law, GDT said. — VNS

The HCMC Tax Department has ordered a YouTuber who earned VND19 billion in personal income from 2016 to 2018 via videos uploaded on YouTube to pay VND1.5 billion in back taxes, the local media reported.

The collection of tax from cross-border services, or services provided by foreign firms via internet to users in Vietnam, is included in the amended Tax Management Tax, expected to take effect in early 2020.