Experts say the north-south expressway project worth tens of billions of dollars raises big questions in the context of 'every locality has one airport' race.
The Ministry of Transport (MOT) succeedef in persuading ministries and branches about the need to set up a rail expressway that connects the north and the south.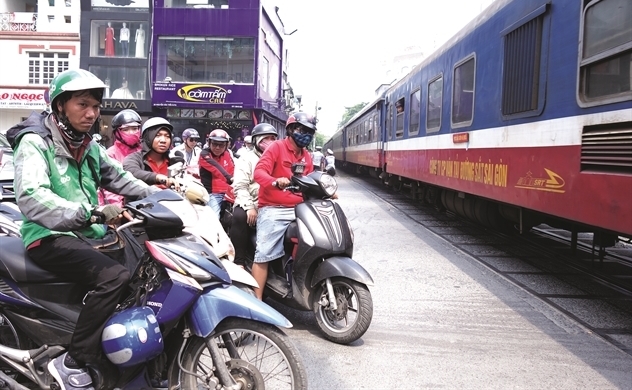 This is a high speed double track railway, 1,435mm gauge, 350 km/h, with the total investment capital of $58.7 billion.
In 2020-2032, the expressway would be exploited at a speed of 150 km/h with newly purchased diesel locomotives. In 2032-2050, the speed will be raised to 350 km/h after the electrification completion.

The MOT's presentation about catching up with the world in advanced technogoly was convincing.
The ministry proposed an additional costly project on upgrading the existing railway to serve cargo transportation, capitalized at $1.8 billion. 

MPI said that the investment of a 350 km/h high-speed railway just to carry passengers, not cargo transportation, is wasteful. 
The ministry argues that the number of passengers on the Hanoi – Vinh and Nha Trang – HCMC routes by 2035 is expected to reach 55,000-58,000 only, which means 16 percent of designed capacity.According to the ministry, by January 5, 2019, nine out of 10 ministries and branches had agreed in principle with the project suggested by MOT.

However, the Ministry of Planning and Investment (MPI) has shown a quite different viewpoint and suggested a plan which is tens of billions of dollars less costly.

Dang Dinh Dao from the Hanoi Economics University, while stressing that every Vietnamese bears $1,500 worth of public debt, leans towards the plan by MPI.

The expert even mentioned the possibility of the transport ministry trying to draw up a project to increase GDP growth, but it is ineffective and too costly.

Other analysts have also expressed the same concern, especially when considering passenger transportation.

MPI said that the investment of a 350 km/h high-speed railway just to carry passengers, not cargo transportation, is wasteful.

The analysts, who agree with MPI's view, warned that once operational, the high-speed railway will have to struggle to look for passengers because of air transport competition.

When every locality tries to build an airport to attract travelers and develop local economies, a high number of passengers will think of flying rather than taking a high-speed train.

The biggest advantage of the railway is the ticket price, which is expected to be equal to 70-75 percent of airfare only.
However, analysts bleieve that the gap between the railway ticket and air ticket is not big enough to make railways more attractive, especially when Vietnam strives to have income per capital of $10,000 per annum by 2035.
Minh Ha 

The requirements on financial capability and experience that contractors must have for the north-south expressway project are out of reach of domestic enterprises.

It's time for Vietnam to build an expressway on its own, experts say.