Official development assistance (ODA)-funded projects have been found to employ foreign consulting firms at high costs, noted a report from the State Audit of Vietnam (SAV).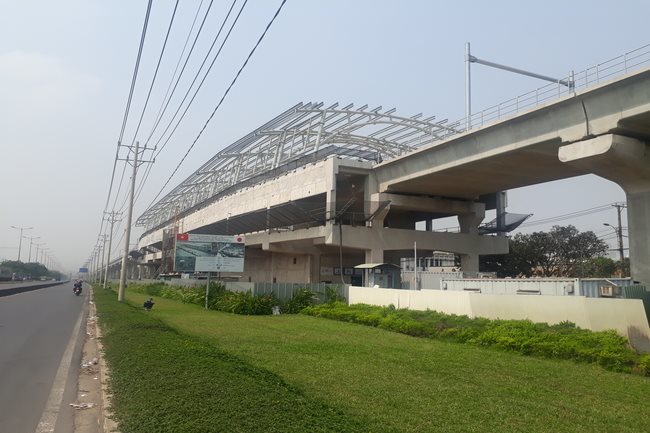 An elevated section of the Ben Thanh-Suoi Tien metro line in HCMC. The revised investment of this project has risen by VND29.9 trillion (US$1.2 billion), equivalent to a 172.2% hike
The auditing watchdog stated in the report that exorbitant fees are paid to international consultants hired by the contractors for projects financed by ODA donor countries.
The watchdog discovered that some expressway projects, such as Hanoi-Haiphong and Cau Gie-Ninh Binh, hired international consultants at costs 8.5 times higher than local consultants.
Similarly, other projects, such as Vinh Thinh Bridge on National Road 2C, and the cleaning of the basin of Tau Hu-Ben Nghe-Doi-Te canal in HCMC, have seen costs seven to 11 times higher for employing foreign consultants.
According to the SAV, there are no specific regulations on the demand for and necessity of hiring international consultants or on their salaries. However, the fees seen so far are exorbitant.
In fact, each foreign consultant receives US$20,000-US$25,000 on a monthly basis, while their local counterparts receive some US$2,000 each.
SAV Auditor General Ho Duc Phoc said that ODA donors considered most of their projects effective upon completion.
However, having audited these projects, the watchdog found that their operations were inadequate, the quality of construction was low and their technology was not top of the line.
The prices charged for buildings materials were too high. Further, the total investment in these projects was revised multiple times, and their capital disbursements were slow.
Many projects using ODA and preferential loans, especially in the transport infrastructure sector, were found to have overrun their total investments.
For example, the revised investment of the HCMC-based Ben Thanh-Suoi Tien metro line project has risen by VND29.9 trillion (US$1.2 billion), equivalent to a 172.2% hike.
SAV Auditor General Ho Duc Phoc said that the negotiation and signing of loan agreements included unfavorable binding conditions, so there had been no other choice but to award no-bid contracts to foreign contractors.
He pointed out that the Cat Linh-Ha Dong urban railway project in Hanoi was a typical example since more than VND13.7 trillion (US$588 million) was paid to the Chinese contractor, making up a staggering 77% of its total investment.
Also, a number of projects were placed at a disadvantage as they had to use goods and services from their lenders. For example, the Ben Thanh-Suoi Tien metro line project in HCMC employs at least 30% of Japan's goods and services, and its main contractor is Japanese.
Having inspected nine programs and 23 projects, SAV suggested dealing with problematic finance totaling more than VND21.7 trillion (US$929 million). SGT