Though the State Bank has not prepared new notes for local banks, the online exchange market for much-coveted new notes has become very busy in recent days.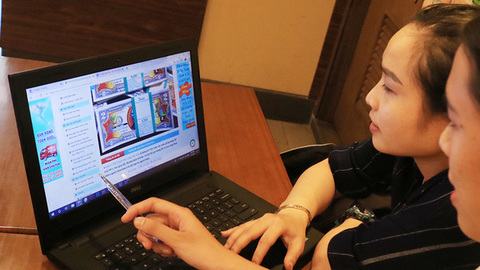 Many Facebook pages have been offering exchange services for new notes, attracting many residents in HCM City before the Tet season. – Photo courtesy of tuoitre.com.vn
According to Tuoi Tre (Youth) newspaper, VND20,000 notes are currently out of stock, but locals are able to exchange as many notes of other value as they want .
Advertisements specialising in money exchange services can easily be seen on social media.
The activity began about two weeks ago.
In addition to creating websites, businesses have also sent spam photos of new VND5,000; VND10,000; VND50,000 and VND100,000 notes on Facebook Pages with significant interaction.
Since there are about three weeks left until Tet (Lunar New Year), the demand for new notes has skyrocketed.
New exchange rates are updated every day. Cheaper rates are introduced when locals buy new notes in a large quantity.
If a local exchanges VND1 to 2 million, the fee is up to 10 per cent, but the rate is reduced to eight per cent if they exchange from VND5 to 8 million.
If they exchange over VND10 million, the fee is seven per cent.
According to many currency exchange firms, VND20,000 notes are in demand, but are scarce and rarely available for exchange.
Lucky money
Many US$2 notes are sold at VND53,000-VND55,000 at money exchange social sites. These pages also offer unique notes printed with photos of a mouse, representing the zodiac theme of the Year of the Rat.
A box of two Australian coins, which has gold- and silver-plated mice printed on them, is on sale for VND200,000, while a US$2 dollar coin with a gold-plated mice image is offered at VND250,000 despite having no circulation value.
Money notes with "beautiful" serial numbers are also quite expensive, depending on how hard it is to find the note.
Paper notes no longer in circulation such as VND10,000 and VND100 notes are offered to people looking for red, lucky notes at a very high value.
Nguyen Hoang Minh, deputy director of the State Bank, HCM City Branch, said the bank could only meet general cash demand but could not satisfy locals' need for exchanging money.
The new lucky money culture had been hyped up, creating a favorable condition for many disreputable people to benefit from them, he said. – VNS

Pork imports rocketed over the last two months as market demand surges ahead the Tet (Lunar New Year) holiday, which is only a few weeks away.

With the Lunar New Year, known locally as Tet, drawing near, wild peach trees can be seen on sale on almost every corner of Hanoi in order to serve the increasing demand ahead of the festive period.